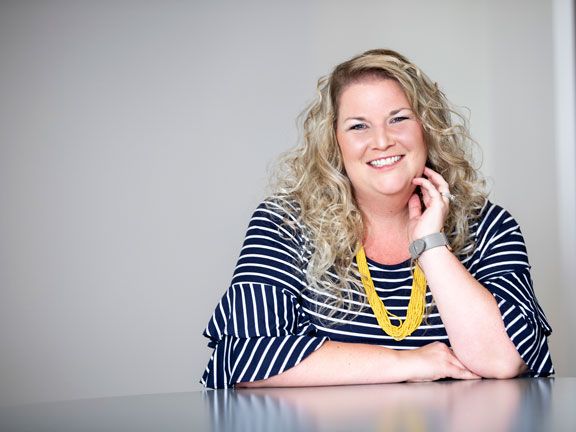 Universities have defined much of Anna (Hobby) Gibbons' adult life. As a student at Emory, she immersed herself in Residence Life, and the experience solidified her decision to work with and serve students. Upon graduation she worked as a graduate hall director while getting her master's at Florida State, then worked in housing at the University of Tennessee, Knoxville, and as a director of residence life at Agnes Scott before returning to Emory in 2014. Since then she's been influencing undergraduates at Goizueta through academic advising and as director of international programs. In June, she moved into a new role as director of pre-BBA advising and admissions. Recently, Gibbons sat down with Emory Business to discuss career, life and the school's anniversary.
EB: Congratulations on your new position. As head of admissions for undergraduates, would you share some of your goals for this position?
Gibbons: Thank you! I'm excited to be in a position where I get to champion a program that I know can be transformative for students. I want to guide every student with aspirations of studying and working in business to see the Goizueta BBA program as the place that will challenge them to grow intellectually and give them the tools to develop professionally. The BBA curriculum coupled with the exploration of the liberal arts in Emory College can be a great fit for so many students with a wide range of interests and future goals. I want that message to be clear so none miss out on what Goizueta has to offer.
EB: What's the biggest change you've observed in students' expectations in the last three to five years?
Gibbons: I am consistently amazed by the students that come through our door. They are so talented and committed to putting their best efforts into pursuing their goals. That commitment comes with a tremendous amount of pressure that they put on themselves. Through social media, they have incredible networks, but they also see every time someone else achieves something they aspire to obtain, and that can be hard. We see both sides of that in the BBA program: the achievement and the self-doubt and fear.
EB: The business school began as a program for undergraduates, adding the MBA degree later. As the BBA program undergoes its annual curriculum review, what excites you about its future?
Gibbons: While the formal curricular review hasn't concluded, I do know that one thing won't change—we will continue to embrace academic rigor and will enter the next 100 years with excellence. Part of the process is to look critically at the curriculum to make sure we are not only providing relevant knowledge and skills but are also considering what businesses and organizations will need in the future. One certainty is that future business leaders need to have a strong appetite for data analytics, so we will make sure this has the appropriate space in our curriculum.
As for the process,  I love that it is focused on the student voice. We have involved students in the process and are truly listening to what students say they want and need. I'm excited to be a part of a program that won't allow itself to get too comfortable; both programmatically and in partnership with the faculty, we are constantly evaluating how we can do more for our students.
EB: You noted that students interested in the business school are identified early and that outreach, like visiting residence halls for cookie chats and sharing information about the program, occurs throughout their freshman year. For those Emory students who are not accepted into the program, how do you handle that?
Gibbons: Typically, when a student is denied admission, it comes down to their ability to manage the academic rigor required for the BBA program. Working with a student who isn't prepared for the program is challenging, but it's our responsibility—no matter how badly the student wants to be at Goizueta—to make sure they're going to graduate from this institution. Academics are first. If it doesn't feel like it's the right fit from an academic standpoint, we don't want to lead them down a path that they're not going to be successful in. Since we have the opportunity to spend so much time with the students during these first two semesters, it's really not a surprise to a student if they're not admitted. There would have been an ongoing conversation about, "This is where you're at. This is where I think you need to be. Here are some ways you can get some resources to help you get there." However, students who aren't in the BBA program still have the opportunity to take some business classes and engage in the business community at Emory through clubs and organizations.
EB: What would people be surprised to learn about you?
Gibbons: While I often share this fun fact, many are surprised to learn I spent eighth through twelfth grade living in South Korea. My dad is a career Army officer, and we were stationed there for six years. It was an amazing and transformative part of my life.
EB: When you are not at work, what do you do for fun?
Gibbons: Away from work, I love spending time with my husband, Marc, and family. I married into a die-hard, 56-year season ticket holding Cleveland Browns football family, so the fall is spent wearing orange and brown and yelling at the TV. For the first time in many years, we may get to cheer more than we grimace and shout.
EB: Finally, of all the moments of working with students, what's your favorite?
Gibbons: At Goizueta, few moments match our BBA Ceremony as we lead into graduation weekend. Celebrating all of the honors and successes the students have earned is magical.—Nicole Golston