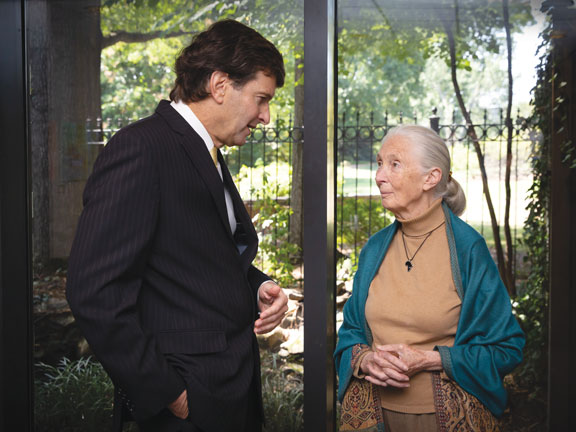 A jam-packed schedule of enriching conferences is just as much a sign of autumn at Goizueta as changing leaves and cooler weather. From business' role in advancing public policy to encouraging women in business to find their purpose, Goizueta has been a nexus for lively debates and thought-provoking discussions all semester long. Below are a few of the highlights from this fall's cornucopia of conferences.
September 18–19
The Robson Program for Business, Public Policy, and Government Annual Conference
The annual conference sponsored by the Robson Program for Business, Public Policy, and Government featured diverse speakers from the public, civic and government sectors. The overarching theme was resilience, ranging from personal resilience with Medal of Honor recipient Jack Jacobs, to the resilience of the animal kingdom in the face of global climate change with Dr. Jane Goodall.
November 1
Emory MAC Conference
The Emory Marketing Analytics Conference, a dynamic one-day conference focused on the latest trends in data-driven approaches to marketing, is designed for industry and academic marketing thought leaders charged with spearheading marketing analytics research as well as driving analytical marketing transformation and innovation. Alum Scott Doyne 03MBA, senior vice president of data strategy and insights at Turner Sports, and former Goizueta professor Manish Tripathi, senior manager of analytics at Amazon, were among the leading business analysts at this year's conference.
November 7–9
Inside Goizueta
Inside Goizueta is a three-day diversity conference where participants have the opportunity to witness the energy, supportive culture and intense academic environment that distinguishes Goizueta's MBA programs from others. The conference featured a series of discussion panels and information sessions where prospective students could connect with current students, alumni and administrators. Prospective students also attended real and mock class sessions.
November 15
Executive Women of Goizueta
The theme of this year's Executive Women of Goizueta conference was "Purpose, Passion & Profit: Driving Performance with Intent." Attendees were encouraged to harness their passion and the perspectives of executive peers and apply them with intention. By focusing on purpose and passion, women in business can craft a holistic approach to elevate their leadership, career, spirit and, ultimately, results.