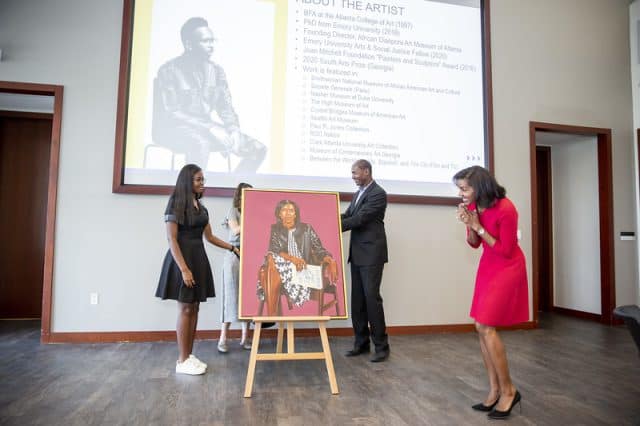 Some moments in time can be captured with a single image, but how does the artist create a portrait for a life of trailblazing firsts, iconic academic achievements, and a legacy of business leadership? In depicting Goizueta's Former Dean Erika H. James, former Emory Arts and Social Justice Fellow and Artist Fahamu Pecou 17MA 18PhD homed in on her strength and grace in a stunning portrait that will hang at Goizueta Business School alongside other leaders from our history.
James's appointment in 2014 made her the first African American woman to be named dean of a top-25 U.S. business school, and she was both the first woman and first African American dean of Goizueta. In that same year, she was honored by the National Diversity Council as one of the area's most powerful and influential women. In fact, her accolades continued when she was named to the Ebony "Power 100" list and became one of the "Top 10 Women of Power" for Black Enterprise.
I am honored, humbled, and incredibly grateful to be represented in the halls of Goizueta. I am most of all proud of the good work that we accomplished together and the strong path that Goizueta is on for the future.

Former Goizueta Dean Erika H. James, current dean of Wharton School of the University of Pennsylvania
From Historic Trailblazer to Futurist, Former Goizueta Dean Erika H. James Propels Business Forward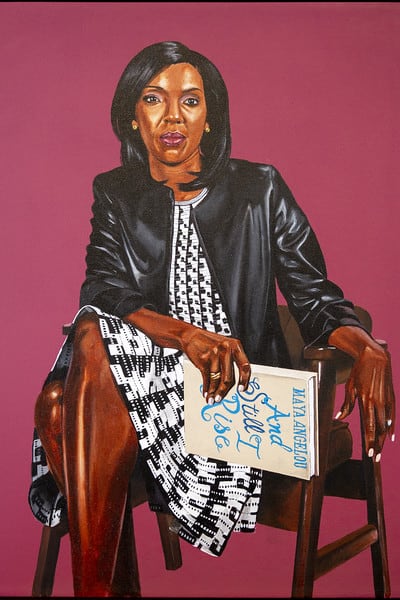 During her six-year tenure as dean of Goizueta Business School, Erika H. James blazed new trails for herself and the school, launching the MS in Business Analytics degree and creating the Scholarship of Excellence to help recruit diverse MBA students.
With the establishment of key signature programs including the John Robson Program for Business, Public Policy, and Government and the Delta Leadership Hub, James sparked a culture of collaboration within the school, the university community, and the broader business community. In recognition, Atlanta Business Chronicle named her "Most Admired CEO" for the education category.
"A business education is a powerful tool to increase economic opportunity for our students and for our society. We have a responsibility to offer that opportunity to more people and to move the needle on diversity, equity, and inclusion. When I arrived at Goizueta as the only black woman dean at a top-25 school, I knew the world was watching to see what we could accomplish together," James said.
Working closely with university partners, James secured the largest donation in Goizueta Business School's history, a $30 million gift from The Goizueta Foundation to support innovations and transformation in teaching, entrepreneurship, and business and society.
I started by having open and honest conversations with our faculty to craft a strategy to make Goizueta a destination for the best and most diverse academic talent. We had to drill down to find out what was working well at Goizueta and where we could improve. This was important work that allowed me to leverage both my academic research on leadership and on diversity and inclusion along with my personal experiences as a woman of color.

Erika H. James
For the Goizueta Trailblazers video project, Emory Board of Trustees member Shan Cooper 95MBA reflected on Goizueta's intentionality and progress in diversity, equity, and inclusion. Cooper was the first Goizueta student named as a trustee as well as the first woman to chair the Emory University Board of Trustees Audit and Compliance Committee. "Goizueta has come a long way," she said. "We were blessed to have an amazing African American dean in Erika James, who was a real thought leader around the work of diversity, equity, and inclusion. Having her in that role was just tremendous." She also reflected on how the student body has changed.
There are more students now who look like me than I ever could have imagined as well as other students from different parts of the country and the world. We have become a melting pot and a role model for what diversity, equity, and inclusion can look and feel like.

Shan Cooper 95MBA
"Erika forever changed Goizueta through her collaborative and equitable approach; her leadership and vision," said Jill Perry-Smith, Goizueta senior associate dean for strategic initiatives and professor of Organization & Management. "She also was a remarkable role model. She leaned into what made her uniquely able to lead the school and displayed confidence while doing so."
Creating an Iconic Portrait that Transcends the Moment
In fine art portraiture, an artist and subject often share a connected viewpoint or experience. Pecou was named an Emory Arts and Social Justice Fellow in 2020 for a program that allows Emory faculty and students to collaborate with Atlanta artists to explore racial injustice and other inequities. He is an interdisciplinary artist and scholar whose works combine observations on hip-hop, fine art, and popular culture to address concerns around contemporary representations of Black men. Through paintings, performance art, and academic work, Pecou confronts the performance of Black masculinity and Black identity, challenging and expanding the reading, performance, and expressions of Blackness.
"Dean James' tenure represented a significant departure from the legacy of deans at Emory's business school. We wanted to create a work that would be iconic and classic. We wanted to compliment the history of leadership at Goizueta, while simultaneously representing its natural and necessary evolution," said Pecou. "When it comes to institutional portraits, I appreciate the unconventionality similar to the Obama portraits."
I believe portraits should strike a powerful chord as they reorient the function of as well as our experience with these often-intimidating images. I believe that art should be evocative and thoughtful, but I am also drawn to works that are highly conceptual, while balancing the compulsion to render individuals as iconic or historic.
Pecou further explained, "The piece features Dean James and captures her style, intelligence, and undeniable presence. While some portraits depict the deans with books, their titles have been omitted. In this instance, we wanted to also demonstrate the quality of Dean James' character and chose to have her holding And Still I Rise from one of her favorite authors—Maya Angelou. Angelou's work I Know Why the Caged Bird Sings is often cited for its inspirational message. However Caged Bird is also a declaration of resistance. Neither aggressive nor passive, it is a resistance of un-deniability. The bird's body may be caged, but never its song or its essence."
"For me, Dean James embodies those qualities. As a Black woman and business leader, educator, and visionary she has had to face unimaginable challenges. But like the caged bird's song, she performs it with a grace and beauty that can neither be denied nor forgotten."
Through strategic, structural, and sustainable action, we commit to expanding cultural knowledge, reflecting the broader society, and improving equity in business. At Goizueta, diversity is a commitment to nurture and challenge the unique perspectives that will shape the future of business. It's a commitment to innovate in traditional fields and embrace emerging insights. It is the foundation of our intentions and actions. It is one of the core values by which we lead. Learn more.