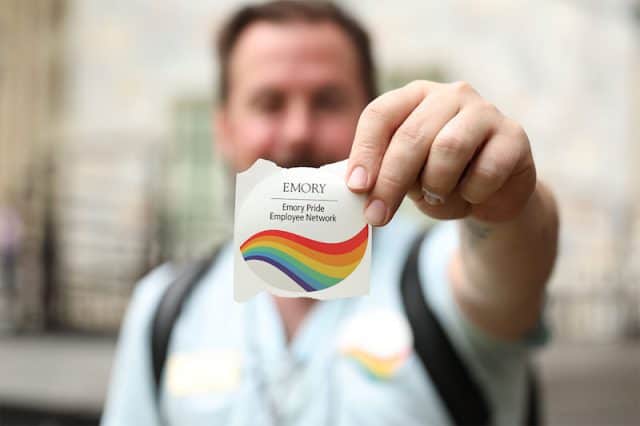 During the 1950s, with the establishment of the suburbs, images of pearl-donning housewives dominated media and advertising. However, there was a group of women who didn't quite fit society's new mold, and the publishing industry took note. They started mass producing pulp fiction — inexpensive paperback books — and selling them in drugstores and supermarkets. One of the most popular genres of pulp fiction was lesbian drama.
"One of the first major bestsellers of this era was a novel called 'Women's Barracks' that included a lesbian relationship, so publishers realized that queer content sold well and jumped on the bandwagon to produce more of it," says Carrie Hintz, associate director of Emory's Stuart A. Rose Manuscript, Archives and Rare Book Library. "This ultimately led to thousands of lesbian pulp novels being printed between 1952 and 1968, with the most popular of them going into multiple printings and selling millions of copies."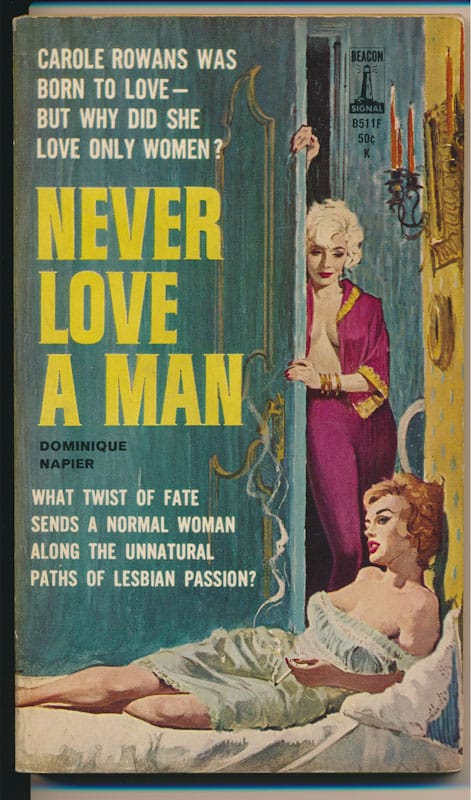 In recognition of Pride Month, the Rose Library will host an exhibition featuring queer pulp fiction books from Emory's LGBTQ+ literature collection. The book covers and details about the authors will be displayed in the Rose Library, located on the 10th floor of Woodruff Library, from June 1 to Oct. 7. One of the reasons Hintz believes it's time to do this type of exhibition is because though readers devoured queer pulp fiction, many of the authors used pseudonyms.
"One thing this exhibition can help us reflect on during Pride Month is how far we as queer people have come since the 1950s in terms of being able to live visibly," says Hintz. "It is important to highlight these books to remember our histories, acknowledge our progress and prompt us to continue to fight for our futures."
Creating Community
Visibility is the focus of the Emory Pride Employee Network, which launched earlier this year to offer social engagement, professional development, and mentorship opportunities for the university's LGBTQ+ faculty and staff.
EPEN is one of two new resource groups for Emory employees. The LGBTQ+ group, along with the Emory Black Employee Network, were chosen as the first to be piloted based on the results of an employee survey conducted by Emory University Human Resources last summer.
"We want people to feel a stronger sense of connection to Emory," says Melissa Morgan, Human Resources manager of recognition and engagement. "We want people to feel like they have a community to identify with, so that they will come here, stay here and love Emory as a place to work."
EPEN has several events slated for Pride Month. Among the highlights:
On June 7 at noon, the group hosts an "Out at Emory" virtual panel where some board members will discuss their experiences of being LGBTQ+ on campus. Adam Malm, EPEN's chair, hopes these types of discussions will contribute to making "every employee feel safe while being their authentic selves at any given time on campus or working within their departments."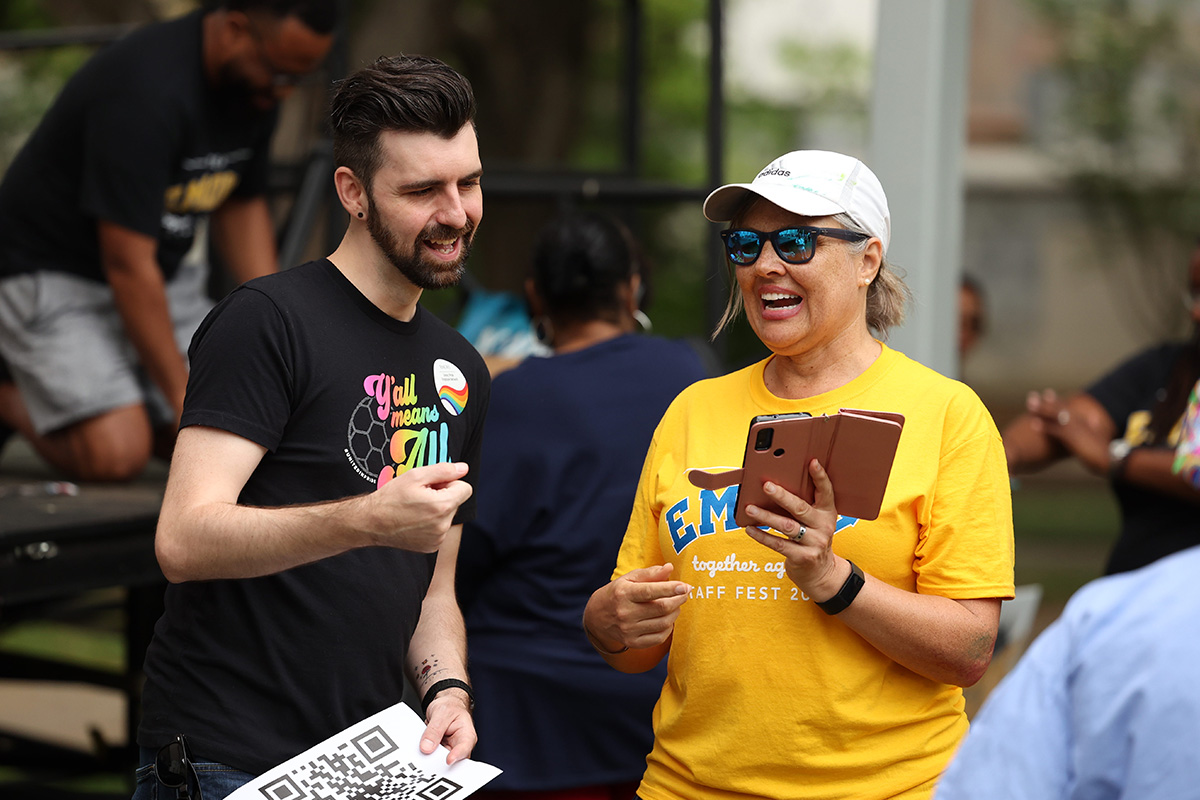 EPEN's Pride Month recognition will culminate with a carnival-themed celebration on June 30 from 4-5:30 p.m. on the Cox Hall bridge. The entire Emory community is encouraged to come and enjoy food, games and giveaways. Organizations serving the LGBTQ+ community will host tables at the event, including PFLAG Atlanta, the I am Human Foundation, Southern Jewish Network for Gender and Sexual Diversity, and the National Institutes of Health All of Us research program.
"It's a celebration of everything that has happened historically for the community and an opportunity to be visible in the heart of Emory with rainbows everywhere," says Malm.
Since launching earlier this year, EPEN has started a monthly newsletter, hosted a dance party from the stage at Staff Fest, and hosted a Hawaiian-themed pit stop at the 2022 AIDS Vaccine 200 bike ride. The group has also identified an executive sponsor, University Ombuds Lynell Cadray, and formed an advisory board of LGBTQ+ employees and allies. The full list of board members includes:
Shadree Bachan, clinical research coordinator, Winship Cancer Institute
Philip Davis, assistant clinical professor, Nell Hodgson Woodruff School of Nursing
Stephanie Elser, vet tech II, Emory National Primate Research Center
Andrew Garber, EPEN co-chair and business analyst, Emory Continuing Education
David Goetsch, assistant director of faculty recruitment, Human Resources
Adam Malm, EPEN chair and senior assistant dean for operations, administration and facilities in Nell Hodgson Woodruff School of Nursing
Maria Mendez, division director of Human Resources and Operations
Hillary Moe, administrative assistant, Emory School of Medicine
Andrew Moses, operations coordinator, Nell Hodgson Woodruff School of Nursing
Haley Murray, senior operations manager, Goizueta Business School
David Payne, associate vice president of planning and engagement
Michael Price, COVID-19 screening site operations and site lead, Business Operations
Gabriel Nelson Sears, administrative assistant, Emory College of Arts and Sciences
Emory Pride Month Events
June 1-Oct. 7
"Forbidden Loves and Secret Lusts: Selections from the Golden Age of Queer Pulp Fiction," Rose Library exhibition, Woodruff Library, level 10.
June 2 from 9 a.m.-12:30 p.m.
June 7 from 12-1 p.m.
Out at Emory: Meet the EPEN Board of Directors, online, June 30 from 3:30-5:30 p.m.
Asbury Circle/Cox Hall Bridge
Through strategic, structural, and sustainable action, we commit to expanding cultural knowledge, reflecting the broader society, and improving equity in business. At Goizueta, diversity is a commitment to nurture and challenge the unique perspectives that will shape the future of business. It's a commitment to innovate in traditional fields and embrace emerging insights. It is the foundation of our intentions and actions. It is one of the core values by which we lead. Learn more.
This article originally appeared in the Emory News Center.