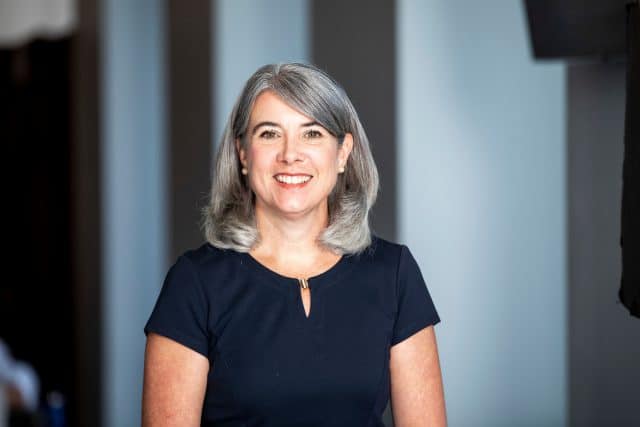 After 24 years on staff at Goizueta, one might assume that IMPACT Program Director Kore Breault has the secret to her success down to a science. But when asked about how she's been able to accomplish so much in her career, Breault immediately credits those around her.
The people at Goizueta are like my family. I've been working around some of the same faces for over 20 years. I'm inspired by just being around them. I've always wanted to work in an environment where people are supported, where you can be the best human, and Emory has given me that.
In her early years at Emory, while working in the MBA Program Office managing the One-Year MBA program, Breault created very strong bonds with faculty, staff, and students and helped to launch the Goizueta Advanced Leadership Academy. Breault transitioned into the realm of development and alumni relations.

"At Goizueta, I focused on a small segment of the student body. I had a very micro-view of Emory, and moving into development opened my eyes to the vast network, education, and research taking place at Emory–a more macro view," she explains. "I so enjoyed traveling with colleagues and meeting alumni from all schools and programs, and this experience enriched my appreciation of the good work happening across Emory University.
As a major gift officer who empowered Emory's strategic priorities, Breault experienced many points of pride. She cites raising money for Dean James (Jim) Hund's portrait as a highlight. "This allowed me the unique opportunity to engage with many faculty and alumni who were so fond of him and meet the artist at a pre-reveal with Jim and his wife," she recalls. "I'm also proud to have secured the lead gift for the Scholarship of Excellence, Goizueta Business School's first scholarship for underrepresented MBA students."
Expanding on her desire to help others, Breault joined IMPACT, Goizueta's project-based, experiential learning program. She sources projects from organizations for students, making certain that students provide actionable recommendations, and ensuring organizations experience a meaningful partnership. Through IMPACT, students have the rare opportunity to solve real-world problems and gain invaluable professional skills they can apply in their future careers.
Education is a transformative experience. I've seen it over and over again. It's something no one can take away from you. I am always impressed with and excited to be around people who want to grow, learn, and give back to the world. I've learned so much about myself through my time at Emory.
In her spare time, Breault enjoys spending time with her family and running. She runs almost daily and is currently training with a group of friends for a 208-mile relay race. Breault is passionate about health and wellness and is one of Emory's 140 wellness champions.
Learn more about Goizueta IMPACT.