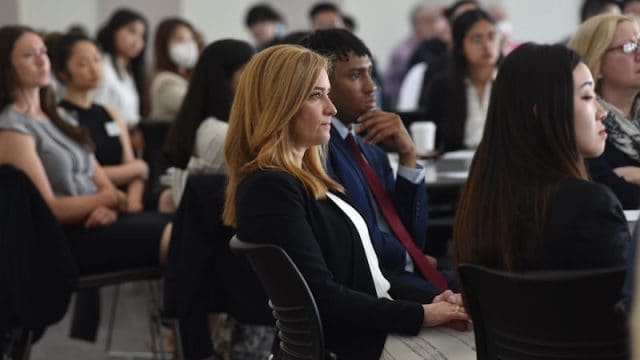 Several years ago, a journalist at Atlanta Journal-Constitution began hearing the same refrain from sources. Unable to build a story on just hearsay, the journalist started digging into available data. With the help of custom algorithms, the journalist uncovered 100,000 cases related to the issue of doctors allegedly abusing their patients. They fine-tuned the algorithm to only target cases with particular details and found their story.
Enter the new age of investigative journalism, or data journalism, which uncovers and pursues stories by using artificial intelligence (AI) and the copious amounts of data available in today's world.
This example is also just one of the many narratives told at the fifth annual Goizueta Business Analytics Conference. Other topics included AI and machine learning in decision making, media personalization, and audience targeting.
Conference Explores AI and Media: Transformation of Content and Delivery in Traditional and Digital Media
Provost Ravi Bellamkonda, executive vice president for academic affairs, welcomed conference attendees. The event had two major components: a plethora of speakers from well-known brands and a showcase of projects from the Master of Science in Business Analytics (MSBA) program.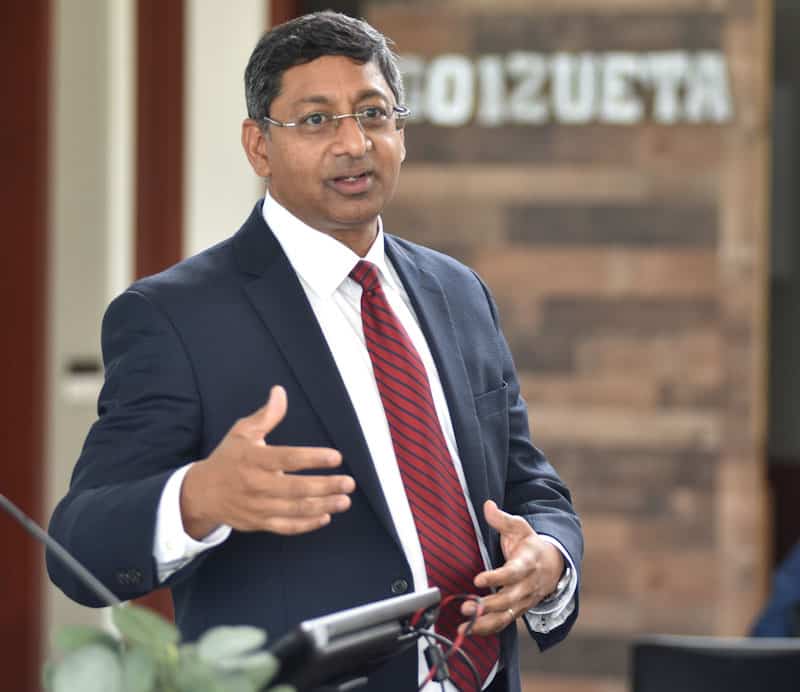 "The conference serves two purposes," explains Ramnath Chellappa, associate dean and academic director of the MSBA program and professor of Information Systems & Operations Management. "We bring experts from the industry to campus to hear how they're using various machine learning tools and techniques, and our students present their capstone projects in a way that resonates with both the technical folks and businesspeople in the industry."
Four groups of students presented their projects, and Interim John H. Harland Dean Karen Sedatole addressed the crowd between media and entertainment industry speakers.
"Our ideal capstone project is one where the answer to the question lies in the data," says Chellappa. "The students take a business problem, translate it into a data problem, come up with an appropriate solution, and then translate the data solution into a business solution. The choice is which solution is appropriate is very much a function of what the business question was and the business needs."
An Intense Internship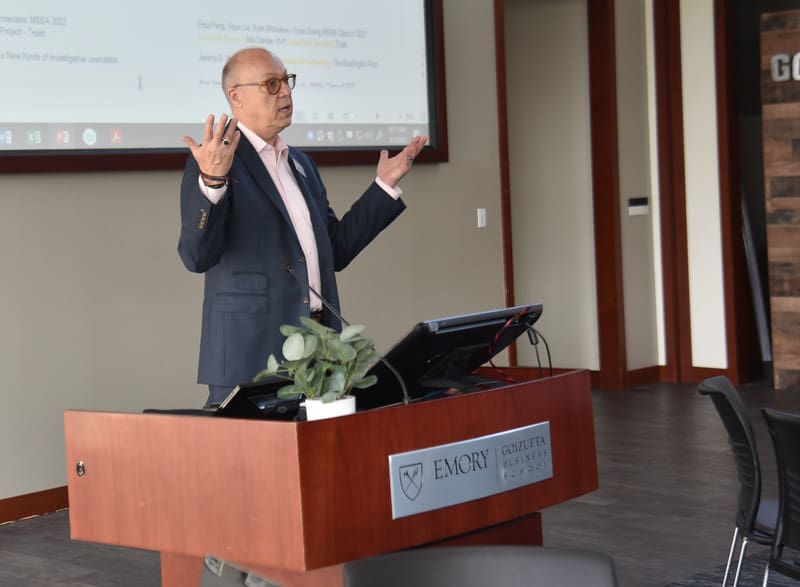 Through their capstone project, students undergo a "full-fledged internship experience," explains Scott Radcliffe, managing director of the MSBA program. These projects are often ones that the sponsor companies would have used their internal analytics team or a consulting firm for, he says. Instead, companies gain the expertise of Goizueta graduate students, like Will Jiang.
Will Jiang 22MSBA was part of a group that worked with Realtor.com, a real estate listings website, to create more personalized searching for users.
Before I started the program, I was more focused on technical methods. But after completing the capstone project, I realize that you must have the skills to solve the problem while understanding the business itself. You might come up with a method that you think will work, but it might not work in the real industry.

Will Jiang 22MSBA
Jiang, who has accepted a job at McKinsey & Company, met with stakeholders on a weekly basis and had access to Realtor.com's proprietary data.
As part of the annual conference, students and their sponsor companies briefly present the projects, including the problem and proposed solutions, before breaking away to another room for more casual one-on-one conversations with interested attendees, ranging from industry experts to Goizueta Business School alumni.
Jiang says he gained inspiration from the industry people in attendance. "We completed the capstone project, but it was limited to our own perspective," he explains.
Data scientists in the crowd offered up alternative methods or approaches for the same problem that Jiang and his team hadn't considered. "The biggest takeaway from the conference was new ideas from different perspectives," says Jiang.
Students in other groups worked with client companies of FedEX, Truist, and Publishers Clearing House.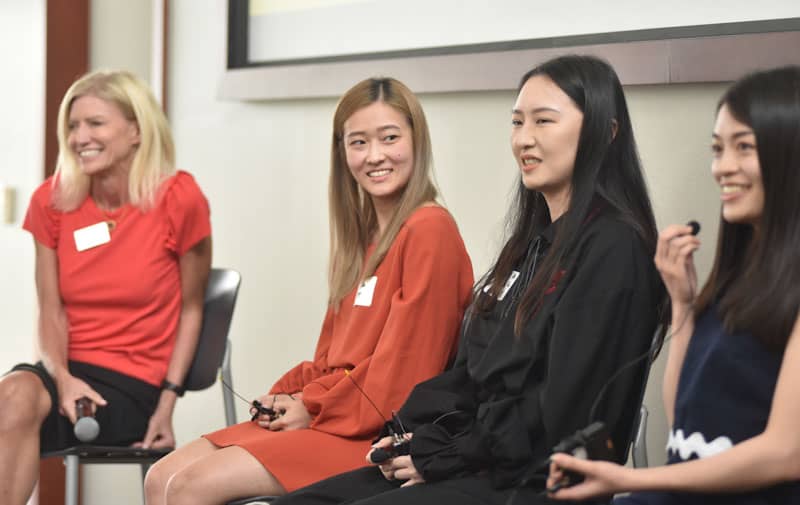 MSBA Women in Media and Entertainment
Industry experts in the crowd were also Goizueta alumni, including women data scientists from the MSBA program who participated in the alumni panel, "MSBA Women in Media and Entertainment." The women spoke about what drew them to their roles and this industry, advice for graduating students, and what it's like to be a woman in a traditionally male-dominated field of data science.
The MSBA program equipped me with strong data science and analytics skills, and it also enhanced my problem-solving skills. The conference was a great chance to learn and discuss opportunities and challenges in the media and entertainment industry. As we are exploring better personalization in a more privacy-preserving way, AI and machine learning have become more important.

Lancy Mao 18MSBA, business data scientist at Google
Fellow alumna Julie Wang 20BBA/MSBA, who works as a data scientist for Big Fish Games, spoke about her experience in gaming.
For gaming, data is something to watch, especially as it extends to esports and game experience customization. This data is incredibly messy and complicated, and I believe we haven't really unlocked the full potential behind it.

Julie Wang 20BBA/MSBA, data scientist for Big Fish Games
Data, Machine Learning, and Artificial Intelligence–Oh My!
The growing focus on this industry is what lead to this year's conference theme. "This field is growing leaps and bounds, and what's unique is that both the content and delivery of entertainment and media are being influenced by data and algorithms," says Chellappa.
Speakers at the event included Philippe Barbe, senior vice president of content data science of Paramount; Jeremy Merrill, a data reporter who writes about technology for The Washington Post; Kurt Kendall, chief analytics officer for Publishers Clearing House; Sravanthi Aluvala, the director of data and analytics for Warner Media; Kartik Hosanagar, founder of Jumpcut Media; Gloria Lee, executive account director of Google Cloud; and Shobana Radhakrishan, senior director of engineering for Google TV.
For the students, hearing from these industry professionals about the current challenges and developments around data or talking to alumni about how they went from Goizueta to Google, for example, further illustrates the power of a professional degree program.
"The MSBA program is a professional degree, which means students are ready for the workplace from day one. We want our students to become boundary spanners in different industry verticals—a pressing need for every firm," says Chellappa.
And boundary spanners they are.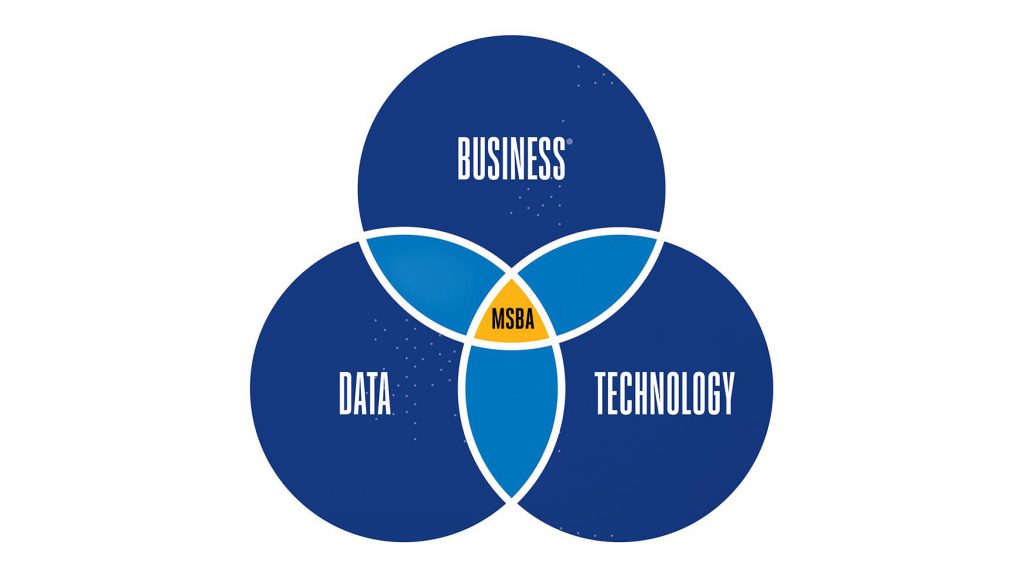 The MS in Business Analytics program at Goizueta Business School prepares the next generation of data scientists to bridge the gap between data solutions and business needs.