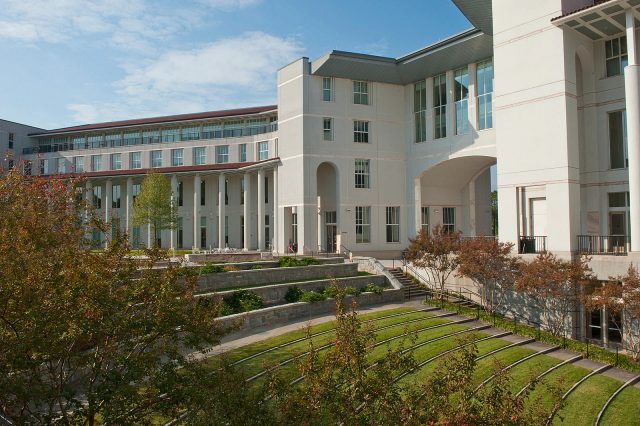 Atlanta, GA (4/18/2022) – After two years in a virtual format, Goizueta Business School's 5th Annual Business Analytics Conference and Student Showcase returns to an in-person event on May 5, 2022. Attendees will explore the latest advancements in AI and learn how innovators in the media industry are utilizing them. The conference also showcases select analytics projects from the MSBA students' capstone course.
The conference is the culmination of year-long academic activities in Goizueta's STEM-credentialed Master's in Business Analytics (MSBA) program and an opportunity to hear from leaders in media, technology, and consumer-facing sectors. This year, the event is co-hosted by MSBA's new AI for Business Lab, a platform for advancement of research and pedagogy in AI/ML applications for business.
The theme of this year's conference is "AI and Media: Transformation of Content and Delivery in Traditional and Digital Media." Associate Dean and Professor Ramnath K. Chellappa and the MSBA program selected this theme to reflect on the colossal impact digitization and AI/ML algorithms have had on the creation of content and how they reach end users. "Among the many verticals influenced and disrupted by digitization, the media industry is unique," said Chellapa. "Not only have both the content and delivery of news/entertainment undergone a transformation but entirely new monetization techniques have emerged. Data from digitization and AI/ML algorithms have led to both personalization of consumption, as well as targeted advertising."
Conference attendees will hear from conventional media including newspapers' data journalists to heads of data division of television networks to pureplay digital media. Featured speakers include Philippe Barbe, PhD, senior VP of content data science at Paramount, Kartik Hosanagar, PhD, Wharton Business School Professor and founder of Jumpcut Media, Kurt Kendall, PhD, chief analytics officer of Publishers Clearing House, Gloria Lee, executive account director – media & entertainment at Google Cloud, Jeremy B. Merrill, technology data reporter at The Washington Post, and Shobana Radhakrishnan, senior director of engineering at Google TV, along with others.
In addition, panelists at the conference will delve into the pivotal changes AI and machine learning have brought about in the media industry and reflect upon the career advancements in Media and Entertainment that an MSBA degree allows. "AI and ML in Media" panelists include Jeff Ernsthausen, data reporter at ProPublica, John Perry, technical director data journalism at The Atlanta Journal-Constitution, and Nick Thieme, data journalist at The Atlanta Journal-Constitution. A second panel, "MSBA Women in Media," will feature MSBA alumnae who are currently working in the media and entertainment industry and their insights on their industry roles and how the Goizueta MSBA program helped prepare them for their careers.
"Our slate of speakers will address how companies can leverage AI throughout their content supply chains to automate operations, drive decision-making and personalize the consumer experience. We'll learn how AI is influencing all parts of the media value chain: helping content creators to be more creative and content editors to be more productive, enhancing monetization strategies and the creation of richer content meta-descriptions that enable consumers to find the content that matches their interests and current situation." said Scott Radcliffe, managing director at Goizueta's MSBA Program.
Another highlight of the conference is the annual Student Showcase. The MSBA Class of 2022 will showcase their business data science skills through interactive presentations and demos. The Student Showcase will feature Capstone Project Presentations from teams that provided business data solutions to Cona, FedEx, Publishers Clearing House, Realtor.com and Truist.
Seats are limited, and pre-registration is suggested. Registration will close once seats are full. For more information and to register online, visit www.eventbrite.com/e/5th-annual-goizueta-business-analytics-conference-registration-296942812947.

The Master's in Business Analytics program at Goizueta Business School trains next generation business data scientists to speak the languages of business, data and technology for translating analytics into actionable insights. For more information, visit goizueta.emory.edu/msba. 
Contact:
Melanie Buckmaster
Melanie.buckmaster@emory.edu
404-862-6226