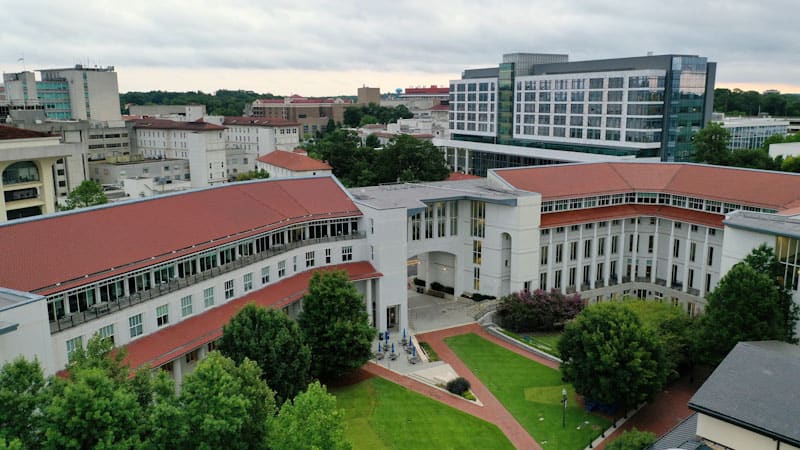 Goizueta Business School continues to be recognized as a premier business school. In the recently released Bloomberg Businessweek 2022-23 Best B-schools MBA ranking, the Full-Time, Two-Year MBA at Emory University's Goizueta Business School is ranked 17th in the nation, up from 18th in the 2021-22 ranking.
The ranking is based on survey responses from recruiters, students, and alumni as well as compensation, employment, and diversity data provided by each school. It evaluates Full-Time MBA programs on five key categories including compensation, networking, learning, entrepreneurship, and diversity.
Providing world-class educational experiences and opportunities, Goizueta is also highly ranked across categories, including 2nd for learning, 16th for compensation, and 17th for networking. Students have access to small classes, immersive real-world experiences, and transformative support, delivered in a vibrant global city.
"We couldn't be prouder of our Goizueta graduates and community," said Brian Mitchell, associate dean of Full-Time MBA programs. "Our focus on preparing principled leaders to have a positive influence on business and society, equipping students for a data-driven world, and pushing the boundaries of entrepreneurship and innovation uniquely prepares students to contribute immediately upon graduation. We continue to attract the best and brightest individuals to our school and are committed to building a community full of diverse ideas, perspectives, and lived experiences."
Explore Goizueta's top-ranked graduate degree programs.
About Emory University's Goizueta Business School
Business education has been an integral part of Emory University's identity since 1919. That kind of longevity and significance does not come without a culture built on success and service. Emory University's Goizueta Business School offers a unique, community-oriented environment paired with the academic prestige and rigor of a major research institution. Goizueta develops business leaders of today and tomorrow with an undergraduate degree program, a Two-Year Full-Time MBA, a One-Year MBA, an Evening MBA, an Executive MBA, an MS in Business Analytics, a Master of Analytical Finance, a Doctoral degree, and a portfolio of non-degree Emory Executive Education courses. Together, the Goizueta community strives to solve the world's most pressing business problems. The school is named for the late Roberto C. Goizueta, former Chairman and CEO of The Coca-Cola Company. For more information, visit goizueta.emory.edu.