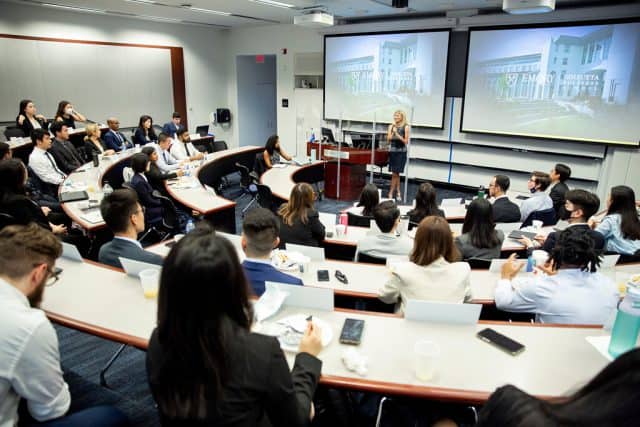 The Master of Science in Business Analytics program at Goizueta Business School recently announced the creation of Curriculum and Executive Advisory Boards. The boards will provide industry perspectives and thought leadership regarding the business application of advanced analytics methodologies. Members of both boards serve two-year terms.
MSBA Curriculum Advisory Board
Through the combined knowledge and expertise of these members, the Curriculum Advisory board will help ensure that the content of the MSBA degree meets the needs of business and industry and that the curriculum gives students the skills and knowledge they need to excel as analytics professionals.
"The Curriculum Advisory Board is our sounding board to continually assess the relevance of the methods, tools, and techniques that we teach in the program," said Associate Dean and Professor of Information Systems & Operations Management, Ramnath K. Chellappa. "Unlike many traditional degree programs that undergo curriculum revisions over many years of operation, the incessant need to respond to the ever-changing technology and data-science world implies that we have a dynamic curriculum. We are very proud to have these exceptional individuals, each with a doctoral degree and accomplished careers in data science, guiding our program."
In addition to their advanced degrees, members also may have previous experience as faculty in analytics-related areas, are recognized by their peers in the business analytics community as experts in their area, and have been or are directly responsible for executing business analytics projects.
The following executives have been named to the MSBA Curriculum Advisory Board:
Philippe Barbe, senior vice president of content data science, Paramount
Warren Hearnes, vice president and chief data scientist, Best Buy
Kurt Kendall, chief analytics officer, Publishers Clearing House
Girish Modgil, vice president of automation and artificial intelligence accelerator, Travelers Insurance
Huiming Qu, vice president of data science, e-commerce, and marketing, The Home Depot
Kun Zhu, chief data scientist, NCR Digital Connected Services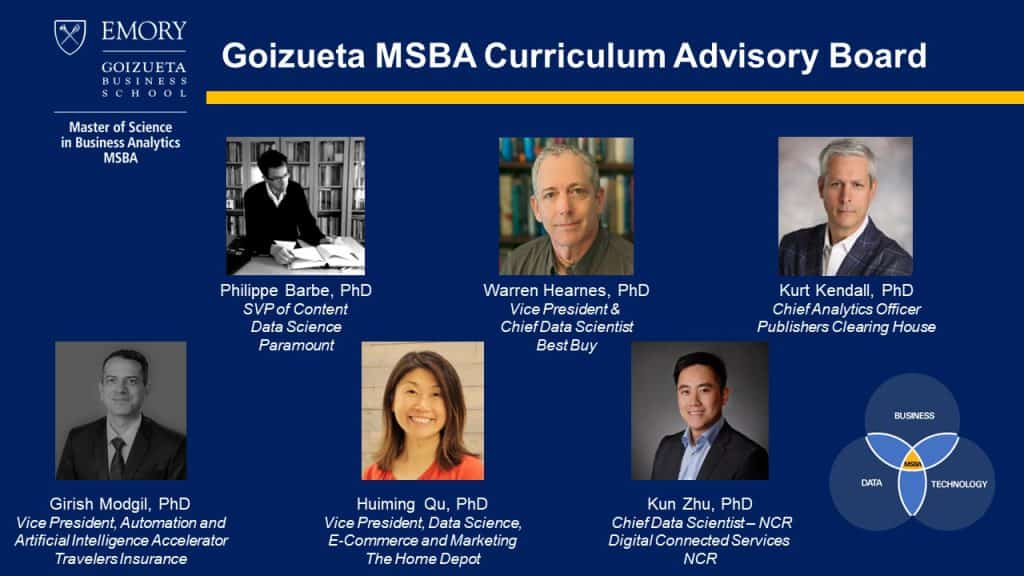 MSBA Executive Advisory Board
The focus of the Executive Advisory board will be strategic guidance on programming, industry trends, and networking within various industries. Members of this board are senior executives, with years of experience, who are also responsible for data and analytics strategies of their respective firms. These members are recognized by their peers as thought leaders who shape the direction of data and analytics.
"These executives work for companies that represent the future of cutting-edge data analytics applications," said Scott Radcliffe, managing director of the MSBA program. "They will help ensure that the MSBA program and the experiential learning that takes place through the spring capstone project remain relevant and responsive to the marketplace and 'real-world' technologies, problems, and challenges."
The following executives have been named to the MSBA Executive Advisory Board:
Rish Gosine, senior director of data science, engineering and analytics, Bloomingdale's
Skipper Hartley, managing director of quantitative finance, Bank of America
Uday Kumar, executive director of sales, finance, and customer profitability analytics and optimization, Cox Communications
Benjamin Litvinas, senior vice president of data science and analytics, Realtor.com
Saurabh Parikh, chief data and innovation officer, CONA Services
Shobana Radhakrishnan, senior director of engineering, Google TV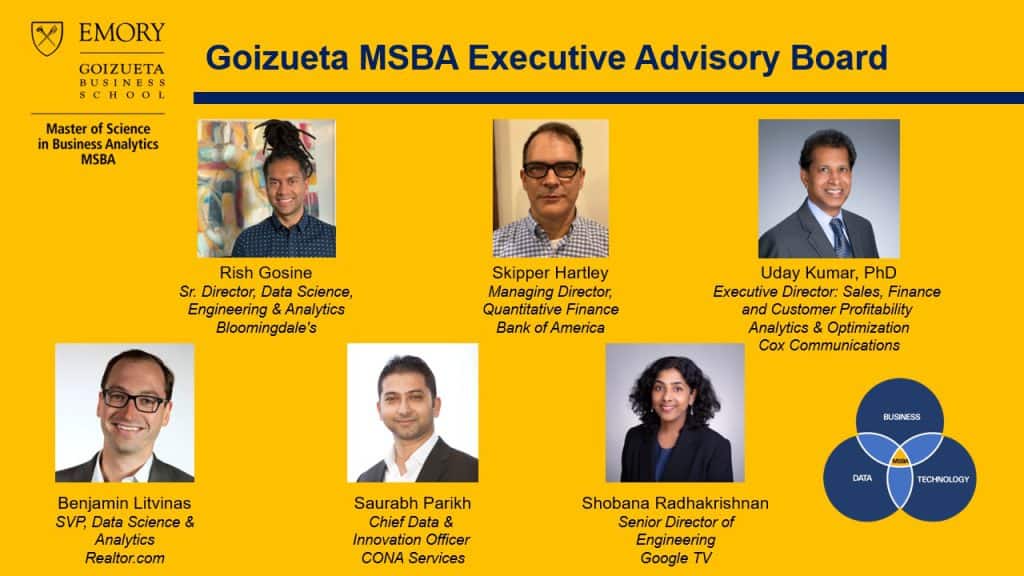 Armed with the insight and expertise of these industry thought leaders, Goizueta's MSBA students can continue to shape the future of business.