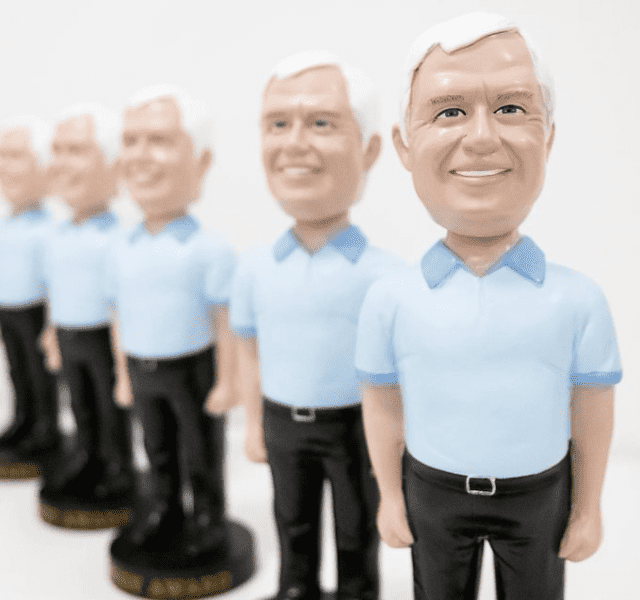 Since 2019, area entrepreneurs and investors gather to recognize the presentation of the prestigious Siggie Awards. Held in person this year at The Hatchery Center for Innovation at Emory University for the first time since COVID-19, the event pays tribute to the lifelong work of Sig Mosley 68BBA.
Garnering the moniker "The Godfather of Angel Investing," Mosley is managing partner of Mosley Ventures. Since 1990, Mosley has been the most prolific southeast investor in 145 startups and 105 liquidity events. He is currently the record holder of the largest southeast venture deal with the $5.7 billion acquisition of Tradex by Ariba.
"The Roberto C. Goizueta Center for Entrepreneurship & Innovation is honored to serve as the lead sponsor and host of the annual Siggie Awards," said Rob Kazanjian, Asa Griggs Candler Professor of Organization & Management and the center's academic director. "The center works closely with the Atlanta Small Business Network and Carabiner Communications as our partners to plan the event as well as to manage the nomination and selection process," he shared.
To earn a Siggie Award, recipients must be accredited investors with an active portfolio of Atlanta-area investments. They must also be active in growing and mentoring the startups they invest in as well as supporting the broader Atlanta-area ecosystem.
"Honoring Sig in this way, first and foremost, pays homage to his long history of contributions to Goizueta students with interests in entrepreneurship and investing. Further, our students get the opportunity to interact with the most connected and influential investors in the southeast, and we have to opportunity to showcase our programs and students," Kazanjian adds.
Saif Nazrul 23MBA, program manager to this year's Siggie Awards, worked closely with nominators, award recipients, and the event team. "Participating in this event gave me the chance to rub shoulders on a regular basis with some of the most accomplished early-stage investors in Atlanta and helped broaden my knowledge of, and network within, the Atlanta startup ecosystem," Nazrul says. He shared appreciation for "the 'unsung' angel investors who had invested in early-stage startups in the Southeast at a time when they were overlooked by most other investors." 
This year's competition acknowledged title sponsor Mookerji Foundation, Series A sponsor Access—powered by TIE Atlanta Angels, and seed sponsors Bennett Thrasher LLP and MHR International.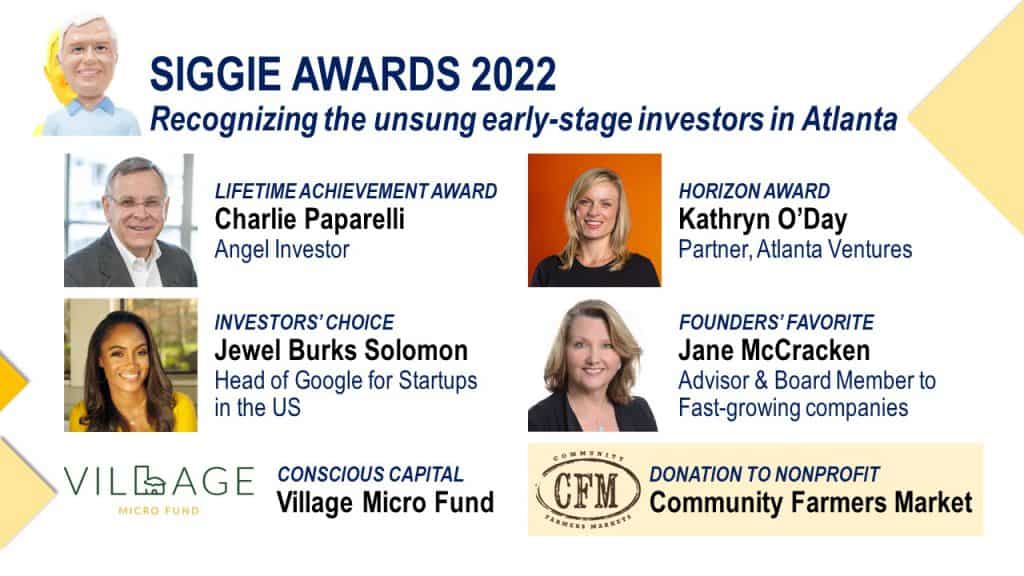 Honoring Great Work to Build Our Atlanta Ecosystem
For a legacy of achievement, Charlie Paparelli was presented with the Lifetime Achievement Award. For more than 20 years, he has invested in early-stage companies and coached entrepreneurs. He began his career with a successful startup and exit, enhanced his experience with 10 years in general management and COO roles, and finally came back to angel investing full time. He served as Angel in Residence at ATDC and is an advisor at HelloPackage.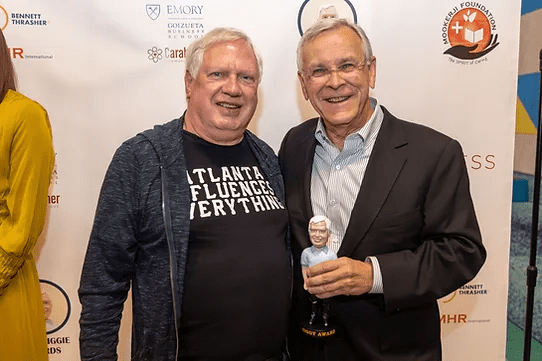 In his award acceptance speech, Paparelli reflected on his path and inspiration. Lauding Sig Mosely, he shared lessons learned from his invaluable mentor.
You can't be an angel without loving entrepreneurs. They are the people who change the world.

Charlie Paparelli, angel investor and recipient of the Siggie Lifetime Achievement Award
Paparelli "emulated Sig's habit of doing all he could for entrepreneurs to help them succeed. I watched Sig do it over and over again." He shared the realizations that changed the course of his professional life. "I have to be like Sig. You have to serve the community."
Receiving a $5,000 award was Community Farmers Market, an innovative nonprofit that works across metro Atlanta to build a local food infrastructure that will increase access to affordable, fresh foods for families who need it most. While supporting local farmers and small businesses to build sustainable models, the organization operates farm markets as well as farm stands in MARTA stations.
Recognized with the Conscious Capital Award was Village Micro Fund. The fund breaks down barriers to access to capital for Atlanta's Black entrepreneurs by leveraging its community and interpersonal networks to raise microloans, issue grants, and utilize cryptocurrencies.
The Founders' Favorite Award is given to an early-stage investor who has a deep commitment to founders and has worked closely with them to help launch, fund, and scale their ventures. This year's recipient was Jane McCracken, advisor and board member to fast-growing companies. After working at the ATDC in its early days, McCracken launched six companies ranging from healthcare technology and software to ecommerce. She has been active in the Atlanta startup-scene advising, investing, and supporting startups. McCracken recently joined Corps Team, where her focus is helping fast-growing companies to attract, hire, and retain the talent they need.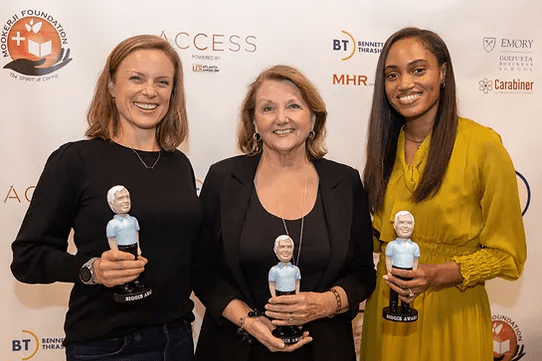 The Horizon Award, honoring rising early-stage investors who will lead the way to build and support the Atlanta ecosystem, was presented to Kathryn O'Day, partner of Atlanta Ventures. After 15 years scaling tech startups with multiple exits, O'Day joined Atlanta Ventures as a partner in 2021. She is passionate about helping entrepreneurs with the bold goal of supporting 10 female-founded unicorns in the next 10 years in the Southeast.
During the event, O'Day celebrated camaraderie and mutually beneficial coopetition: "In Atlanta, I see collaborations to work together, not against each other." 
Nominated by her peers for the Investors' Choice Award was Jewel Burks Solomon, head of Google for Startups in the United States. The award is given to an early-stage investor who embodies the spirit and vision of Sig Mosley as nominated by their peers.
In local entrepreneurial circles, cult t-shirts proclaim, "Sig Said NO." Mosley gave a nod to this aphorism as he presented the award: "I said no twice to Jewel." Inspired by others to become an angel investor, Solomon shared her story with the audience.
Once I sold my company, I knew that I wanted to be on the other side of the table and support founders who looked like me who didn't have access to folks in their friends and family networks who could write those first checks, so I got active. I've been writing a lot of checks, and I'm trying to be as prolific an investor as Sig Mosley.

Jewel Burks Solomon, head of Google for Startups US and recipient of the Investors' Choice Award
The Roberto C. Goizueta Center for Entrepreneurship & Innovation cultivates a climate for growth building on three core pillars: entrepreneurship, innovation, and investing. Learn more about the cutting-edge research, programs, events, and opportunities of the center.