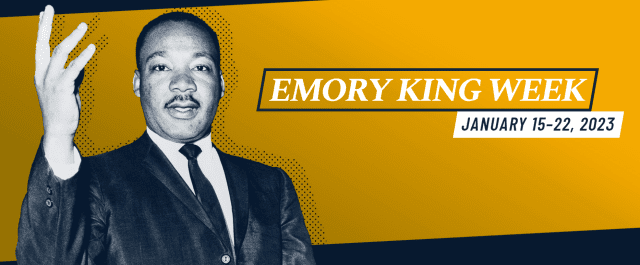 On April 5, 1957, 28-year-old Martin Luther King Jr. spoke at Dexter Street Baptist Church in Montgomery, Alabama, to keep the congregation encouraged in the aftermath of a successful bus boycott.
The aftermath of nonviolence is the creation of the beloved community. The aftermath of nonviolence is redemption. The aftermath of nonviolence is reconciliation.

MLK Jr.
It is in the spirit of beloved community that Emory University celebrates Martin Luther King Jr. Day on January 17. Organizers hope that King's legacy will inspire the campus community to find their place in the effort toward equity and justice.
Here are just a few of the events happening across campus:
Oxford College MLK Oratorical Contest
Thursday, January 12 at 7:00 p.m. at the Oxford Student Center Forum Room
Martin Luther King Jr. made it his life's work to fight for the civil rights of African Americans and other marginalized communities. The oratorical contest's theme for this year is "Driving Out All of the World's Darkness."  Each participant will be asked to deliver a poem (three minutes) or speak for five to seven minutes on a specific prompt. Register to participate.
Emory's Day On
Monday, January 16 at 11:00 a.m. to 4:30 p.m.
Emory's Day On honors the work, legacy, and values of Martin Luther King Jr. The event starts at 11:00 a.m. with food, t-shirts, speeches, and check-in for specific trips. The day concludes around 4:30 p.m. Secure your spot and learn more.
A Dialogue on Economic Justice
Tuesday, January 17 at 6:00 p.m. at the Emory Student Center Multipurpose Space N102
Join the Emory Conversation Project and Volunteer Emory for a dialogue to explore Martin Luther King Jr.'s focus on economic issues, including the importance of unionization. Participants will use excerpts from King's address to the Illinois AFL-CIO convention in October 1965 to discuss the benefits of unions and how they can lead to more socially just communities.
Fred Gray and Civil Rights Lawyering
Wednesday, January 18 at 4:00 p.m. in the Glenn Auditorium
Attorney Fred Gray is a nationally recognized civil rights attorney, celebrated lecturer, successful author, ordained minister, and former legislator. A book signing will follow the lecture. Sponsored by the Department of African American Studies.
To view the full list of events, including many virtual ones, being offered across Emory's campus, visit the Emory King Week website.
Learn more about Goizueta's commitment to diversity, equity, and inclusion