Appearing on Shark Tank, although daunting, is often an entrepreneur's dream. The popular ABC show, now in its 13th season, receives upwards of 40,000 applicants each year, 150 of which are pushed through to filming, and only about 100 will air. Emory Business chats with Goizueta entrepreneurs who made the cut.
Start with a Bold Idea – Then Practice Pitching It
Step one in preparing for any funding ask is to perfect the pitch. Amelia Schaffner, director of entrepreneurship for The Roberto C. Goizueta Center for Entrepreneurship & Innovation, says the key to perfecting your pitch is to practice your storytelling with as many people as you can and allow yourself to be "coachable" by those who have seen it and done it before.
Essentially the first step is validating the problem you are solving, even before homing in on the idea. The next steps include mapping out the resources needed to grow, thinking about your business model, and considering who will come along with you on the journey: team, board, investors.

Amelia Schaffner, director of entrepreneurship
One way students may do this is by participating in Pitch the Professors, a competition in which student start-ups can present their businesses to expert professors for feedback. At the end of the semester, students who have the most promising ideas are given extra resources, such as access to local incubators, mentors, and potential investors. Throughout the year, students may participate in other pitching opportunities, such as the annual Emory Entrepreneurship Summit and the HackATL hackathon.
Interested entrepreneurs may also participate in the Emory Startup Launch Pre-Accelerator, a three-month program that allows early-stage founders to validate their market demand, as well as connect with resources and partners who can take their idea to the next level.
So, how did some of Goizueta's own put these best practice skills to work in the Tank?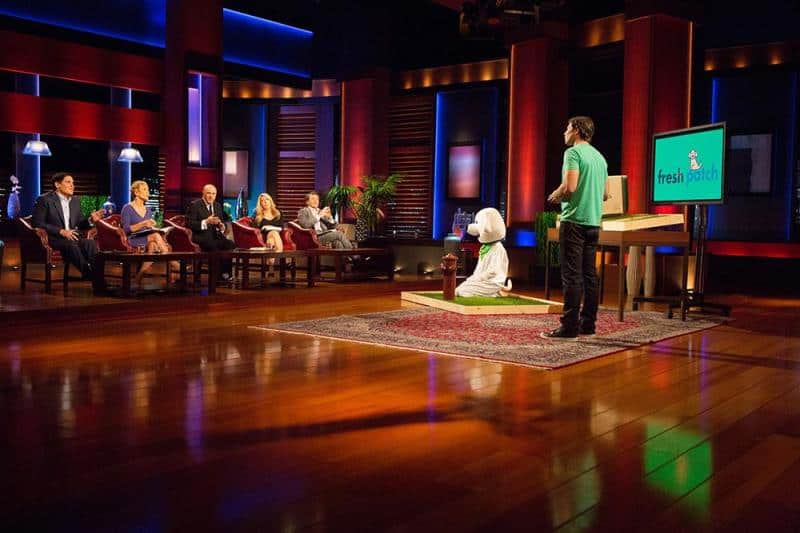 Solve a Real-Life Problem and Reap the Rewards
Andrew Feld 03BBA pitched his business to the Sharks in Season 6. Fresh Patch is a service that provides subscribers with real, all-natural grass training pads for dogs.
When Feld moved from a Los Angeles home with a spacious backyard to a balcony-only condominium in Miami, his dog didn't adjust well to the change in routine. Feld began buying sod for the balcony, and although it worked, he found the process labor-intensive. That's when an AHA moment struck and Feld envisioned a service to deliver patches of fresh grass in a fully functioning box.
Feld, having pursued acting earlier in his career, felt he had an edge while appearing on Shark Tank as he was familiar with the studio environment. However, he credits Goizueta with giving him the specific skill set to deliver his business pitch.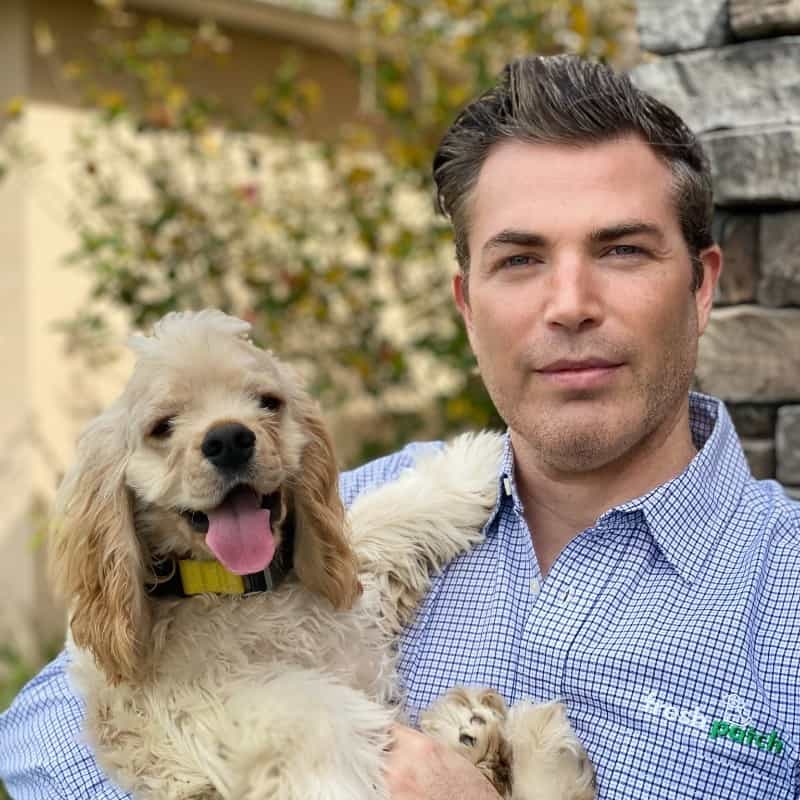 Getting in front of the Sharks is very stressful. However, I felt prepared. At Goizueta we gave many class presentations where we'd have to get comfortable being in front of an audience, explaining concepts, and answering questions. Also, having a business school background – accounting, finances, and spreadsheets – helps.

Andrew Feld 03BBA, founder of Fresh Patch
Even with proper preparation and comfort, Feld acknowledges that the Sharks set the tone. He explains that participants have only one chance to present. From that one to two hours filmed, the producers edit a segment to the most entertaining 10 minutes. He says that appearing on Shark Tank can either be a big win or a blow to your company. However, even knowing that, he would do it again in a heartbeat.
Feld made an on-air deal with Mark Cuban and Barbara Corcoran at $150k for 10 percent of the business, but they mutually walked away from the agreement while negotiating the formal contract a month later.
"You are at the mercy of whatever happens in there," he says of the tank. "I feel I got the best of both worlds. I got validation from the Sharks for my product, which translated into a favorable response from the audience, and I still own 100 percent of my company. I don't have to answer to anyone."
Listen to Your Inner Entrepreneur's Voice – and Stick to Your Mission
John Pinto 09BBA and Chelsea Pinto 09C took BoomBoom Naturals, all-natural nasal sticks that boost focus and mood, into the tank in Season 10. The couple created BoomBoom after trying a similar item from Thailand, where nasal inhalation products are a popular pharmacy item. After four years of research, experimentation, development, and many positive testimonials, they launched their product line.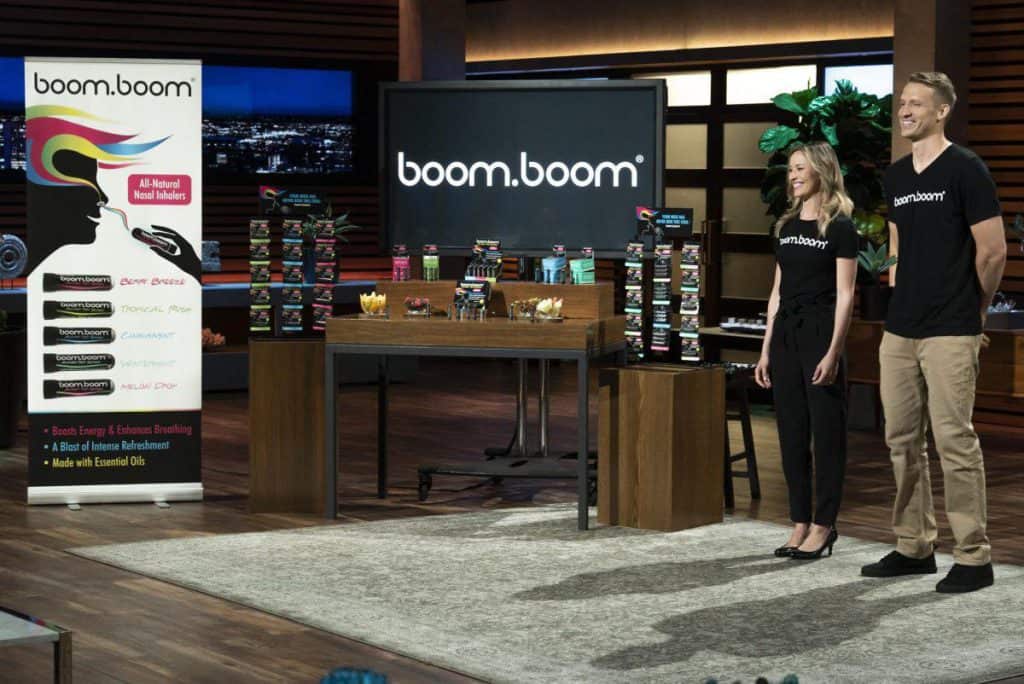 John says they went on the show really wanting to get a deal but were only going to go through with it if it felt right.
It's a matter of finding the right partner. We were especially interested in getting a deal from Lori because of her interest in unique products. At the end of the day, we got an offer from Robert that we walked away from, and it was definitely the right decision for us. He wanted a big chunk of the company, and we weren't willing to part ways with it.

John Pinto 09BBA
Instead, the Pintos left with brand exposure, a lesson, and a fun experience.
John says there is no doubt that the "Shark Tank Effect" is real. The night their segment aired, 20,000 unique visitors hit their website – when they were used to having a few hundred at most. They also saw large amounts of traffic at their Amazon storefront – enough to experience a glitch for 30 minutes. BoomBoom accomplished what would have normally taken three to four months in a single evening.
At the episode's airtime, Pinto notes that they were on pace to make around a million dollars in revenue that year. Now, they are at the four to five-million-dollar mark.
A layer of built-in growth occurs when appearing on Shark Tank because of the visibility and exposure to the mass market. We know BoomBoom Naturals would have continued to grow to where we are today, but I don't know if it would have happened as quickly.

John Pinto 09BBA
Preparing for Shark Tank also forced the Pintos to learn more about their business. Before the show, he said they were an E-commerce brand and didn't have experience pitching to retailers. He notes, "We have made improvements to our model and in how we talk about the business to different buyers in the retail space." As a result, BoomBoom is now available in most CVS stores.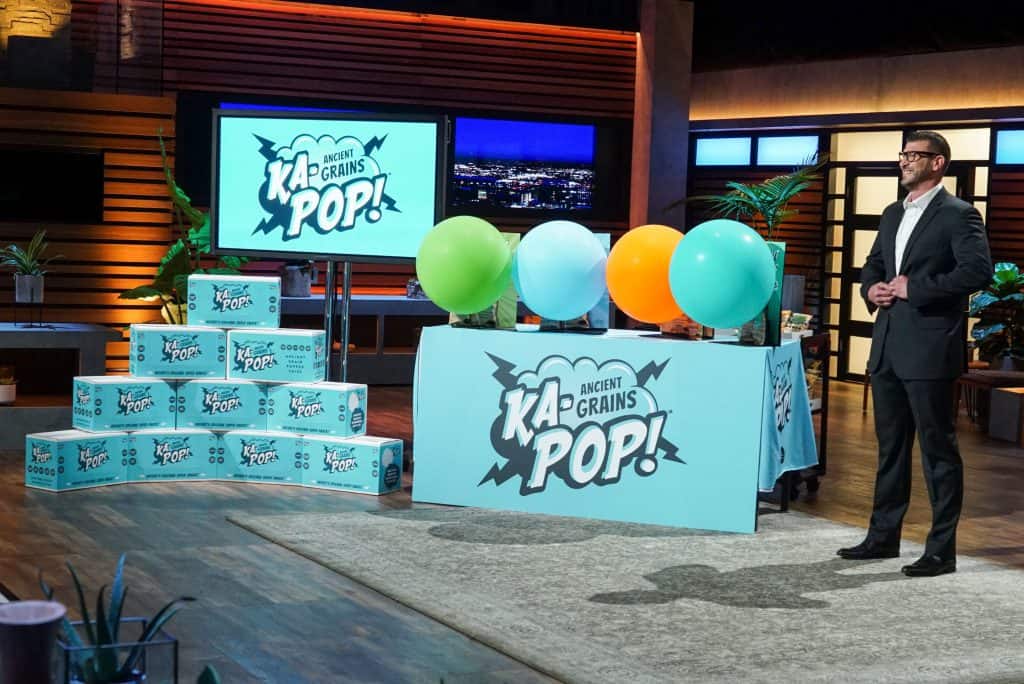 Fully Experience the "Shark Tank Effect" – With or Without a Deal
Dustin Finkel 00BBA says the "Shark Tank Effect" has manifested both quantitatively and qualitatively for his company Ka-Pop!, featured in Season 11.
The health-conscious entrepreneur set out to make a delicious snack that was genuinely healthy using the ancient grain sorghum. "The characteristics of our brand are authenticity, simplicity, and joy," this founding entrepreneur and CEO says. "You hear me say this on Shark Tank and I say it almost every day: we're vegan, gluten free, non-GMO, allergen free, but not taste free. We're fun and energetic." The numbers after appearing on Shark Tank are robust, Finkel shares.
Nine days after Ka-Pop! aired, the company sold more on Amazon than the entire previous year combined. Each time their segment re-airs, they see a 200-300 percent spike in volume on their E-commerce channels.
Even though Finkel turned down the on-air deal he was offered, his time on Shark Tank makes for a great story—so much so that the screen saver of his laptop is a photo of him presenting on the show. "At first, it's going to seem super arrogant and self-serving—and I'm sick of looking at the photo—but there's a reason," he says. "Every time I'm traveling on a plane, the photo generates conversations. I have gained investors and met suppliers on planes from that picture. I was on Season 11 and it still carries that cachet. The power of Shark Tank is undeniable."
For Finkel, there is no denying the brand awareness Ka-Pop! received is invaluable, but it took large amounts of time, resources, and energy to prepare for.
You are constantly put through new rounds, so it's a game of constant hurry up and wait. Every step of the Shark Tank process that I went through I did to the best of our ability. When we did our video application, we invested in that. When we filled out the application, we invested in it. Really invest in the experience because it will pay off.

Dustin Finkel 00BBA
A bulk of Finkel's preparations were to excel at his pitch. "My ability to not just know my story, but understand my numbers, understand the dynamics of my business, and be analytically savvy is what has allowed me to be successful when presenting to investors and on Shark Tank," he says. "These skills I picked up in my focus in finance and accounting at Goizueta have enabled me to have a fruitful career."
Get Ready for the 24/7 Thrill Ride of an Entrepreneur
Josh Inglis 12EMBA is the most recent Emory alumnus to appear on Shark Tank. He and his business partner Kevin Conway pitched their technology thermal capsule brand PHOOZY in Season 12, winning a $500,000 deal for 8% of the company from Lori Greiner and Robert Herjavec.
Inglis recalls the grueling, but essential, 18 months of preparation to make their presentation air-tight and land a sweetheart deal.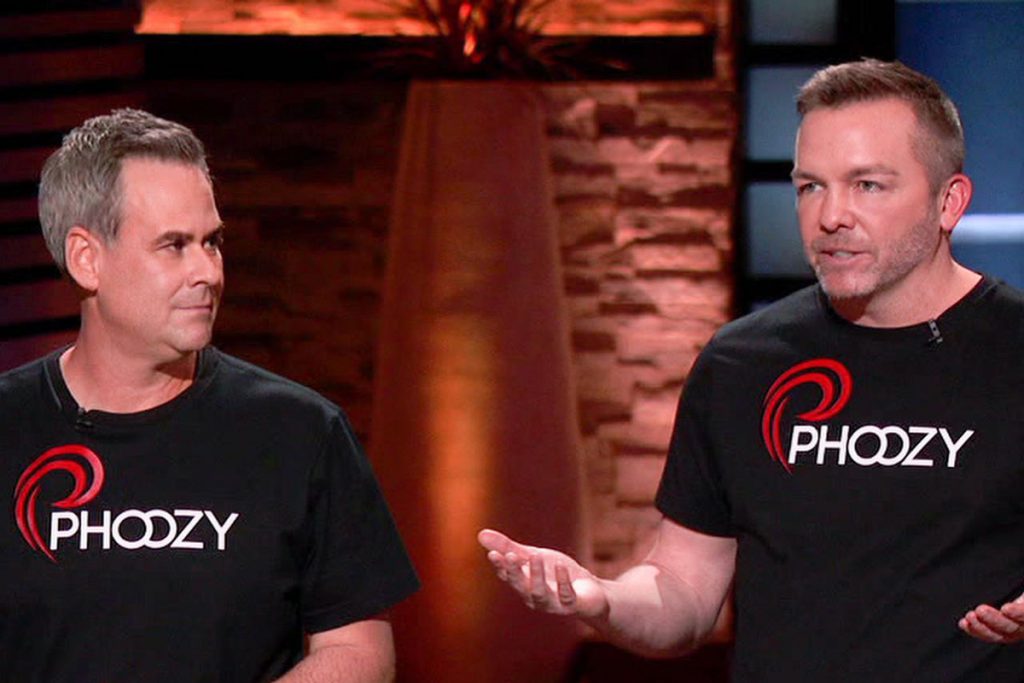 It's not just having amazing sales numbers or being a quirky, funny person. If you want to be taken seriously, you have to have all of your numbers clean and memorized. Just as important, you have to have a really interesting story and share it with enthusiasm.

Josh Inglis 12EMBA
Inglis is no stranger to a demanding workload, as he completed the Goizueta Executive MBA program in 2012 while working full-time as an executive for Home Depot. He notes that juggling the two allowed him to grow his organizational leadership and self-development that ultimately set him up for success on the show.
Since appearing on Shark Tank, the PHOOZY partners have shifted from trying to convince people to carry their product to having different retail buyers calling them.
Start Now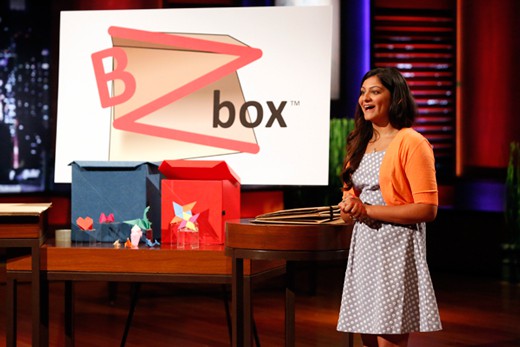 Whether your innovative service or product business is emerging, growing, or ready for sale, it's never too early to try to get your feet wet in pitching. Kaeya Mihir Majmundar 15C is the youngest Emory alumna to take a dive in the tank. In 2014 while still a senior at Emory College of Arts and Sciences, she pitched BZBox, a collapsible storage box.
Majmundar landed a $50,000 deal for 40 percent of the company from Lori Grenier. While some might have considered this a poor deal, Majmundar considered Grenier's mentorship invaluable. The young entrepreneur went on to co-found Swaypay, a social commerce startup that allows users to get paid for making posts featuring their everyday purchases on social media.
Are you a current student or alumnus with a brilliant idea for a new business? Are you an entrepreneur or investor who would like to get involved as a mentor? Dive into the interactive experiences, events, and resources of The Roberto C. Goizueta Center for Entrepreneurship & Innovation.
Learn more about the upcoming pitch competition at the Emory Entrepreneurship Summit featuring keynote speaker Vivek Garipalli, co-founder and CEO of Clover Health.