Not every entrepreneur is up to the task of battling five powerful sharks in front of millions, but PHOOZY co-founders Josh Inglis 12EMBA and Kevin Conway fought and won a $500K deal from sharks Lori Greiner and Robert Herjavec for their technology thermal capsules. As Greiner predicted for their products, "You're going to dominate the market."
Since September when ABC's Shark Tank episode 1220 wrapped production, PHOOZY founders Josh Inglis 12EMBA and Kevin Conway have operated under a strict code of silence about the deal they earned. "Having been in the corporate world for more than 15 years, I faced many challenges in driving billions in revenue," said Inglis. "Skydiving and scuba diving in caves were much more relaxing compared to my time pitching in the tank."
The company bootstrapped operations and self-funded growth for its business-to-consumer model before applying to Shark Tank in 2020. The company launched in 2017 with only 2 SKUs but came to the Tank with a product portfolio of over 50 SKUs and profitable growth every quarter since launch.
The company founders were well prepared, and the sharks took notice. Having stepped out of deal contention early, Shark Mark Cuban stated after hearing their entrepreneurial story, "You guys are my heroes."
"I think you guys are fantastic operators," O'Leary said.
In short order, three offers emerged for the growing company, and Investor Lori Greiner made her stance on their past performance clear. "You blow me away at the job that you did by yourselves in design, manufacturing, and marketing."
The Entrepreneurial Journey of a Thousand Steps
Conway, a professional race car driver, explained the impetus for founding PHOOZY in 2017. "As a company, we understand what it means to live a life of epic outdoor adventures without having to worry about your technology shutting down, or worse. We wanted to be the first in the industry to provide thermal, drop, and float protection for mobile devices while extending battery life."
Conway approached lifelong friend Inglis to create a product that would provide protection from the elements while remaining easily accessible. Influenced by technology used to protect drivers from extreme temperatures while racing, the team focused on thermal management. "We worked with aerospace engineers and rocket scientists to adapt materials developed for spacesuits to bring PHOOZY to life."
At the time, Inglis was a corporate executive for Home Depot but the lure of entrepreneurship drew him into the world of no paycheck, nonstop work weeks, rollercoaster emotions, prototype refinements, and thrilling rewards.
Inglis said, "There's no 9 to 5 anymore — that's all out the window." While an executive at Home Depot focused on ecommerce and digital marketing, Inglis decided to stretch himself and apply to Emory. "Going back to earn my MBA while maintaining my full-time leadership role at The Home Depot was intense. This accelerated MBA program jammed two years of education, papers, and deliverables into a quick 16 months.," he recalled. "The intensity of the program was deliberate and allowed me to fine-tune my prioritization and crisis management skills. These skills would become vital and used daily in the launch, management, and growth of PHOOZY."
A 2018 application to appear on Shark Tank was unsuccessful, but persistence and tenacity paid off in 2020. Inglis and Conway knew exactly what they needed to do. "We had to learn to be rejection proof."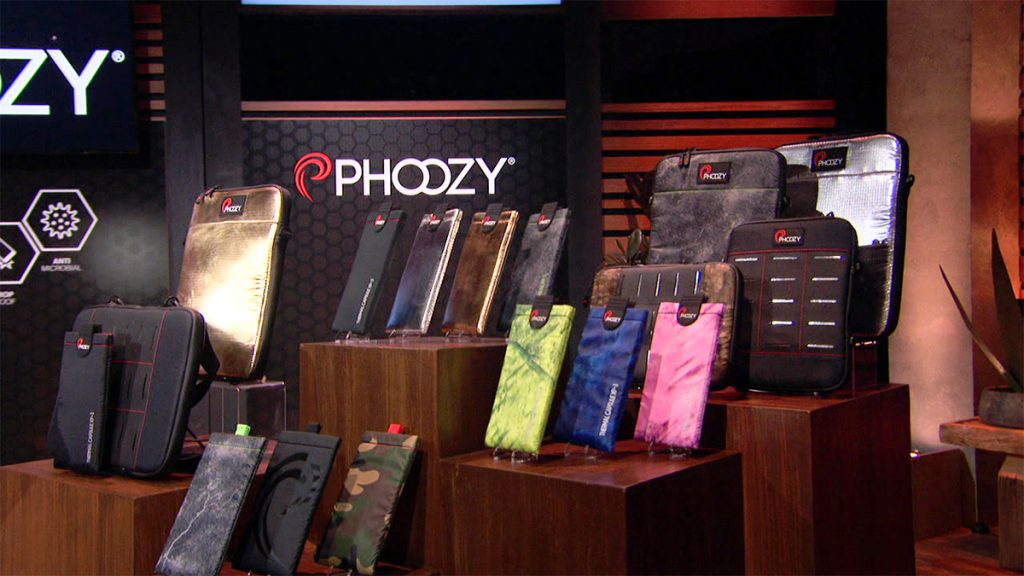 When Sharks Attack, Know Your Numbers
Of the 40,000 companies that typically apply for the show each year, less than 160 are invited to pitch, while about half of those will see airtime on television during the season. As Inglis noted about their prep phase during the height of the coronavirus global pandemic, "The paperwork and interview process can be a little overwhelming, but stay focused and make sure you know your numbers and have a compelling story."
PHOOZY's long shot to pitch paid off.
Fans of Shark Tank know that the sharks show no mercy, grilling entrepreneurs with pointed questions, challenging financials, and hurling insults about preparedness. "Driving a race car into a corner at 200 mph is much less nerve-wracking and anxiety-inducing than walking into the tank to pitch to the sharks," Conway noted.
PHOOZY stood strong and shared insight on its patented technology, corporate action plans, data, and user analytics. Conway and Inglis presented three versions of the thermal capsules to the judges, eliciting demonstration support from Shark Daymond John to highlight the 90% reduction in heat from the sun, drop and float protection, and chill-deflection to extend battery life.
In minutes, the bidding war began with promises of licensing deals, business-to-business plays, short-term royalties, and extended financial support over time.
"I gave up my seat at Le Mans to be here (on the show) this weekend," Conway told the sharks after securing their deal. "That's how important this is."
Herjavec replied with sincerity, "You are allin."
In hindsight, the challenges made the PHOOZY team stronger and even more determined to succeed. Inglis offered this advice to other entrepreneurs. "Don't get discouraged if your business struggles. Apply for Shark Tank. Push yourselves. It will never be the perfect time in life or business, but never give up."
As a fresh entrepreneur, Inglis shared his story with Emory Business. Learn more about the exciting initiatives of The Roberto C. Goizueta Center for Entrepreneurship & Innovation.
All PHOOZY phone, tablet, and computer cases feature patented Chromium Thermal Barrier™, adapted from NASA-engineered materials.