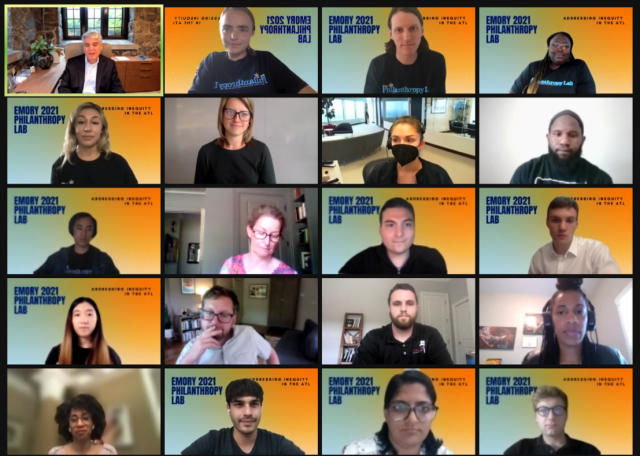 During the spring 2021 semester, Goizueta students allocated more than $55,000 to 10 organizations through the Emory Philanthropy Lab course. The course introduces MBA and BBA students to the role of philanthropy and empowers them to move from theory to action in addressing long-standing inequities throughout our city.
Taught by co-instructors Brian Goebel, managing director of The Roberto C. Goizueta Business & Society Institute, and Tene Traylor of The Kendeda Fund, the course works in partnership with the Philanthropy Lab. The Lab and its donors have invested more than $11 million to facilitate philanthropy courses at 32 universities across the U.S.
"I truly enjoyed co-instructing with Brian and guiding the students through the experiential practice of grantmaking," Traylor said. "We delved deep into pertinent issues and approaches such as racial equity, COVID-19 recovery, trust-based philanthropy, and valuing the lived experience of changemakers in our community."
The course directly impacts and furthers the mission of the Institute by working to transform business to build a more equitable and climate-smart world through research, innovation, and leadership.
"Understanding philanthropy and how it can be leveraged alongside other strategies to address inequality prepares leaders to be effective change makers" Goebel said. "Learning directly from experts like Tene who has led transformative grant making for decades made the learning journey for our students truly powerful."
Students Partnered with Center for Civic Innovation to Assess Needs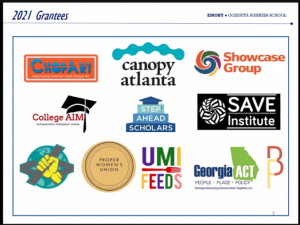 Students in the spring course worked directly with the Center for Civic Innovation, led by Emory alum Rohit Malhotra 08C, to source grant applications for students to review from graduates of CCI's Civic Fellows program. CCI works with more than 80 civic leaders throughout Atlanta to support the start and growth of nonprofit organizations.
"As an alum, I was proud to see how Emory is evolving to a new way of thinking and engaging with Atlanta," Malhotra said. "I felt hopeful by being around the students in the class – they are empathetic and showed acceptance that while things aren't perfect, that doesn't mean we shouldn't keep working on making it better. I loved how much they cared about the humanness of the project."
Throughout 26 sessions, students reviewed applications, interviewed finalists, analyzed information, and worked together to determine which grantees would be announced at the Giving Ceremony held in April.
Calvin Furbee 22BBA enrolled in the Philanthropy Lab course to learn more about an area not typically covered in a business school setting. His biggest takeaway was how many local nonprofits were founded by members within the communities they serve.
"Students should take this course to learn that philanthropy and donating is not just 'giving away' money," Furbee said. "Investments in our local communities and the addressing of inequities allow for us all to live better and more productive lives. When students are able to realize these larger societal issues and how they connect to them, they will be able to better understand their place within society and how they can work to better it."
Ten Nonprofits Receive Grants to Increase Equity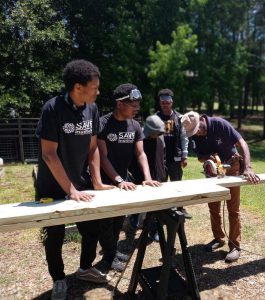 The following nonprofits whose work addresses inequality in Atlanta were awarded grants ranging from $2000-$10,000 by students of the 2021 Philanthropy Lab Course.
Learn more about how The Roberto C. Goizueta Business & Society Institute offers students experiential learning opportunities to engage with community members and global organizations on issues of social and environmental significance.