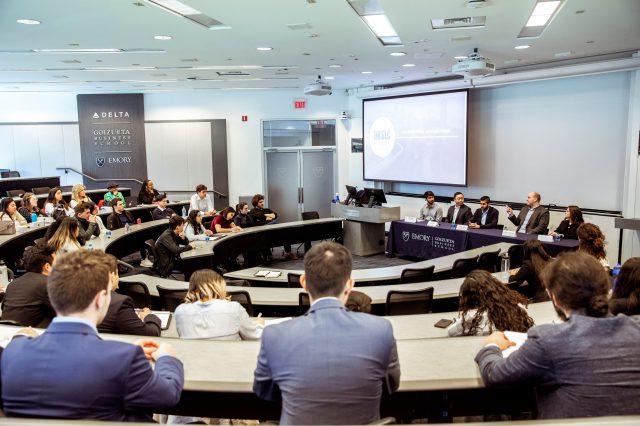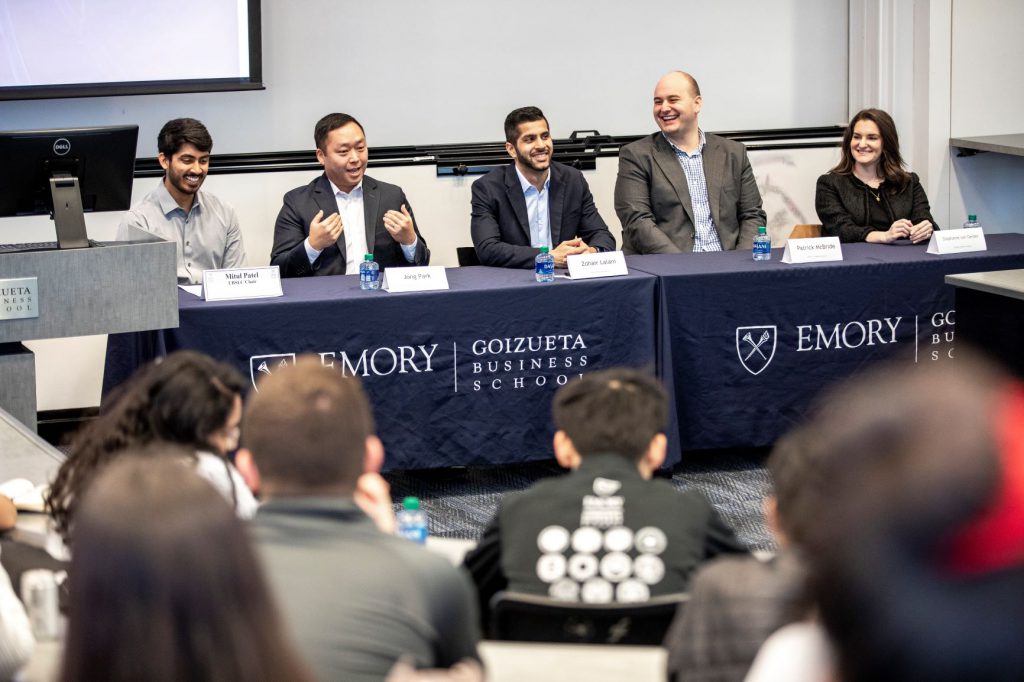 Early in his consulting career, Jong Park 08BBA tried to explain to the CFO of a company that he thought the company should be using different metrics than it was. Park, director of Talent & Rewards at Towers Watson, was so intent on getting his point across that he didn't recognize that the CFO didn't want to hear it. The CFO fired Park. "Technically I was right but failed to understand who the buyer was," he said.
Park recounted this experience during a Professional Services Panel at the end of this year's Undergraduate Business School Leadership Conference (UBSLC). Moderated by the 2020 conference Chair, Mitul Patel 20BBA, the four panelists, all Goizueta alumni, offered real world examples of the importance of building relationships and honing soft skills.
Zohair Lalani 18BBA, consultant, People Advisory Services at EY,credited his strong relationship with a client to saving the account after a presentation he gave with a colleague didn't go well. "Having an edge in people management pays off," said Lalani.
Panelist Patrick McBride 14BBA, director of IT, Logistics at Gap, Inc., likened good relationship skills to defensive driving—it's not enough to know where you are and what you're going to do, he said, you need to be "aware of everything and everyone else around you." How others react will affect how you deliver information. Some professional situations will "push you to your limits of interaction," McBride explained. What will set you apart, he added, "is how you deal with that discomfort and grow out of it."
A great place to develop interpersonal skills is working on group projects while in school, according to Stephanie van Gelder 15BBA 20MBA, former associate brand manager, Category Marketing at Newell Brands. As a BBA alum and current full-time MBA student, van Gelder understands that leading a team requires extra effort, but learning how to manage team dynamics and recognize non-verbal cues will provide a good base to "manage people and manage different personalities," she told the students. "Get as much as you can out of that experience because in the real world in your job it's going to be like one big group project all the time."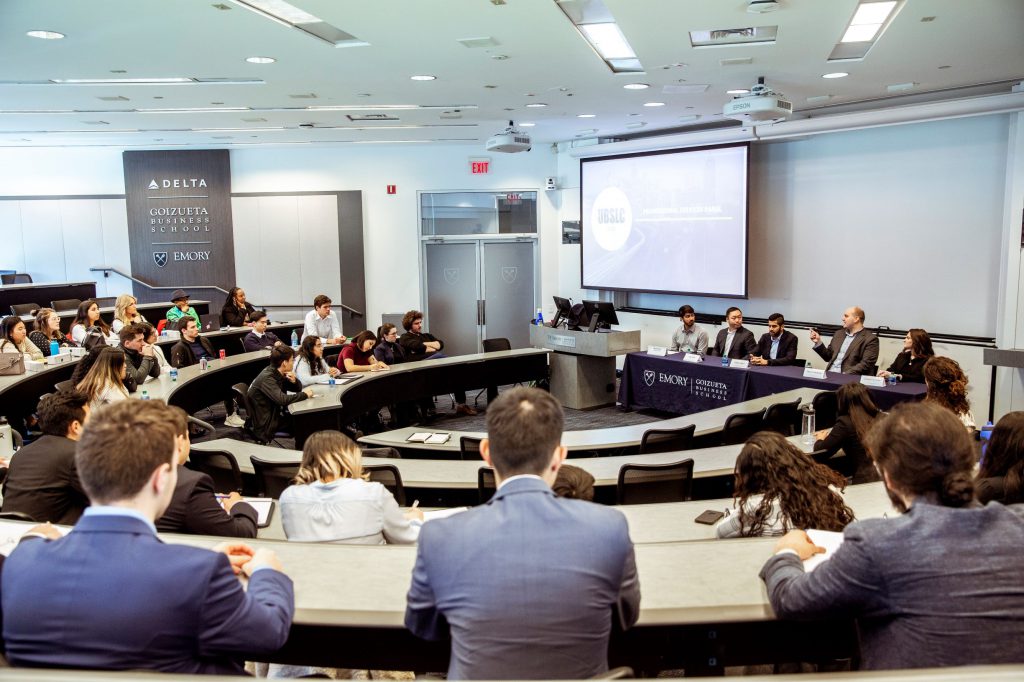 Learning to lead
UBSLC is a student-run international event that provides a forum for top undergraduate business students to meet with leading business executives, cultivate meaningful connections and enhance their leadership skills.
Two panelists—McBride and Lalani, have served as past UBSLC Chairs—Lalani in 2018 and McBride in 2013. "Leadership comes through action," said Lalani about his UBSLC experience. "The conference is a differentiator."
According to Lalani, through the experience, he not only improved his time management skills and learned to deal with stress, but was able to find areas of commonality with UBSLC's various stakeholders—fellow students, faculty and corporate sponsors.
McBride credits the UBSLC conference with giving him the chance to hone his soft skills in a professional situation while still in school.
Patel expressed a similar, albeit fresher, experience. "Organizing and running UBSLC was the hardest thing I've ever done in college—and also one of the most rewarding," he said. "UBSLC has changed me for the better. Organizing it taught me just as much as all the events of the weekend."
Looking forward
As the four alumni panelists answered a multitude of questions from the packed crowd, they didn't just speak to the students about developing their leadership skills, they also advised them to discern what it is they want out of a career and out of life.
Lalani put it this way: "Keep an eye on your own prize and not someone else's," he said. Doing so, he told the students, will get your further in life—both professionally and personally.