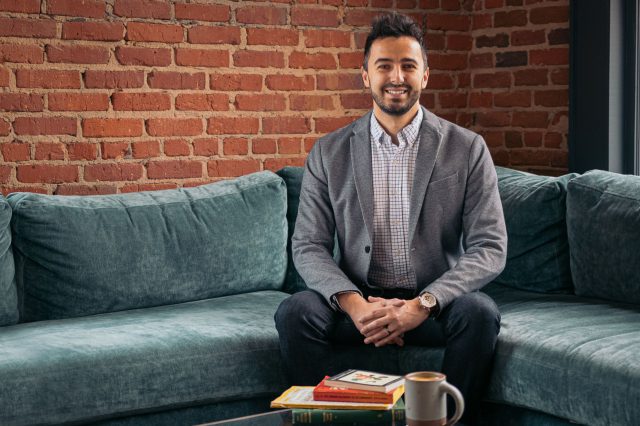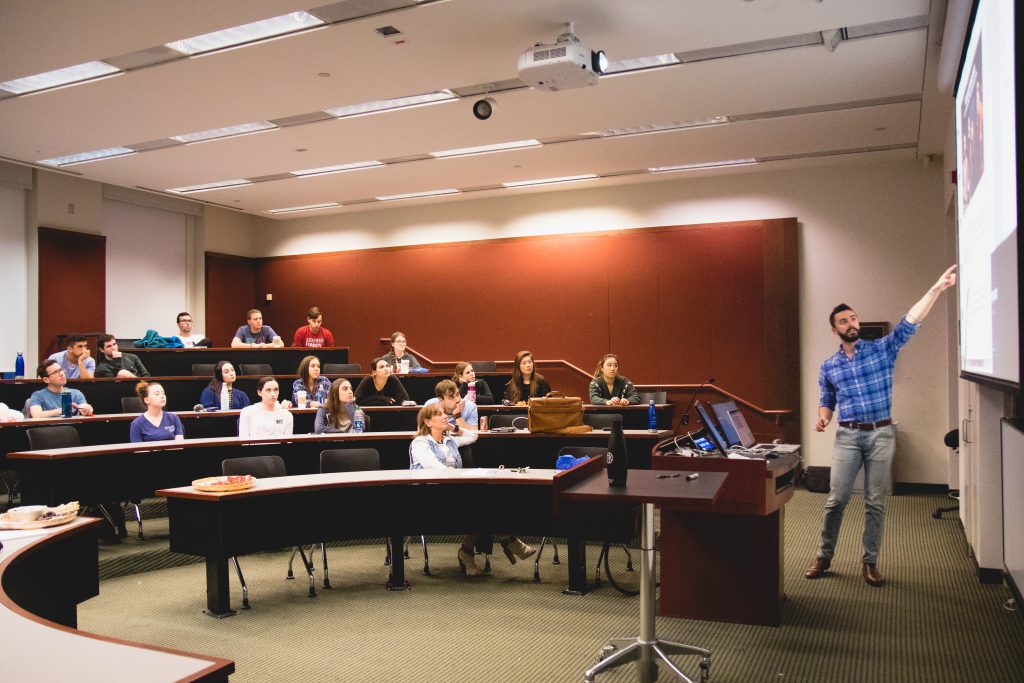 What started out as a way to help students succeed in a marketing competition ended up catapulting a small business into the big leagues.
As a student, David Feldman 08BBA, founder of the creative agency 3 Owl, excelled at team presentations and developing strategy and marketing for real-world clients. In Reshma Shah's course Dynamics of Advertising and Promotion, Feldman worked with his classmates on a campaign for Subaru. Their campaign won first place among 12 competing universities, with Feldman one of a team of five selected to make the final presentation to Subaru executives at their headquarters.
The thrill of creating campaigns would lead Feldman to share his expertise with Goizueta students, and eventually, to start his own firm.
"Since his graduation, David has been helping me with my consultancy classes by providing teams with guidance on the development of their creative big ideas, their storylines and their digital programs," said Shah, associate professor in the practice of marketing.
In 2013, as he was helping students, an assignment turned into an opportunity for Feldman. Mellow Mushroom, the pizza restaurant franchise, was the client. While aiding the students, Feldman did his own research. What he discovered inspired his own recommendations for Mellow's brand and would be a big part of 3 Owl's growth.
"I remember calling Reshma and saying, 'Hey, the brand that's stamped into the store is not the brand I see online. I've done my own audit of Mellow Mushroom's digital presence and I have a lot of ideas on how it could be elevated to match their quirky brick and mortar brand. What I wouldn't do to work with them,'" Feldman lamented.
To his delight, Shah offered to connect him with Dawn Law 99BBA, then senior marketing manager at Mellow Mushroom. (Law is currently CMO for Farm Burger.)
Law invited Feldman to Mellow Mushroom's headquarters, and with just a hint of trepidation, Feldman was determined to make the biggest pitch of his early career.
"At that point, all my clients were pretty small, teams of four or five people. And it's me and my one employee and I'm thinking, 'Oh my goodness. What am I doing here? They're going to laugh me out of the building,'" Feldman recalled.
But he was determined to try. Building on a history of working with clients who participate in food festivals, Feldman crafted a story that got the restaurant's creative team humming. So much so that Feldman was invited to pitch a web redesign against more established agencies. His ability to combine web development, user interface (UI) design, and consulting won him the account. The website launched in the Fall of 2017 and exceeded expectations.
"The redesign won every restaurant website award, including restaurant website of the year from multiple sources," Feldman said. "The ROI was huge. We helped Mellow roll out their online ordering, their first catering platform. It was a really awesome project."
Thanks to the Goizueta network and preparation, Feldman said the win opened doors to clients all over the country. "That was a turning point for my agency," he said.
Why 3 Owl?
Feldman has increased the size of his team and taken 3 Owl to the next level. The agency's name stems from Feldman's philosophy of creating brands.
"I like owls because they're wise, but more important is the metaphor of seeing in the dark," explained Feldman. "People don't know what they don't know. We help illuminate what our clients are missing. Even our website has a light mode and dark mode, so you can turn the lights on and off."
But bringing clients into the light requires time. Feldman is a firm believer in storytelling. Crafting a story often requires a lot of discovery, employing marketing methods and ensuring all stakeholders are on the same page, especially where goals and dreams for the organization are involved. The culmination of this research ensures the essence of a business shines through in the branding.
For those seeking a quick transaction, this type of research-intensive approach is not always a good fit.
"Once, we had a client part ways with us because he said we were too strategic, which is the best compliment I've ever gotten," Feldman said. But for the clients who understand the value of a strong brand, storytelling is essential.
Feldman said he learned a lot about discovery from former adjunct lecturer Joey Reiman's class while at Goizueta. "Storytelling is based in some sort of truth, whether it's the organization's history or something historical or something in their vision that we can really lean into."
The result is a firm on the move.
Greatest hits
When he's not strategizing with brands, Feldman is volunteering his time by indulging in his second love, music.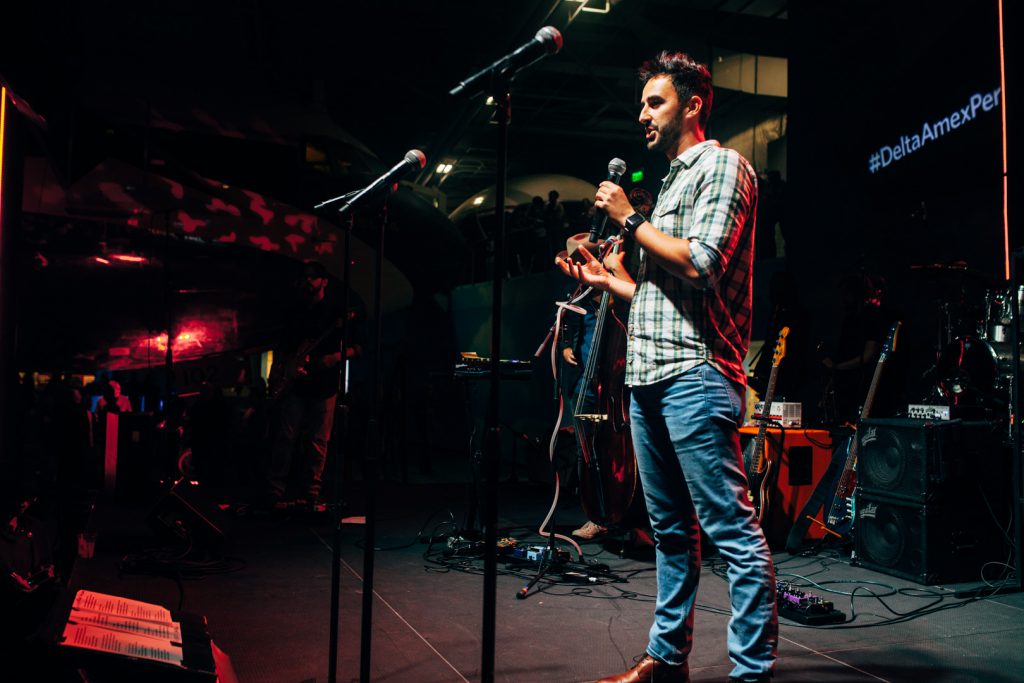 As an undergrad, he spent hours in the Schwartz Center playing jazz and classical guitar. After graduation, a stint in corporate America, and then working for his father's clinical research company, Feldman missed the artistic and creative.
He stumbled on the ATL Collective in its early days and watched as local bands covered the Beatles' "Abbey Road" album. Feldman cornered the founder to learn more about the organization and, not surprisingly, wanted to help shape its brand. (He even played in a few early shows.)
Ten years later, ATL Collective connects and empowers Atlanta's musical community through building relationships, fostering education and promoting preservation. It aims to connect musicians with wider fan bases and provide the resources necessary to sustain musical careers.
For Feldman, this is an opportunity to connect his love of music with the creativity of business. Since that first fateful meeting, he's not only played in some of the early sessions, but has helped build the brand for the organization and even produced a show at a Delta Air Lines hangar.
"We were covering albums and playing bigger rooms. Variety Playhouse fits 1,200. We went from really small to really big, covering more genres, bringing together more artists," Feldman said. As the Collective grew, he had an epiphany — "everything we do is in service of the Atlanta music scene. Would we be better off – would we thrive – as a non-profit?"
"Last October we became a 501c3, which made so much sense. Leading with our mission has been a game-changer for ATL Collective and the opportunities it affords us."
In addition, the Collective is focusing more on the artist and finding ways to support the musicians, from mental health workshops to monthly speaker events.
The shows are big productions, Feldman noted. "The best part is getting these musicians access to new fans, and the public still gets to benefit, but now you're actually seeing a show knowing that the musicians are getting paid really well. Your money is getting invested right back into the music community."
From aiding musicians to guiding student teams at Goizueta, Feldman finds joy in all of his connections.
"I still come back at least twice a year to lecture, and I'm always happy to have coffee with students and talk to them about marketing careers," Feldman said. "Having built an amazing team at 3 Owl, I'm very, very grateful for the experiences I've had at Emory and beyond. It feels like that group project, except I get to present and make a career of it. This really feels like I've come full circle."