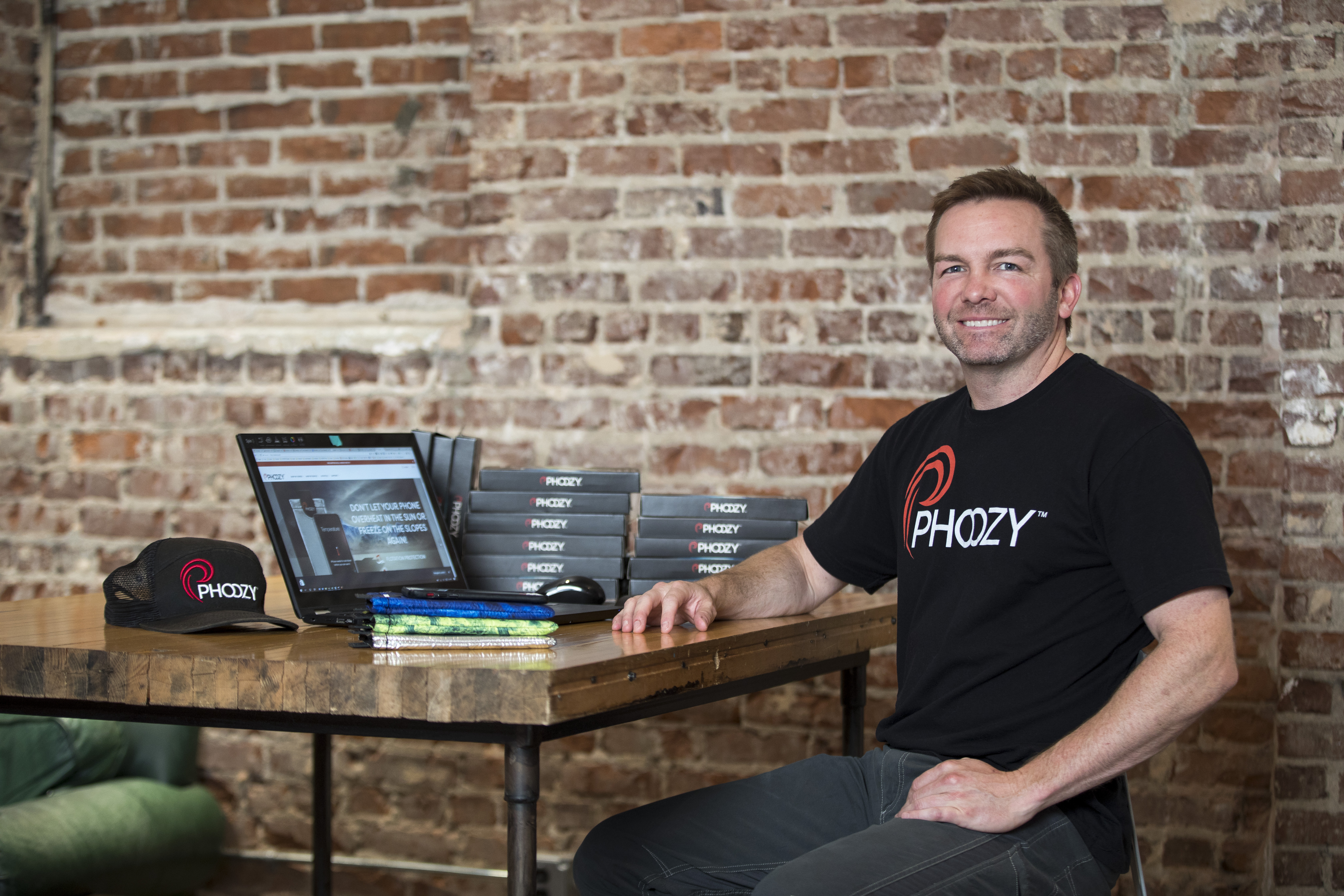 Sheer joy.  Bone-chilling terror. Ah, yes, the roller coaster of entrepreneurship. There is nothing like the mixture of excitement and terror that comes with launching a new company, a new brand and an entirely new category.  You've invested in this dream, put in 100-hour work weeks, hoping for, planning for and pushing for success. That's been the reality for Josh Inglis 12WEMBA for the past two years after leaving his corporate executive position at The Home Depot to become a full-time entrepreneur.
Inglis and long-time friend Kevin Conway are creators and co-founders of PHOOZY, a thermal protection capsule that keeps mobile electronics (cell phones, laptops, tablets, etc.) safe from the heat of the sun or freezing cold weather. The device also provides drop protection and the ability to stay afloat if dropped in water. PHOOZY's first product, is essentially a high-tech phone koozy, thus its name.
"PHOOZY began while we were out on a boat and experiencing the dreaded "phone must cool down before use" screen and other issues" explained Inglis. "When you're on a boat, there is never a secure and accessible place to keep your phone, and it can quickly overheat from the heat of the sun, not allowing you to make calls, text, stream music or take pictures, and can cause permanent damage to your device and its battery.  These issues, along with the danger of your phone accidentally dropping into the water is how the product started."
Work on the product coincided with the need for a change. Inglis spent 15 years climbing the corporate ladder at The Home Depot, and while the experience was rewarding, he itched to use his skill set in a different way.
He admits that leaving a known entity for the unknown made entrepreneurship appealing and terrifying. "I like to take risks, but calculated, and so Kevin, a former race-car driver, helped pull me out of my corporate guardrails," he said. "You've got to find a business partner who helps push you in ways that you haven't been pushed and pulled. In addition, not only was the timing right, but Kevin's mindset was aligned with mine, and we had trust."
Started as a self-funded, small startup and now operating across the US as a remote team, PHOOZY could not be possible without the committed partnership between its two owners. Simply put, as Inglis stated, "Partnership is just as important as the product." Their partnership also literally extends across the country as Inglis, who resides in Atlanta, engages in daily check-ins with Conway, who lives in Charlotte, North Carolina, while they simultaneously both operate a warehouse in Los Angeles, California.
Although their partnership may seem unusual at first, their unique dynamic works together almost perfectly. Conway's experience in past companies and his background in extreme sports have helped him form a creative skill set when it comes to branding and product design, while Inglis' years of experience in finance, e-commerce, merchandising and digital marketing have tied in the key elements to creating their business.
As a graduate of the WEMBA program at Goizueta, Inglis attributes his preparedness for strategic management to the experiences and lessons learned in the classroom. He recalls one class in particular that truly changed his perspective on how to analyze businesses and competition. "Professor [Robert] Kazanjian's Strategy class was very eye-opening, revealing a different way of analyzing companies and their strategic advantages in the market. I think that was almost everyone's favorite class because it was challenging and provided us a new perspective on strategy."
As for Inglis, who has always been a part of the corporate world, working on the other side of the business spectrum has ultimately made him more comfortable with uncertainty.
"There are so many unknowns on the other side. And it took me a few months to adjust to working with Kevin and on the product to the point where I got comfortable."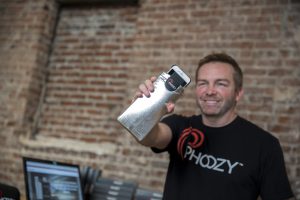 To date, the duo has yet to take a salary. All profits are being reinvested into the business. "It's what you have to do to keep growing," Inglis concluded. Despite this common downside of starting a new business, PHOOZY has had quite a successful start and is continuing to grow even more into the market. The device has been featured in several well-established lifestyle travel websites and magazine as an essential gear and gadget for outdoor recreational activities, including Forbes, Outside Magazine, and Backpacker Magazine to name a few. The business has expanded its brand into a few dozen specialty retailers, and they've created partnerships with big, well-known brands, including REI, Best Buy, Amazon and AAFES, the Armed Forces Exchange. The duo also has expanded the brand globally and now has distribution in over 25 countries, with plans to launch another product by the end of the year.
Inglis' jump to becoming a full-time entrepreneur has ultimately carried the weight of many challenges and lifestyle changes; however, it has also rewarded him with a fresh perspective on innovation and expertise.
"The ups and downs of the whole entrepreneurial world are extreme, and they change by the minute. However, I hope to encourage others who feel like they're in that corporate rut that it is doable and quite rewarding. It's tough, but it's doable."−Jessica Rios