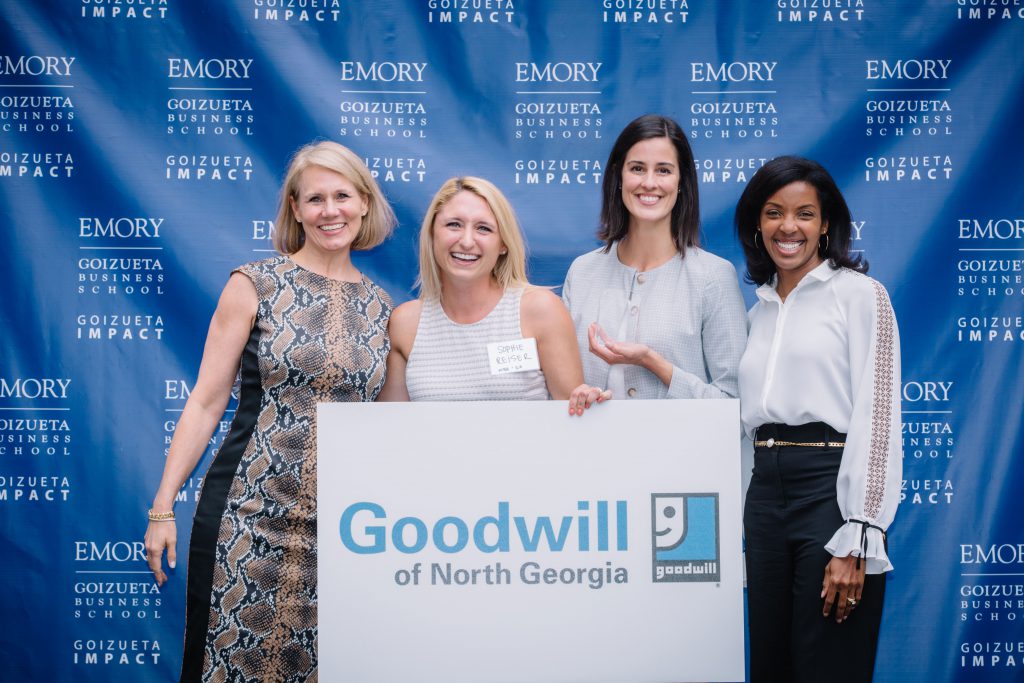 On Thursday, May 9, students gathered in Jenkins Courtyard for the 2019 Goizueta IMPACT Showcase Day award ceremony, awaiting the announcement of which team won Goizueta Gold. The two runner-up teams, The Home Depot-Lift Equipment and Fernbank Museum of Natural History, waited in the wings along with clients, faculty, staff, and the remaining teams. Everyone looked on as Dean Erika James opened the envelope that held the name of the winner.
Goizueta IMPACT Showcase Day, however, isn't about declaring a single winner.
Nor is it about the events of a single day.
There was a winner. And so much happened throughout that day. But, to understand the gravity of the competition and the significance of Showcase Day, you have to look more broadly and see beyond the event.
The true impact of IMPACT
Goizueta IMPACT is the signature program in Goizueta's approach to experiential learning. Comprised mainly of first-year MBAs, it empowers students to put into practice theories, frameworks, and leadership skills imparted through the program. Students teams are formed based on interests and abilities, then paired with client partners—organizations that seek Goizueta students' cutting-edge knowledge and initiative—who present an issue for the team to resolve.
Among the 20 top business schools, 19 offer programs that are somewhat similar to IMPACT. Of those, only six schools require it for graduation, including Goizueta.
"Being prepared for the challenges of today's business world is not an elective," said Lynne Segall 99MBA, Associate Dean – Goizueta IMPACT.
Real business. Real problems.
Clients IMPACT partners with are well-known names across industries: Delta, GE, The Home Depot, The Coca-Cola Company, and more. But you'll find others: non-profits, start-ups, and mid-size companies as well.
No matter the client, the challenge they present to students is real and has a real effect on the organization.
"We tell clients, 'bring us a problem that you haven't yet been able to solve,'" said Segall. "This is more than a research project. We're looking for unstructured, ambiguous problems for our student teams to figure out."
Teams first complete the program's curriculum. Then they spend the semester-long course taking on the client's issue while being supported by faculty and the IMPACT student board. Their projects involve research and analysis, learning about and working with the client, and coming to understand their business and industry. These elements inform the team's proposed recommendation, which they present on Showcase Day to a panel of judges comprised of faculty, alumni, and other business leaders. After the presentations, judges ask clarifying questions then evaluate the student teams' work using a set of criteria.
"My team partnered with HealthMPowers," said Bethany Larkin 20MBA/MPH. "They're a local non-profit with a great mission." The organization aims to improve health and academic achievement by promoting healthy behaviors and environments among elementary-aged students, school staff, and families. "We were tasked with determining how HealthMPowers could scale its activity-based learning programs nationally and developing a strategy to support that."
According to HealthMPowers CEO Christi Kay, elementary school students are increasingly sedentary.
"Sitting is a new epidemic that's taking over smoking," says Kay. "Current elementary school students are, for the first time in decades, projected to have life spans 5 years shorter than the previous generation. It's this reality that HealthMPowers hopes to change."
"Partnering with HealthMPowers, it became very clear that the skills we learned through Goizueta IMPACT prepared us to address real-world business problems," said Larkin.
Equal parts relationships and ROI
Something else that became quite clear was the importance of building client relationships.
Although motivated and immersed in analyzing HealthMPowers' issue, "it took the team a little while to really get us," said Kay. "But they did when they joined us on a site visit and saw what we were promoting in the classroom."
In fact, Kay understood this without a doubt during Showcase Day. About halfway through the students' presentation, team member Anna Shakirova asked the audience to stand and march in place for 30 seconds, mirroring the very activity-based learning that HealthMPowers teaches in schools.
Getting to know their client to this degree was something that the HealthMPowers student team couldn't learn from a textbook or in a classroom. But it's a valuable lesson that's possible through Goizueta IMPACT.
From GSB to GBS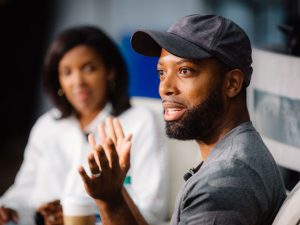 Showcase Day participants were treated to another kind of beyond-classroom learning experience: a keynote conversation with Tristan Walker, CEO of Walker and Company Brands and Dean Erika James. Walker earned his degree from Stanford Graduate School of Business (GSB), the "Goizueta of the West Coast" as introduced by the student leader, Lane Eisenburg.
The keynote, which followed the day's three rounds of presentations and well-deserved lunch, was a much-anticipated part of the day. Students and Showcase judges gathered to hear the business leader whom many consider a luminary and a legend—with good reason.
Among other impressive rankings, Walker holds No. 19 on Fortune's list of World's Greatest Leaders. His insights were only matched by his authenticity, a trait that comes through just as readily in James. He shared the "why" behind his leadership of Walker and Company, and Code2040, the non-profit he co-founded.
Students and judges alike were quick to ask questions, which more than once Walker turned around and with genuine interest asked participants: "What are your thoughts on that?"
It was as much a conversation as a Q&A.
And the winner is…
Following the keynote, everyone filed outside for the award ceremony and networking reception. At the podium, James tore open the final envelope and announced the winner of this year's Goizueta Gold: Goodwill of North Georgia!
Reflecting on the day—and the entirety of the IMPACT experience—Larkin said, "We're proud of the work we produced and the relationships we developed with HealthMPowers. I think we helped make an impact on their plans for the future. We consider that a true success!"
With that perspective, it's impossible to see any IMPACT participant—students and clients alike—as anything but winners.