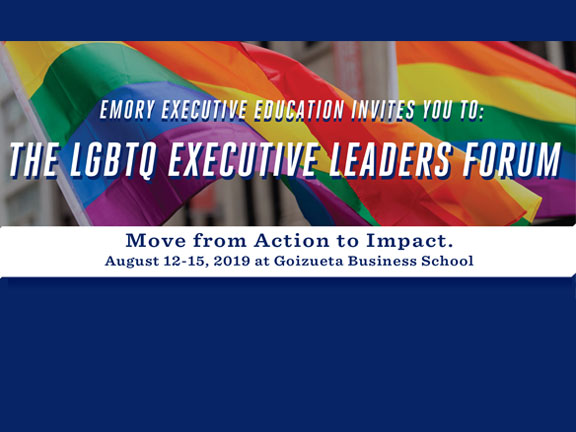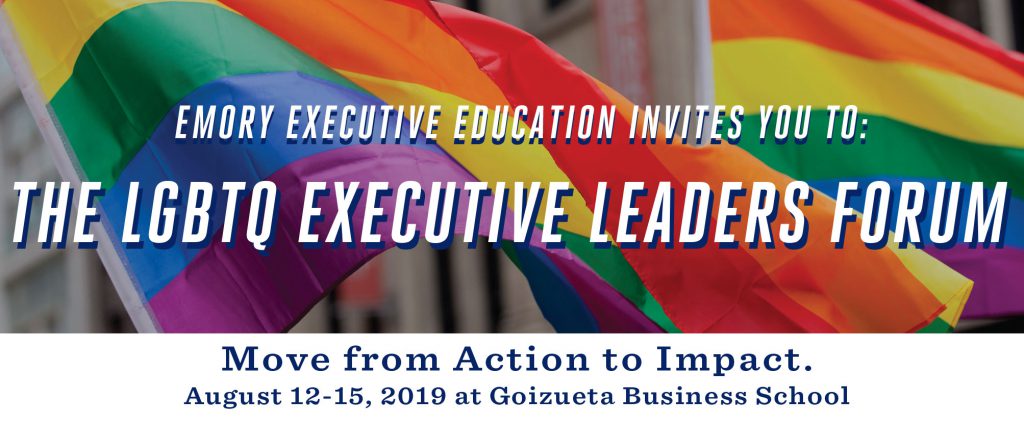 ATLANTA— Emory Executive Education, in partnership with the LGBTQ Institute at the National Center for Civil and Human Rights, will host a 4-day forum this summer designed for leaders in the LGBTQ business community.
The LGBTQ Executive Leaders Forum will provide a space for participants to network with peers and share experiences in order to become even stronger leaders and advocates for the LGBTQ population in business. Those looking to explore challenges that come with being an LGBTQ leader are encouraged to apply by July 15. A committee will review and accept a limited number of candidates.
"We're excited to partner with the LGBTQ Institute to create a program that addresses the business landscape for LGBTQ leaders," said J.B. Kurish, Senior Associate Dean for Executive Education and Professor in the Practice of Finance. "This program will prepare them to not only advance in their careers but to push their organizations—and the business community—to advocate on behalf of the LGBTQ population."
Participants will review research on the current state of the LGBTQ population in business, discover methodology of design thinking to better define challenges and find solutions in the workplace, and grow their network by interacting with faculty and fellow participants from various backgrounds. Special attention will also be paid to developing storytelling techniques to engage others about the LGBTQ business community. Additionally, participants will explore legal protections and exposures for LGBTQ professions and learn strategies for hiring, retaining, and promoting top talent.
The Faculty Director for the Forum is Professor Karen Sedatole. A nearly 20-year veteran of academia, Sedatole's research focuses on the design and effectiveness of performance measurement and reward systems. She is a two-time recipient of the American Accounting Association Notable Contributions to Management Accounting Research Award and previously served as senior editor of the Journal of Management Accounting Research.
Many other faculty members will present, including  Professor Giacomo Negro. In more than 15 years in academia Negro has targeted his research on the various aspects of sociology and economics that drive organizational behavior.
"Our research shows LGBTQ people expect companies to stand up for equality and LGBTQ leaders in business have a unique opportunity to help steward their company's strategies," said Ryan Roemerman, Executive Director of the LGBTQ Institute. "This course will help LGBTQ leaders understand their value and navigate complex environments that can accelerate their personal growth, and help their business authentically support LGBTQ employees and customers."
WHO: Executives with a minimum of 10 years management experience 
WHAT: The LGBTQ Executive Leaders Forum
WHEN: Aug. 12-15, 2019  (Deadline to submit an application is July 15, 2019)
WHERE: Emory University's Goizueta Business School; 1300 Clifton Road, Atlanta, GA 30322
COST: $6,000 (some meals included)
Additional details on the course can be found at: worksmarter.org/eulgbtq.
Recently ranked No. 28 in the world for custom programs by Financial Times, The Executive Education program at Goizueta currently offers more than a dozen, ongoing short courses and four certificate programs, including the Roberto C. Goizueta Leadership Certificate. Additional offerings for female executives and LGBTQ leaders have been added in recent years. A host of corporate clients also engage Emory for custom programming. Past clients include SunTrust, The Home Depot, Nielsen, International Paper, Crawford and Company, UPS, and the Genuine Parts Company.
About Emory University's Goizueta Business School
Business education has been an integral part of Emory University's identity since 1919. That kind of longevity and significance does not come without a culture built around success and service. Emory University's Goizueta Business School offers a unique, community-oriented environment paired with the academic prestige and of a major research institution. Goizueta trains business leaders of today and tomorrow with an Undergraduate degree program, a Two-Year Full-Time MBA, a One-Year MBA, an Evening MBA, an Executive MBA (Weekend and Modular formats), a Master's of Business Analytics, a Doctoral degree and a portfolio of non-degree Emory Executive Education courses. Together, the Goizueta community strives to solve the world's most pressing business problems. The school is named for the late Roberto C. Goizueta, former Chairman and CEO of The Coca-Cola Company. For more information, visit goizueta.emory.edu or follow us on Twitter (@emorygoizueta).
About the LGBTQ at the National Center for Civil and Human Rights
The LGBTQ Institute at the National Center for Civil and Human Rights connects academics and advocates to advance LGBTQ equity through research and education focused on the American South. The Institute convenes and celebrates the minds of the movement while fostering intelligent dialogue about the state of civil and human rights for LGBTQ communities.