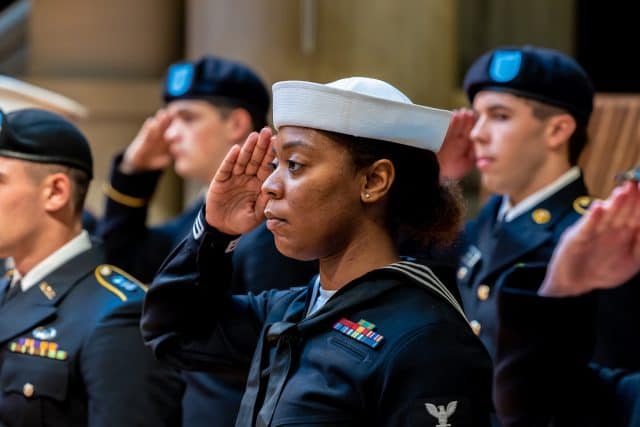 Innovative New Program Supports Transition from Service to a Successful Civilian Career in Business
ATLANTA – Emory University's Goizueta Business School announced today its new Master in Business for Veterans, a fully accredited 11-month program designed for active-duty military, veterans, National Guard, and Reserve personnel.
According to the Bureau of Labor Statistics, in 2022, 18.4 million men and women were veterans, accounting for about 7 percent of the civilian population aged 18 and over. Despite declining unemployment rates, a study by the Society of Human Resource Professionals shows 55 percent of veterans still report employment as a top transition challenge.
Spearheaded by Retired U.S. Army Lieutenant General and Associate Dean for Leadership Ken Keen, as well as Faculty Lead Professor JB Kurish, the working professional program will begin accepting applications in August 2023 with the first cohort of veterans starting classes in May 2024.
"Veterans and active-duty service members represent some of the best and brightest leaders in the nation. From leadership to teamwork, these individuals are quite literally battle tested—and remain an untapped resource for many leading companies and teams," says Keen. "Our program gives students a foundation in business knowledge, building off their existing leadership training, and allows them to apply their skills in real-world scenarios with real clients."
Scholarships Make Career Growth Possible
Eligible students can combine G.I. Bill and Yellow Ribbon benefits (pending VA approval) to cover the entire cost of tuition for the degree. Full Veterans Affairs benefits are made possible due to generous donations by Goizueta Business School to offer a Yellow Ribbon scholarship to every eligible applicant.
"Military veterans and active-duty service men and women protect and serve to uphold our nation's core values," share Matt and Jill Ruja Zames, founders of the Goizueta Military Scholarship Fund and supporters of the Master in Business for Veterans. "Growing these scholarships for future generations will ensure that our veteran and military students are given every opportunity to take advantage of the full range of benefits Goizueta has to offer." Matt Zames will also serve on the program's board of advisors, providing advice and support regarding program strategy and development of scholarship funding.
Flexibility, Mentorship, and One-on-One Career Coaching
Built with flexibility in mind, students will take courses on campus every other weekend (Friday and Saturday) and can continue to work as they earn a graduate business degree that contains all the core business courses of an MBA in less than a year. The Master in Business for Veterans also includes a Career Development Program designed specifically to help veterans transition from the military to a civilian career in business. Every student enrolled in the program will be offered a mentor who is a military veteran with a career in business and will also be provided one-on-one career coaching.
During the year, students will put knowledge and leadership experience to work in hands-on learning opportunities, growing expertise in leadership, finance, marketing, data analytics, and operational strategies. All students will also participate in Goizueta IMPACT for Veterans, taking students beyond the classroom into real-world business scenarios, addressing strategic issues and problems within a variety of organizations, including Fortune 100 companies, non-profits, and start-ups.
Throughout the program, students will:
Gain a better understanding of their strengths and priorities, including what they want from a civilian career and how they will continue to serve.
Build, grow, and leverage a professional network, developing relationships with employers across industries.
Discover and explore new career paths, industries, and companies, while better understanding how their values match with corporate culture.
In addition to the career support integrated into the curriculum, students can access the full suite of services that Goizueta's Career Management Center has to offer, including interview prep, networking events, résumé reviews, job boards, and negotiating techniques.
"Our career support, along with our strong alumni network, will enable each of these students to grow and thrive," shares Keen.
Proven Innovation & Success
While the Master in Business for Veterans represents the most recent addition to its lineup, Goizueta continues to innovate across programs to provide world-class experiences and opportunities for its students. Over the past two years, the school has expanded its MS in Business Analytics to include an AI in Business track and its Evening MBA and Executive MBA programs to include online formats, as well as launched new masters degrees: Master of Analytical Finance, MS in Business Analytics for Working Professionals, and Master in Management.
"Since I joined Goizueta last summer, I've been energized by our community's focus on innovation and ability to deliver results," says Gareth James, John H. Harland Dean of Goizueta Business School. "We continue to develop principled and impactful leaders and entrepreneurs, foster innovation for a data and technology driven world, and grow a global presence fueled by local synergies. This new program will join a strong set of offerings targeted to do just that. We are thankful to our current veteran and active-duty service community for supporting these efforts and serving as advisors along the way."
In addition to innovation, Goizueta continues to report one of the highest employment rates in the nation, with 98 percent of Goizueta 2022 Full-Time MBA graduates receiving and accepting offers for a full-time job within three months of graduating. In 2022, Goizueta Full-time MBA graduates also garnered the highest salaries in the school's history, reporting an average median salary plus signing bonus of $193,000, an increase of nearly $30,000 over the previous year.
An Active Veteran Community Ready to Grow
Goizueta already boasts an active veteran community poised to grow even stronger.
For Ryan Martin, a non-commissioned officer in the Marine Corps and graduate of the Evening MBA program, Goizueta provided the perfect next step in his career. "Goizueta was my clear choice due to the prestigious brand recognition, small-by-design classes, unique leadership program led by Lieutenant General (Ret.) Ken Keen and robust Atlanta corporation and community networks."
Matthew Ball, former squad leader for the 75th Ranger regiment and graduate of Goizueta's MBA program adds, "After transitioning from the military, many of us, if not all, lose part of the camaraderie and sense of belonging that is an inherent part of serving in the military."
"One of the most important aspects and strengths of the Goizueta military and veteran community is how they support one another through their transition, MBA journey, and pursuit of their goals," says Keen. "I'm proud to serve Goizueta as we embark on this new initiative and support our troops."
The Master in Business for Veterans application opens August 1, 2023.
To learn more about the Master in Business for Veterans program, attend the launch event this Monday, July 10 or visit https://goizueta.emory.edu/masters-business-veterans.
Your support makes this program possible. If you are interested in contributing to support veteran students enrolled in the program, please email gbsalumni@emory.edu to speak with the Goizueta Advancement and Alumni Engagement team.
About Emory University's Goizueta Business School
Business education has been an integral part of Emory University's identity since 1919. That kind of longevity and significance does not come without a culture built on success and service. Emory University's Goizueta Business School offers a unique, community-oriented environment paired with the academic prestige and rigor of a major research institution. Goizueta develops business leaders of today and tomorrow with an undergraduate degree program, Full-time MBA (Two-Year MBA & One-Year MBA), Evening MBA, Executive MBA, MS in Business Analytics, Master of Analytical Finance, Master in Management, Master in Business for Veterans, Doctoral degree, and a portfolio of non-degree Emory Executive Education courses. Together, the Goizueta community strives to solve the world's most pressing business problems. The school is named for the late Roberto C. Goizueta, former Chairman and CEO of The Coca-Cola Company.
For more information, visit goizueta.emory.edu.