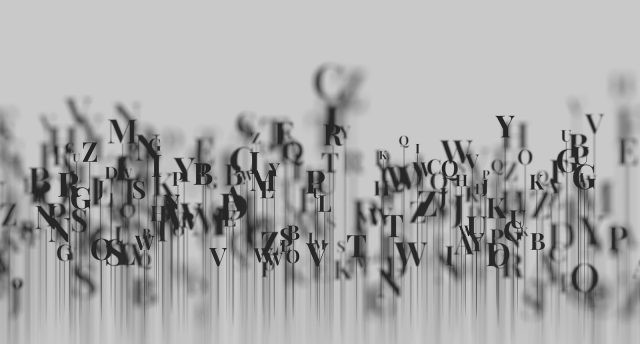 The classic challenge questions "Why?" or "What if?" often serve as the launch point for new book concepts. Whether inspired to tell a story or share industry expertise, with each manuscript, our Goizueta alumni authors tackle complex fictional worlds and complicated subjects.
Seton Girls by Charlene Thomas 16MBA
An experienced brand marketer for top names like PepsiCo and Diageo, Thomas has now led the types of campaigns she used to dream about. Now she has actualized another dream that began in the third grade when she penned her first book. "From there, I kept on going—dreaming up story after story and I haven't stopped since," she shares. "I've achieved my lifetime goal of publishing my first novel, Seton Girls." Penguin Random House released the book and has purchased rights to Thomas' second novel, coming in 2024.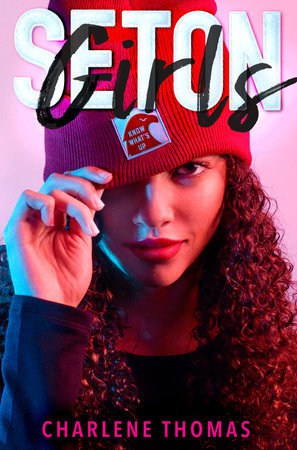 Hailed as a page-turning story with a heart, Seton Girls is "A smart and twisty debut YA that starts off like Friday Night Lights and ends with the power and insight of Dear White People."
Readers will enter the complex world of Seton Academic High, a prep school obsessed with its football team and their 13-year conference win streak, a record that players always say they'd never have without Seton's girls. What exactly Seton girls do to make them so valuable, though, no one ever really says. They're just "the best." But the team's quarterback, the younger brother of the Seton star who started the streak, wants more than regular season glory. He wants a state championship before his successor, Seton's first Black QB, has a chance to overshadow him. Bigger rewards require bigger risks, and soon the actual secrets to the team's enduring success leak to a small group of girls who suddenly have the power to change their world forever.
Deeply Rooted Dreams and Emergent Light by Alexander Mukte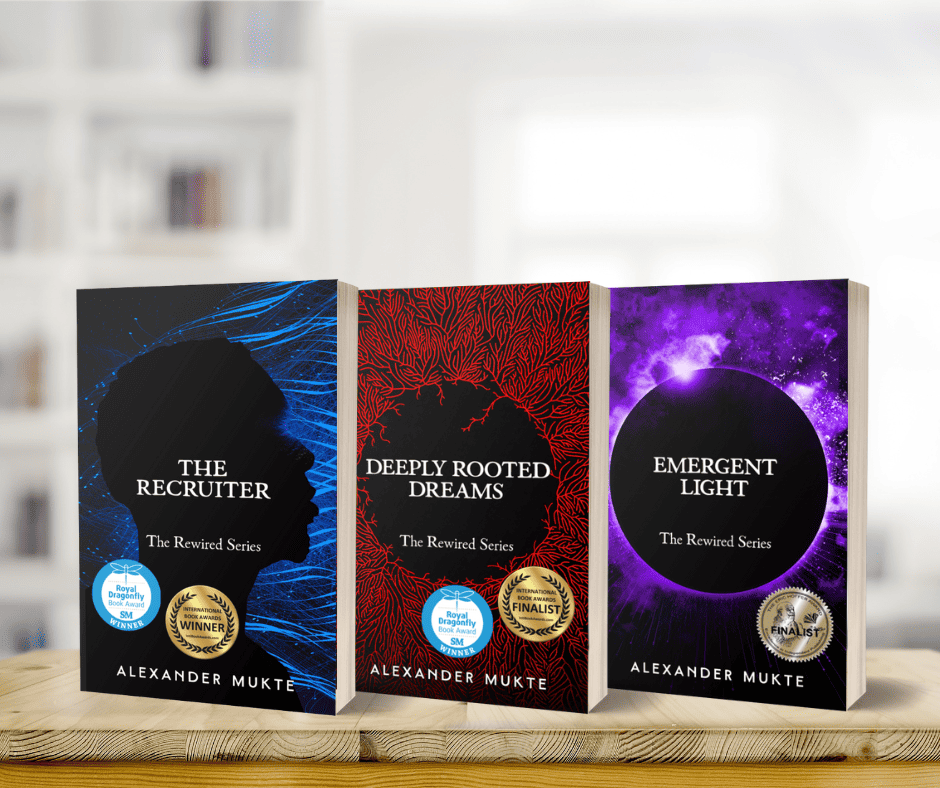 Delving into magical realism and metaphysical visionary fiction, The Rewired Series has created "a universe that pulls you in and doesn't let you go." The books are written by Alexander Mukte, the nom de plume of Goizueta's Marcus Siwemuke 14MBA, founder of Three to Five Publishing. "I've always had a vision to entertain and inspire readers to pursue their greatness." Across this award-winning series of novels, "I take readers on a journey of mystery, magic, and personal growth, all in pursuit of a better tomorrow."
The series' debut book The Recruiter earned the distinction of winning the 2022 International Book Awards in the African American Fiction category. Deeply Rooted Dreams is the second installment of The Rewired Series. Mukte's second novel creates an even more intricate world, striking an engaging balance of mystery and wonder. In Emergent Light, a 2023 Edward Hoffer Award Finalist, readers will engage in a meditation on pursuing one's higher self and an intriguing thriller as the main characters work to ensure the future of humanity.
Siwemuke shares, "The complete trilogy is now available in audio as well, each a dual narrator performance by two Earphones Award winners."
Hispanic Market Power by Isaac Mizrahi 03EMBA
As a world-class, award-winning marketing executive with more than 30 years' experience for brands such as Coca-Cola, Sprint, McDonald's, PepsiCo, CVS Health, and Google, Isaac Mizrahi 03EMBA understands both the client and agency sides of the marketing business. A columnist for Forbes.com, Mizrahi shares insight into multicultural marketing in America.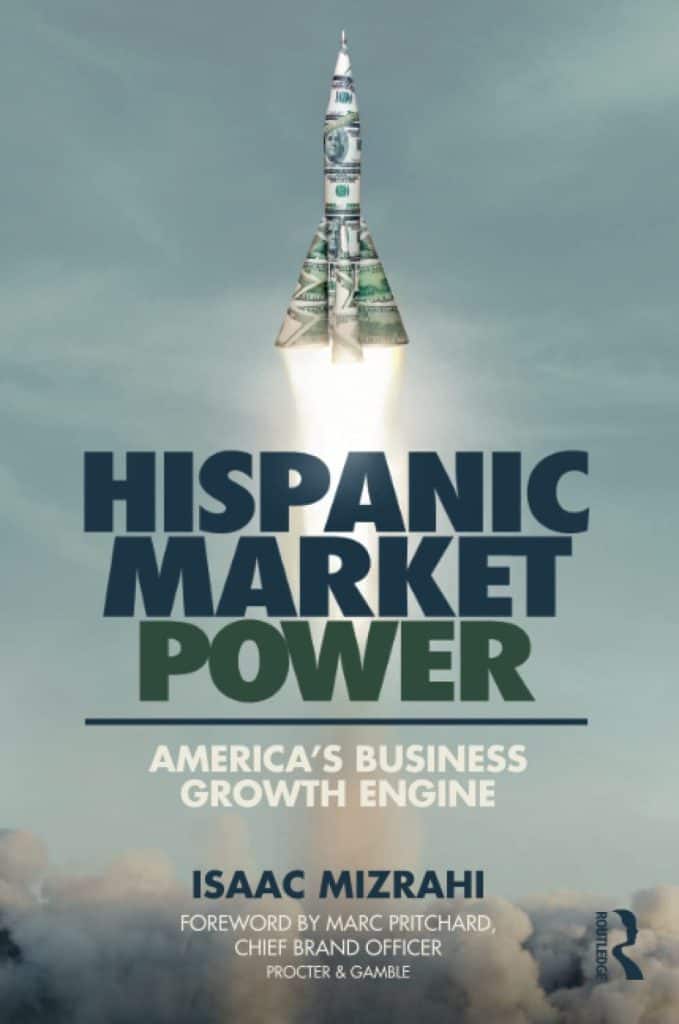 In his new book Hispanic Market Power: America's Business Growth Engine, Mizrahi uses straightforward talk, illustrative case studies, and pragmatic suggestions to help marketers truly connect with day-to-day reality.
Mizrahi notes that the U.S. Hispanic segment represents the most prominent demographic growth in the country, and a huge and untapped business opportunity for companies willing to move away from preconceived notions and market effectively to Hispanic customers.
As the book demonstrates, "now more than ever, corporations operating in the U.S. should see the Hispanic population at the core of their existing and future strategies, but many leaders believe Hispanic marketing is the same marketing you run for Anglos but translated into Spanish, or that all Hispanics are undocumented immigrants with no purchasing power, or that using Mariachis in their communications is the way to connect with this diverse segment."
Mizrahi, one of the country's leading voices in multicultural marketing, uses his unique experience as a corporate executive, agency CEO, and industry leader to help businesses grow by leveraging the booming Hispanic consumer segment to drive sales.
Retail Risk Assessment: 2022 (Future of Automotive) by Steve Greenfield 04EvMBA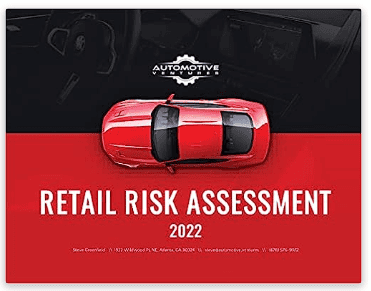 As CEO and Founder of Automotive Ventures, an early-stage automotive technology and mobility VC fund that helps entrepreneurs raise growth capital and accelerate their businesses and delivers outsized returns to investors in the fund, Steve Greenfield 04EvMBA shares his expertise with readers. Automotive Ventures' first fund is already performing strongly, tracking at an over 30% net internal rate of return (IRR). Steve's strongest angel investment was CarTrade India, which delivered a 140x return.
The Automotive Ventures Retail Risk Assessment: 2022 (AVRRA) builds on the previous book The Future of Automotive Retail by exploring in more depth the trends that have the highest probability and potential impact on industry participants.
Greenfield shares, "The goal of the Automotive Ventures Retail Risk Assessment (AVRRA) is to be able to work closely with the dealer body to develop a roadmap for action: to prepare for and neutralize some of the bigger threats exposed by the Risk Assessment. Monitoring these trends on behalf of the industry will allow participants to be better informed and prepared for the future. Staying vigilant and on top of these themes will help industry players stay competitive and ultimately thrive in this accelerating period of change."
Trading for Dummies (5th Edition) by Lita Epstein 89MBA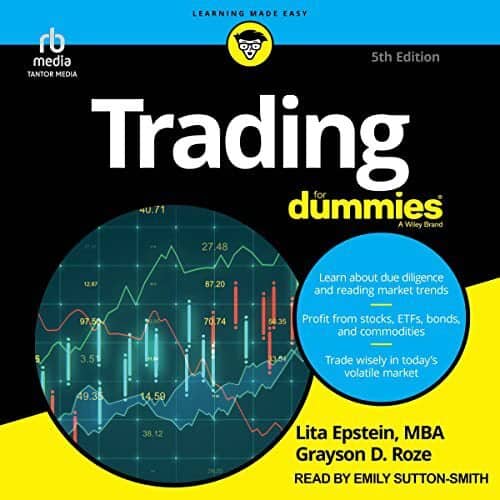 For readers looking to become a savvy trader and make money in both up and down markets, Lita Epstein 89MBA continues to update her book Trading for Dummies. Now in its fifth edition, the book addresses a volatile market and teaches readers how to ride the waves and navigate changing tides through due diligence, key indicator analysis, and market trend interpretations.
Trading For Dummies is for investors in search of a clear guide to trading stocks in any type of market. Inside are sample stock charts, position trading tips and techniques, and fresh ways to analyze trends and indicators. Learn how to make smart decisions by identifying the stocks, bonds, funds, and commodities that will net the maximum gain. The book encourages readers to "Assume more risk, reap more benefits, build a more aggressive portfolio, and enjoy the greater gains that come with short- and medium-term trading methods."
Have you written a book, created a film, launched a new business venture, implemented a community project, or celebrated a career move? We'd love to hear from you. Share your exciting Goizueta class notes with us.