Picture the graduates of Goizueta Business School at Emory University and you'll likely imagine a line of cheerful faces under black caps, black graduation robes billowing as the parade of people shuffles down the center aisle. Here a future entrepreneur, next a financial consultant, an accountant, and then…a rapper?
Got some big options and a big, big noggin'
On the doorstep of where I wanna be, I'm knockin'
Fortune Favors the Bold
"Rapper" is probably not the first thing people think of when they imagine business school graduates, but then Isaac "4Point" Selby 21BBA—who is aware he doesn't fit either mold of business graduate or rapper—is full of surprises. You'll also notice that it's difficult to speak to Selby without feeling inspired to strive for something bigger in your own life.
Selby's journey began in high school in Seattle, after an injury derailed his routine high school baseball plans for the summer. With newfound time on his hands, he started experimenting with writing rap lyrics, an art form he'd always relished for its wit and lyricism.
When it comes to feeling out the right words, Selby lets his gut guide him: "you get some butterflies in your stomach. It's exciting and it's a little scary. It's vulnerable and authentic. Like, 'I know this is good, but I don't know if I want to write this.'
The temptation is to erase it and go with something safer. But I'm learning that's exactly the wrong way to interpret that. The universe is telling you this is where you need to be.

Isaac Selby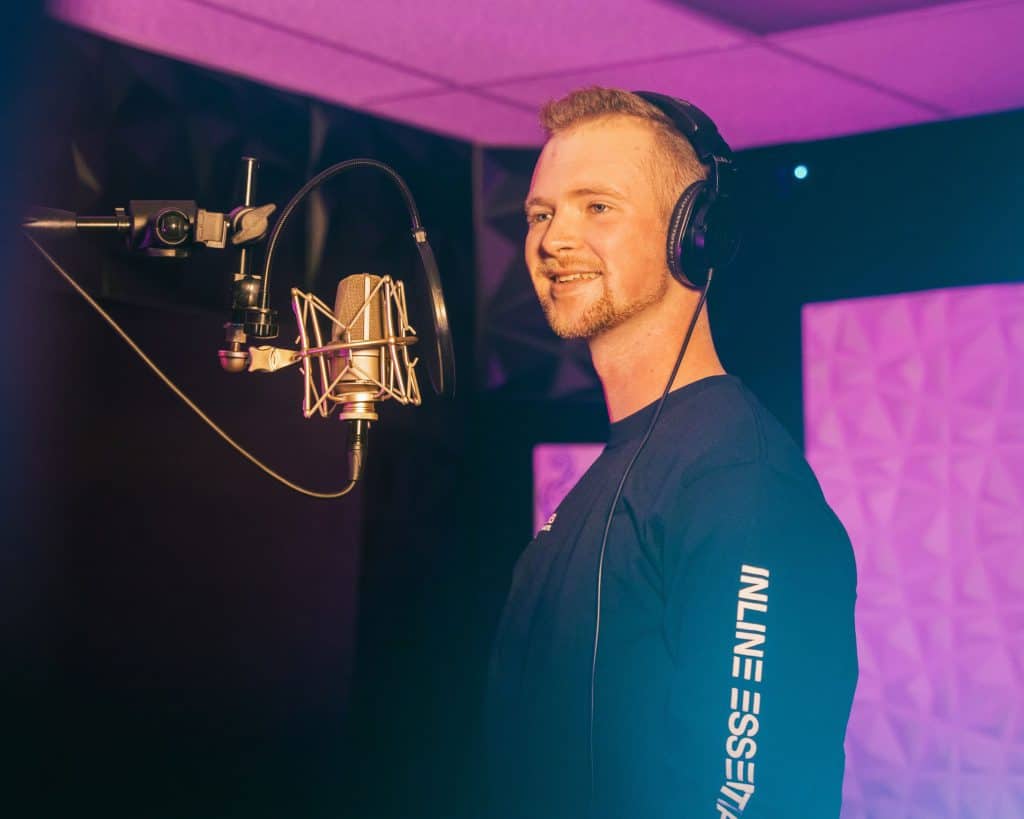 Fast forward a few years, and Selby has several singles on Spotify and performances under his belt, including opening for Latin Grammy-nominated rock band Making Movies in Seattle and a performance with Wanz, the Grammy-winning voice behind Macklemore's "Thrift Shop."
Change is Possible
Here's another thing you'd never know about Selby from a first impression: Despite his finesse in the business sector and onstage, he battled social anxiety through high school and college.
"I was so insecure that looking at someone who I perceived as cooler than me, I would avert my eyes," Selby confesses.
In his youth, Selby felt that the male role models occupying the cultural limelight presented a very narrow narrative of success and power. This didn't leave a lot of room for authenticity, and left Selby feeling intimidated to be himself around others.
Though the public imagination conjures similarly stereotypical imagery of some of rap's mainstream artists—muscle cars and massive yachts—a deeper dive into the genre reveals plenty of alternative storylines beyond "showboating" and Selby latched onto them.
There were rappers who were vulnerable…you could feel a piece of their soul through their music. It was important for me to discover these rappers, like, 'this dude's really himself, and he's getting all the things that I want, it is possible, I can do this as me, I don't have to become some stereotype of a successful person.

Isaac Selby
And yet, Selby still wanted to conquer that social fear.
Motivated by speakers like navy seal David Goggins, Selby decided it was time to lean into what terrified him, and he found an ideal environment to practice being somebody he wanted to become: a Goizueta sponsored study abroad trip to Spain. He made a pact with himself to challenge his anxiety head on, scaffolding the mission with baby steps. One night his goal was to make eye contact with strangers, and the next, he pushed himself to strike up conversation with them, progressively increasing the difficulty of his challenges until he felt the tenterhooks of anxiety slacken.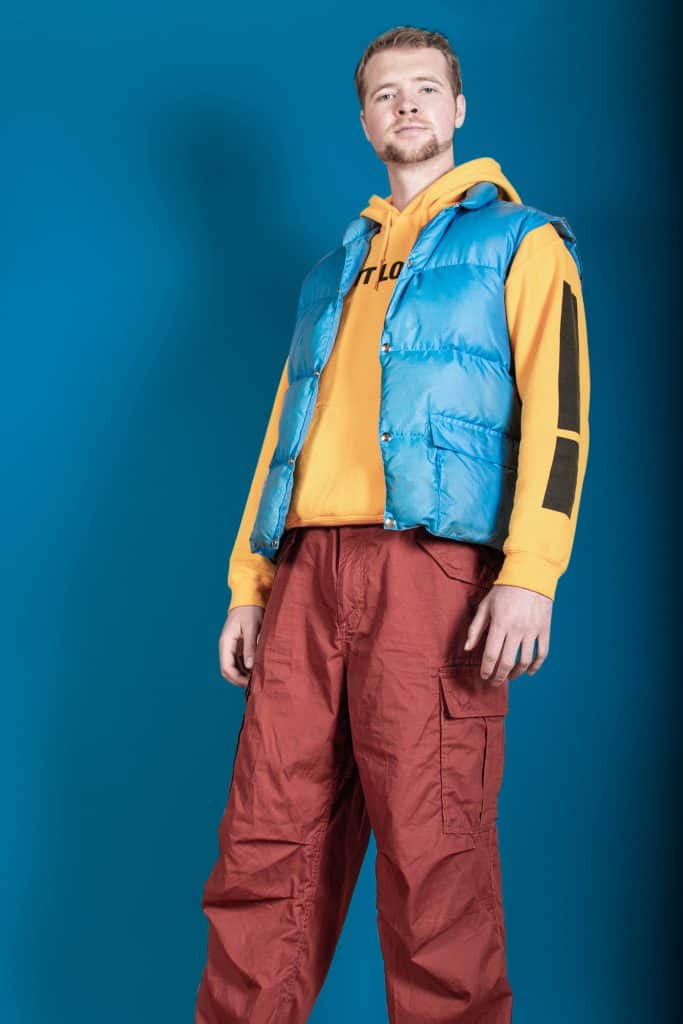 Naturally, one wonders how someone with any semblance of social anxiety can pour his soul into his words and let them loose before a live audience.
"I love performing, I always have," says Selby, citing his childhood attraction to musicals and plays. Performing feels different; on stage, Selby says, you're often a character, there's "a layer between the judgment." But it was harder to play the part of himself.
"The scariest thing is to share your art with your friends and your family…it's way easier to do it with strangers."
Selby is proud of the path he's painstakingly forged to become the iteration of himself he yearned to be, yet he remains humble in acknowledging the privileges he's enjoyed in his life that helped him get there. "I will never claim to have a crazy come up. I'm a very lucky guy. There are so many people who did much more impressive stuff, but this was my thing. I took action and overcame it, and it means a lot to me."
Business or Pleasure?
Business and art are frequently regarded as being at odds with one another, the former a pragmatic and material field entrenched in figures and quantifiable results, the latter a lofty and elusive pursuit that would never sully its hands with such clinical and corporate affairs.
Selby is not down with this dichotomy. "It sounds cheesy, but I really consider myself a life artist. That's what I aspire to be. How does music relate to business? It's all art, because life is art.
I think being an artist is an approach to life. Your process is to enhance the world in some way. If you're a businessman, and you don't care about the world, and you're just copying what other people do to make a quick buck, you're not an artist. If you're an artist, and you don't care about the world, and you're just copying what other people do to make a quick buck, you're not an artist. You might be singing or painting, but I don't think you're an artist.

Isaac Selby
Goizueta Graduate
Selby cites a music business course taught by Ben Yonas that was formative for him and expresses hope that the school continues to pour energy into this popular and evolving industry. He also credits his coursework in organization and management with Emily Bianchi for teaching him the psychology of how to be effective in teams, a field he finds fascinating and practically useful in both personal and professional arenas of life.
Charlie Goetz's applied entrepreneurship course was another standout experience for Selby. In one memorable class, Goetz regaled the students with an episode from his days in the field. When meeting with a client over a meal, Goetz was trying to win her over for a sale when an especially dramatic gesticulation resulted in his drink spilling all over her. He gaped in horror at his dripping client. At this point, Goetz asked the class if they could guess what happened next.
"I don't know how I knew, but I knew," says Selby. "I raised my hand and I said, 'you took her glass and you spilled it on yourself.'"
Selby was correct: Goetz grabbed her glass and he poured it over his head, a gesture that defeated the odds and saved both the day and his sale (if not his suit).
"That," says Selby with reverence, "is a life artist. That's some entrepreneurial spirit. That's how I want to move in the business world."
Make Art, Not Content: Authenticity is Required
So what advice does Selby have for those of us who want to be out there on the literal or metaphorical stage?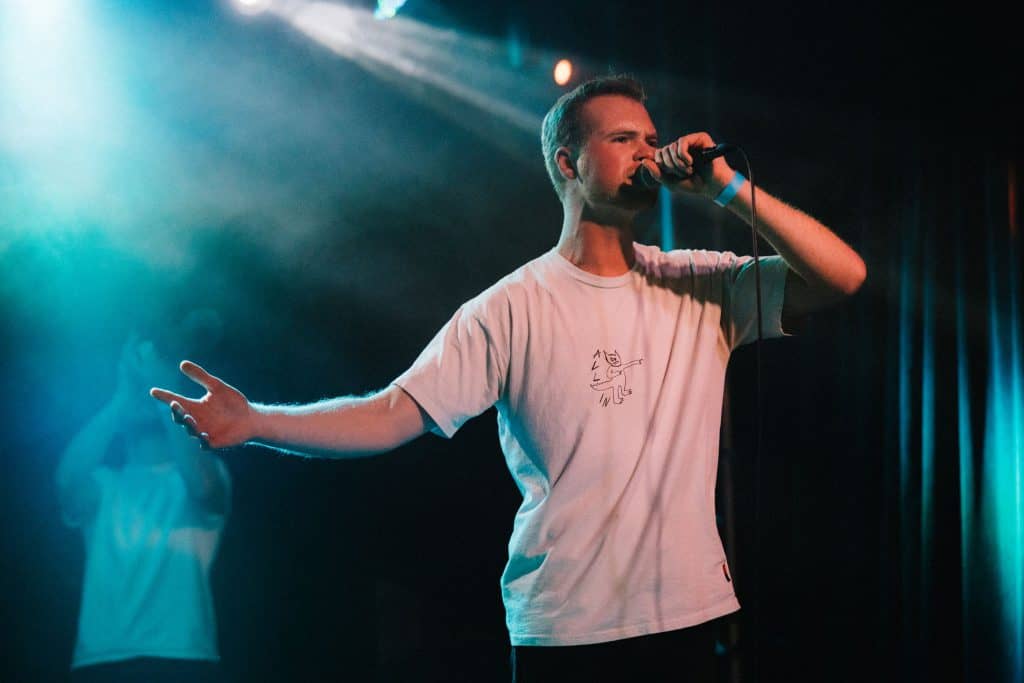 "Number one: Figure out what you're doing it for, because it's really hard," says Selby, admitting he'd gotten the same advice and not believed it at the time. "It's not just a cliche—it's true. If you're on a mission, you'll be able to ride out the storms."
Once you've figured out your mission, figure out who you're trying to reach, and above all, "tell the truth, be authentic, especially when it's scary," says Selby. "Those people need to hear the truth. And for the people who are right for it, you could change their lives.
"There's the constant temptation to blend in and play it safe. But that's not compelling. You're not going to get any fans. You're not even making art at that point, you're making content. This guy named Father Bronques, who's a brilliant artist, says that all the time: "'Make art, not content.'"
So what is Isaac Selby's mission, and who is his audience?
"I want to be the role model that 17-year-old me wished he had," says Selby.
"My success will be if I'm really reaching young people. And being living proof that you can—we can—create our world. We're not stuck with what we're born as, we can choose to transform, through courageous action and discipline and consistency, and voluntarily confronting the things that scare us."
Selby adds, "what I'm trying to communicate in my music is a message of hope and practicality. My generation is famously lonely and anxious and cynical. It breaks my heart...I felt all these things, and I've discovered a very powerful antidote for myself. It's possible—and practical —to become someone you're proud of. A lot of people don't even believe it's worth it to try, because the world is messed up, but there is another path, and if you have the courage to face the hard things, you have a good chance of making it better."
Probably took a dozen 'L's for every Dub I get
and that's the struggle of someone who's hungry
To hear Isaac "4Point" Selby's music and learn more about upcoming performances, go to www.4pointmusic.com or follow him on Instagram.
Interested in pursuing a business degree? Learn more about the unique programs Goizueta has to offer.