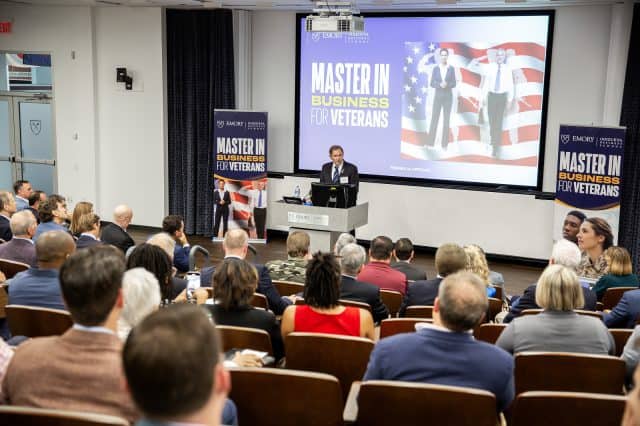 Goizueta Business School's commitment to supporting our nation's veterans has always been an essential tenet. The new Master in Business for Veterans, a fully accredited 11-month program designed for active-duty military, veterans, National Guard, and Reserve personnel, represents another step in a long history of supporting the transition of military members from service to a successful civilian career in business.
Built with flexibility in mind, students can continue to work as they earn a graduate business degree that contains all the core business courses of an MBA in less than a year. Every student will be offered a mentor and one-on-one career coaching. Eligible students can combine G.I. Bill and Yellow Ribbon benefits (pending VA approval) to cover the entire cost of tuition for the degree.
During the year, students will put knowledge and leadership experience to work in hands-on learning opportunities, honing their leadership, finance, marketing, data analytics, and operational strategy skills. All students will also participate in Goizueta IMPACT for Veterans, during which they will address strategic issues within various organizations, including Fortune 100 companies, non-profits, and start-ups.
Building the Advisory Board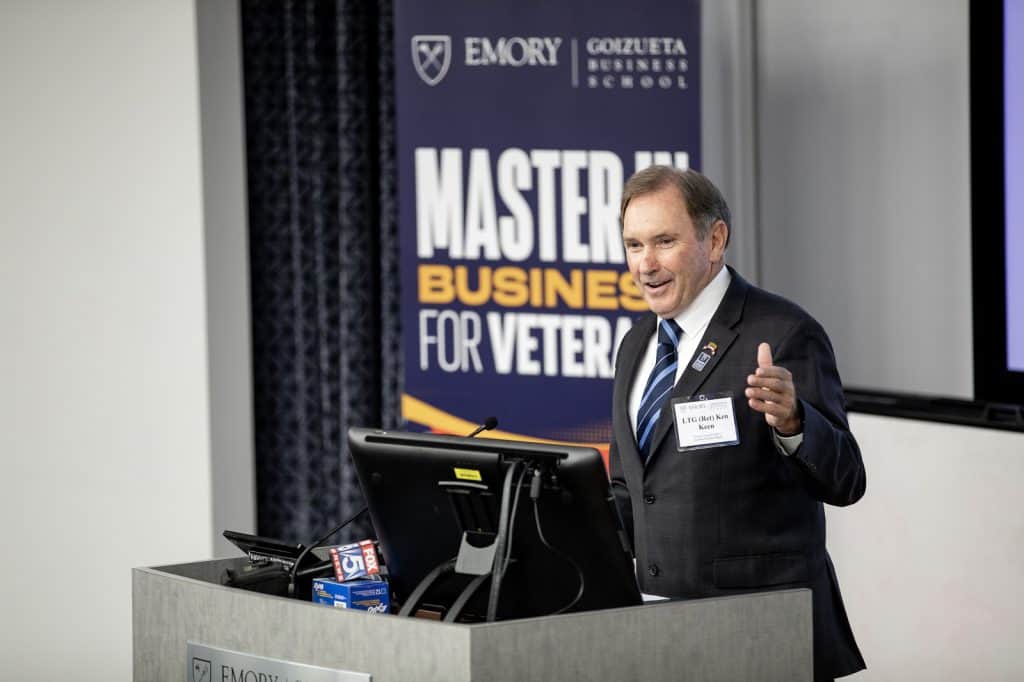 Spearheaded by Retired U.S. Army Lieutenant General and Associate Dean for Leadership Ken Keen, as well as Faculty Lead Professor JB Kurish, the Master in Business for Veterans program will be guided by an advisory board of high level business executives, several of whom are both retired military and graduates of Goizueta.
"The advisory board was formed to counsel us on how to develop and facilitate a program that will be highly effective and beneficial for veteran students," said Keen.
They will take a close look at the curriculum, provide ideas for how to help our veteran students transition to civilian careers, and guide how we approach career services.

Ken Keen
Raising funds for scholarships will be another core focus for the board, as these funds will help cover the cost of tuition for some students. Board members will also leverage their widespread connections to help set up corporate partnerships with companies in Atlanta and across the southeast.
Lorenzo Suarez, Managing Director of the Master in Business for Veterans program, adds, "The advisory board will provide invaluable advice to our candidates and help them reach their full potential. These individuals have had successful careers in business, so they know what a great job candidate looks like and can ensure our students exceed expectations."
The inaugural Board of Advisors includes:
Matt Zames: Founder, Zames Group; Board Member, Institute for Veterans and Military Families
Matt Smith 01MBA: Major General, U.S. Army Commander Joint Task Force; North U.S. Northern Commander
Tom Beaty 97MBA: Founder and CEO, Insight Sourcing Group Holdings, Inc.; Founder, Witness to War Foundation
Patmon Malcom 03MBA: Partner, EARNEST Partners
Boe Young 89MBA: Major General (Ret), U.S. Army; CEO and Founder, Peacemaker Partners LLC
An Ongoing Commitment to Veterans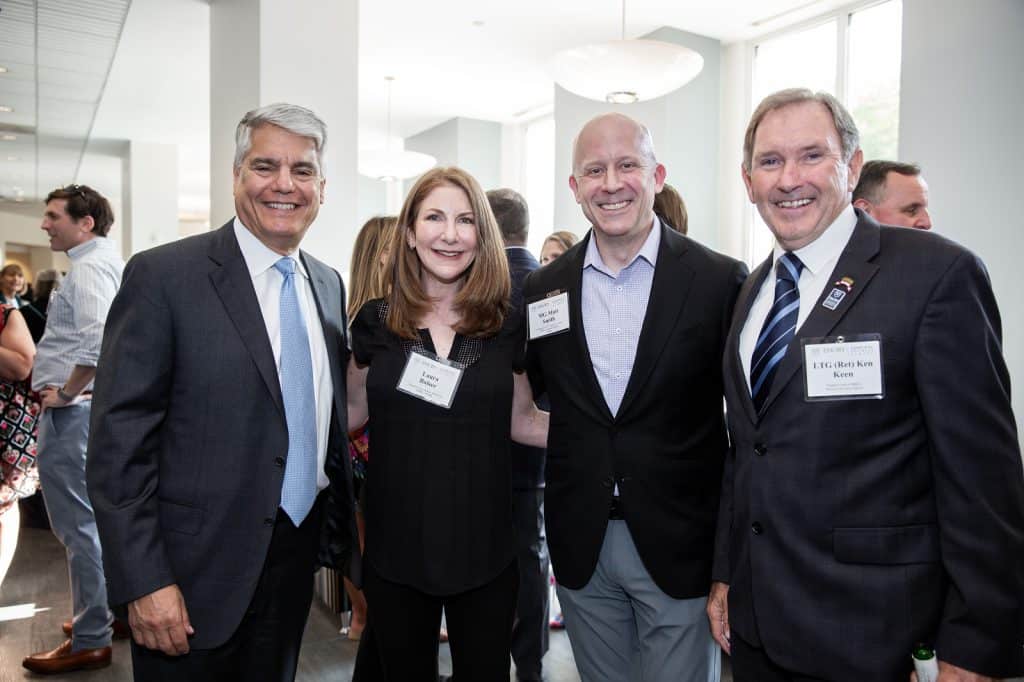 Goizueta's veteran-focused programming also includes funding opportunities and student-led groups. All admitted veterans eligible for and applying Post 9/11 – GI Benefits at 100% to the Master in Business for Veterans program will be awarded a Yellow Ribbon Scholarship from Goizueta. The combination of GI Benefits and the Yellow Ribbon Scholarship will cover all tuition and fees for the program. Enrolled students are also eligible to apply for the Master in Business for Veterans Student Support Fund, which can be applied towards tuition, books, fees, travel, housing, or other expenses incurred while in the program.
On the student side, the Goizueta Veterans Club offers veterans a place to gather and build lasting friendships. Additionally, the Goizueta Business School Veterans Association works to advance the careers of military veterans and active-duty service members by mentoring student veterans to overcome the unique issues that military veterans face as they transition to the civilian workforce.
According to Suarez, Goizueta's dedication to supporting veterans was evident from day one. "From how I was received at the welcome ceremony and the immediate outpouring of support, it feels as though the entire city of Atlanta is ready to welcome veterans with open arms." Suarez served eight years on active duty, with his last position as a commander in the Rakkasans (3rd Brigade, 101st Airborne). After leaving active duty, Suarez transitioned to agile software development in banking technology.
Alongside Keen, Suarez and the advisory board will establish significant in-person recruiting initiatives at the nine major military bases in the region.
The Master in Business for Veterans application opens August 1, 2023, with the first cohort of veterans starting classes in May 2024.
Learn more about the Master in Business for Veterans program.
Your support makes this program possible. If you are interested in contributing to support veteran students enrolled in the program, please email gbsalumni@emory.edu to speak with the Goizueta Advancement and Alumni Engagement team.