Throughout National Veterans and Military Families Month, Emory Business will introduce readers to the stories of veterans who excel at Goizueta and are thriving in their careers. Here we meet Goizueta's Grace Miller, a Navy veteran pursuing her MBA to transition from military service to business leadership.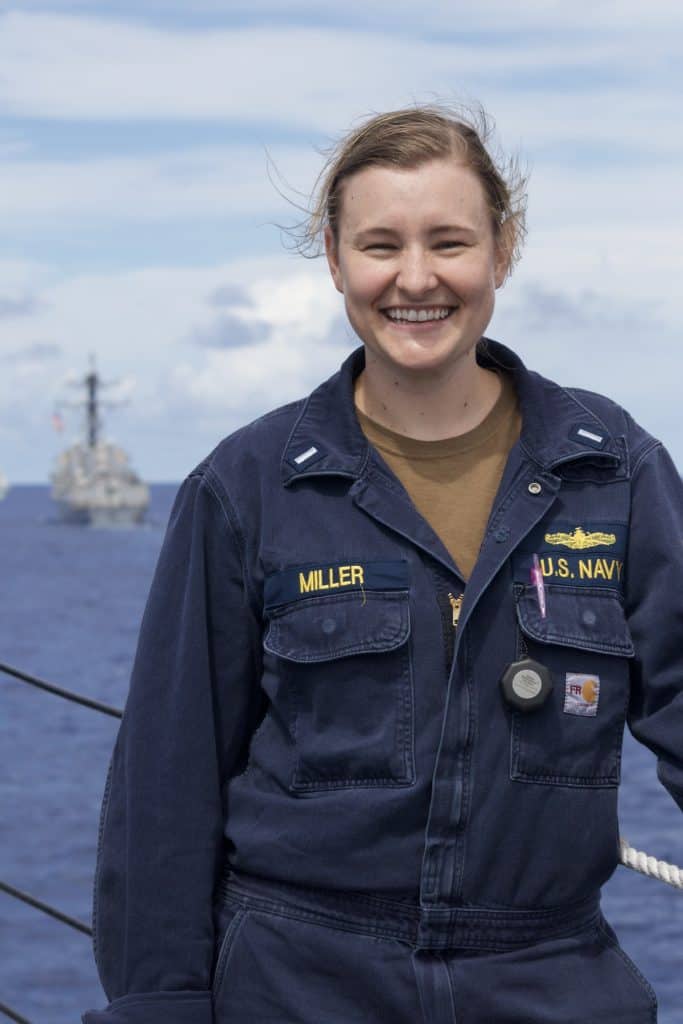 The U.S. Navy has always been a part of Grace Miller's 25MBA life.
"I learned at an early age to cheer, 'Go Navy; Beat Army!' I bleed the Navy blue and gold," she jokes.
Miller grew up with four family members in the Navy: her grandfather, father, uncle, and cousin. This life-long exposure to the branch and her family members' shared experience was ever-present as she faced figuring out her life's steps after high school.
"I made the decision to attend the Navy Academy because I wanted the opportunity to follow in my family's footsteps, to serve the country, and to see a purpose for my time in college."
Away at Sea
When Miller graduated from the academy, she was commissioned into the Navy, where she served for five years and, ultimately, separated as a lieutenant.
During her service, Miller served onboard two Naval Destroyer ships and spent time at sea for a total of two years. One of the perks of her job was the travel—to countries like Australia and Japan—as well as participating in the Rim of the Pacific, which brings more than 25 nations together to conduct joint operations at sea.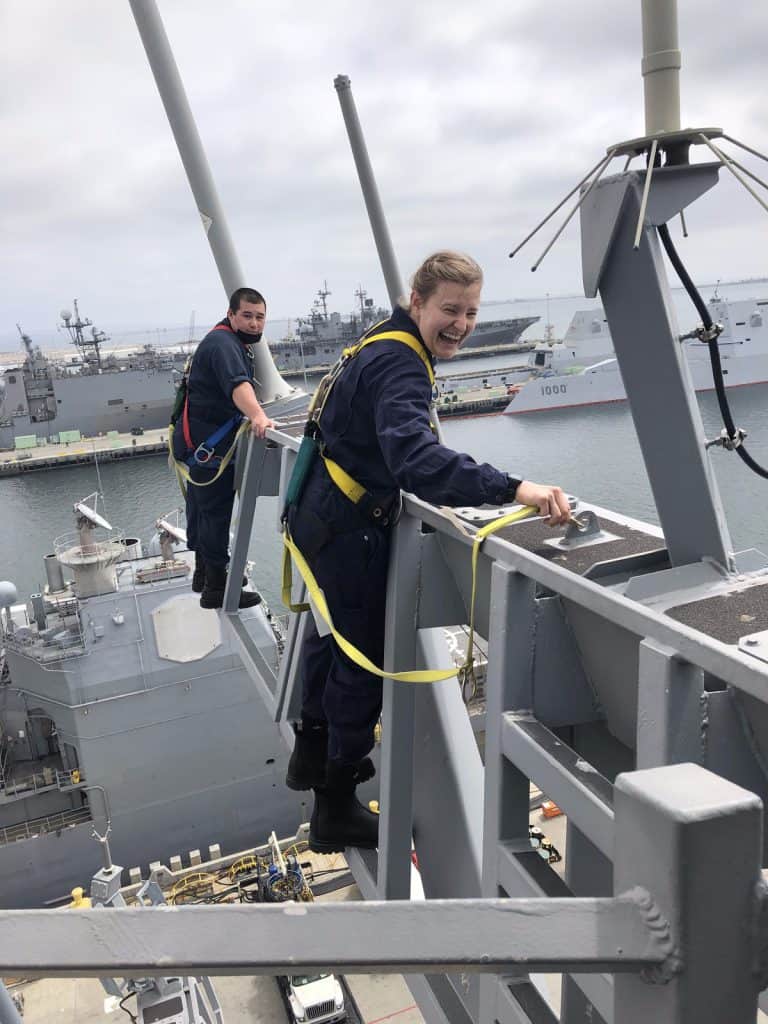 Her challenge was leading a group of sailors. At one point, Miller worked as a damage control assistant, leading 28 sailors and six programs, including the systems and equipment that save a ship if flooding, fire, or structural damage occurs.
"The most rewarding aspect of serving was leading sailors," she says.
On the hardest days in the Navy, the sailors in my division kept me motivated because of their hard work and dedication to their mission.

Grace Miller
Miller also served as a surface warfare officer. She led the ship's Bridge Team, the men and women "responsible for safe navigation and mission accomplishment at sea," she explains.
"The opportunity to follow in my family members' footsteps to serve in the Navy has been the greatest honor of my life. I love being able to share those experiences with them," says Miller.
Heading Back to Land
About a year before Miller officially transitioned out of the Navy, she was already thinking about civilian life—with hesitation.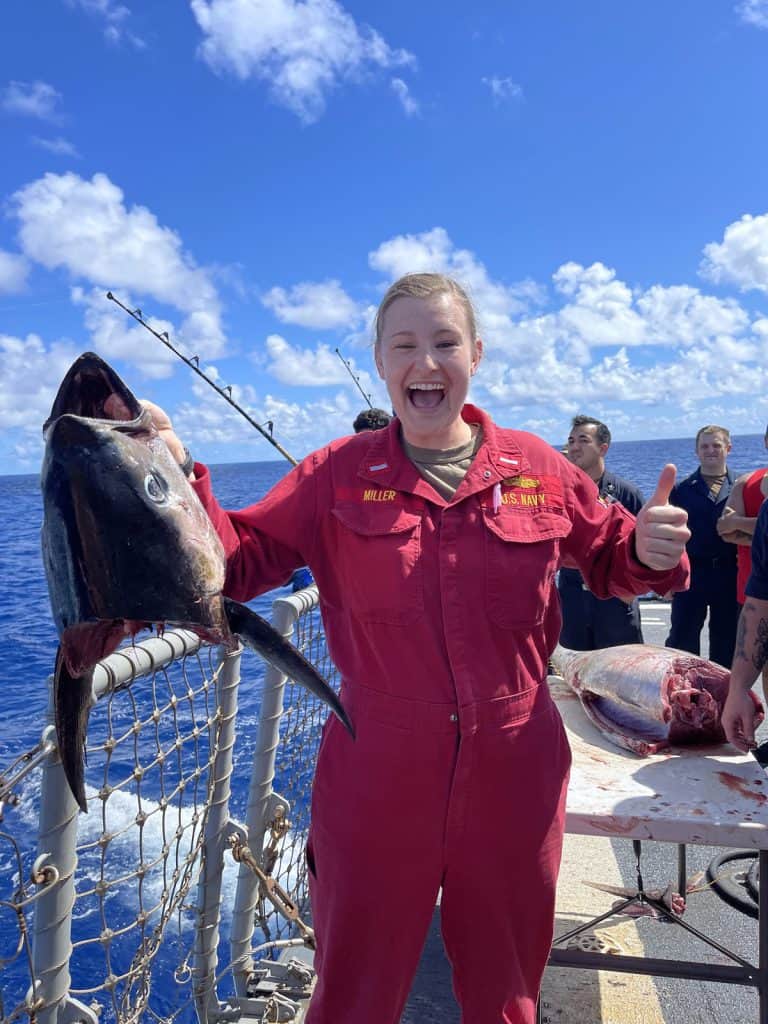 "I did not know what I wanted to do in the civilian sector," shares Miller. "The decision was daunting considering I had no experience in the corporate world. I struggled to see how my skill set would translate to a new profession."
But Miller, as with many of our country's veterans, had years' worth of leadership experience that she could pull from. She also had an undergraduate degree in English.
Since her family still lived in the Atlanta area, Miller knew she wanted to return to Georgia. That put Goizueta at the top of her list of business schools for consideration.
I have to thank members of the Emory veterans network for their support and assistance as I applied.
"Without people like General Keen, Matt Ball 23MBA, and Pat Forrestal 24MBA, I would probably not be here at Emory," says Miller.
Miller is looking forward to participating in Goizueta's study abroad programs while she's in school. She also plans to continue her quest to visit every National Park in the U.S., a life goal.
"I have grown so much in such a short period of time," shares Miller of her first semester. "I have loved working with all the professors here. They are engaging, helpful, and so knowledgeable."
Goizueta is proud to support our nation's veterans and active-duty servicemen as they continue their education. Learn more about our new Master in Business for Veterans program.