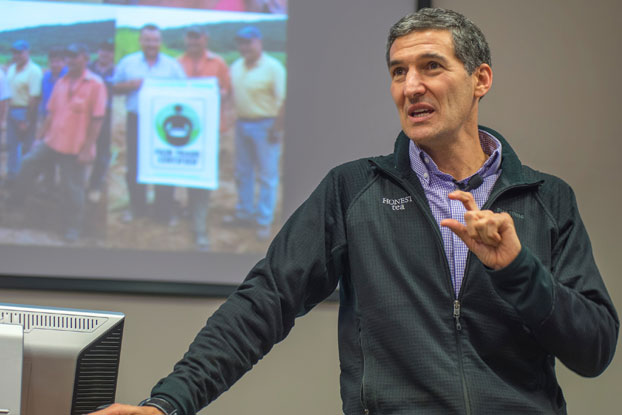 Seth Goldman, co-founder and TeaEO of Honest Tea, didn't always want to start a company that, at its core, would seek to change the American diet. But one day, during a competitive strategy course at the Yale School of Management, he realized grocery stores' beverage aisles were conspicuously missing less sugary alternatives to the standard soda.
This became the core inspiration for Honest Tea, which he started out of his home in Bethesda, Md., in 1997. His goal wasn't to create a less-caloric drink, but help change the way Americans looked at healthy beverages.
In the process, Honest Tea's growth story became an example of how a business can be financially successful without veering from its core.
Goldman shared this and other insights as keynote speaker at Emory's 16th annual Undergraduate Business School Leadership Conference (UBSLC), which focused on mission-driven leadership. [highlight]This year's event brought together 60 undergraduate leaders from 32 schools. The crowd also represented 12 countries, including the United States, Brazil, Singapore and China.[/highlight]
Raeesa Chinikamwala 15BBA, this year's conference chair, said students have chances to develop skills and start building a network with other leaders.
Goldman joins a long-list of successful keynotes from the conference, including Grammy-Award winning R&B artist, Usher Raymond.
Honest Tea built its brand by bottling brewed tea with little to no sweetener. Standard industry practice is to mix concentrate with water, but as Goldman sees it that is not, well, honest tea. The Coca-Cola Company took notice and began investing in Honest Tea in 2008. It bought the entire company in 2011.
There were, of course, rumblings that a huge corporation's involvement could harm the brand's mission, but Goldman never saw it that way. At the time, Honest Tea had a foothold in the natural foods market with room to expand.
"We never set out to just sell healthy drinks to healthy people," Goldman said. "If we're only selling in natural food stores, we're not really achieving our mission."
A company with unparalleled distribution capability could only help
"Before Coke invested, we were in about 15,000 stores; now we're in about 100,000 stores," Goldman said. "That kind of access couldn't have happened without Coca-Cola's partnership. If you look at any aspect of our mission—whether it's organic, fair trade, lower calories—each one of those has accelerated."
The idea took hold with those in attendance.
"It's something I really believe in," she said. "There is more to business than turning a profit, and if you really apply your mission to what you do, you can have a huge impact on the people both around you and within the company," Chinikamwala said.