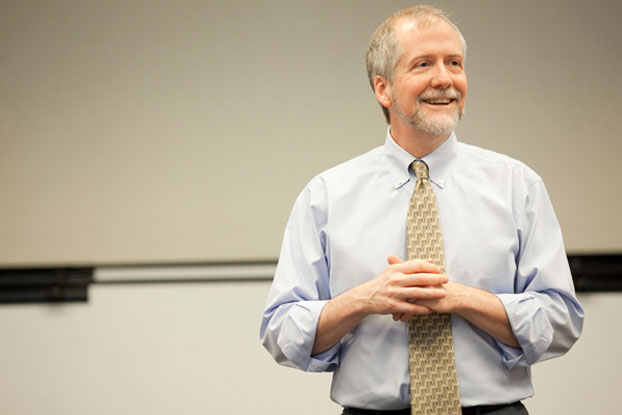 A smiling Patrick Noonan walks into Goizueta Business School Room 208, greeting his MBA class with an enthusiastic "good afternoon." The students respond in kind.
Noonan laughs.
The professor and his students are in good spirits, although Noonan speaks with just a touch of melancholy. Not only is this his final class of the Fall semester, it's the last of a rewarding career.
After teaching at Goizueta for more than 20 years, Noonan says it's "time to move on" to retirement.
He joined the faculty in 1993 from Harvard Business School where he earned a Ph.D. in Decision Sciences. Before Harvard, he attended Yale University's School of Management.
But Noonan's fascination with the business world was an improbable one.
After getting a Bachelor's of Science in Engineering and Applied Science from Yale in 1977, Noonan pursued a music career.
His lifelong passion trumped the Ivy League degree.
But after three years of recording songs with his trio, Noonan realized he needed something else to help pay the bills. He began working at Greenpeace New England and, after a single year, became president.
It wasn't long before he saw the need for more formal business training. And, while his family had been generally accepting of his work, they liked the move.
"They did seem to breathe a sigh of relief when I returned to Yale to get an MBA," Noonan said.
The professor loved the School of Management. Its small class size and community-minded, cooperative culture fit his learning style.
"[It was] perfectly capable on the hard skills, but exceptionally attune to the soft skills," he said. "[These were] things that later attracted me to Emory."
After completing his MBA, he took a job at McKinsey & Company in the 1980s, where he worked as a management consultant.  Later, he went on to become the Director of Planning Technologies Group, a strategy consulting firm which he co-founded in 1990. He later sold his business to Knowledge Universe in 1998.
[pullquote]"… There's a difference between 'good' and 'great.' Identify the truly great people in your world, learn from them, and you will succeed." – Patrick Noonan[/pullquote]
Realizing the potential of management to make positive change, he continued to Harvard for a doctorate. He later joined the faculty but would spend only one year in Cambridge before moving to what was then called Emory Business School.
Noonan's field takes methodologies of economics, psychology, statistics, sociology and engineering and applies them to decision making in business and other areas of life. From 1996-2000 he served as Goizueta's Assistant Dean and Director of MBA Programs. He later ran the school's experiential learning program known as Management Practice.
Erika James, current Dean of Goizueta admires Noonan's work and appreciates his friendship.
"Patrick Noonan was one of my favorite colleagues when I worked at Goizueta as an assistant professor," she said. "Almost a decade later, I come back, and he's one of the first to greet me and say congratulations."
Stacey Rudnick, a 99MBA and former colleague of Noonan's, found her time with him just as rewarding.
"He made the courses so interesting and the material accessible — he took tough concepts and knew how to break them down so that you could get it, and then once you got it, you could feel smart," she said. "He challenged us in a really unique way, but he also taught us to see that we could do it. He brought everything back to 'how does this help somebody make a better decision?'"
Noonan's decision to retire is bittersweet.
"I think I speak for the entire Goizueta community when I wish him well in retirement," James said. "But something tells me he'll be staying busy — and hopefully making a cameo around the building."
Standing in his classroom for the last time, Noonan said, while some success is self made, just as much credit is due to the people around him.
"Find complementary people to work with," he said, nodding toward his wife. "Also, there's a difference between 'good' and 'great.' Identify the truly great people in your world, learn from them, and you will succeed."