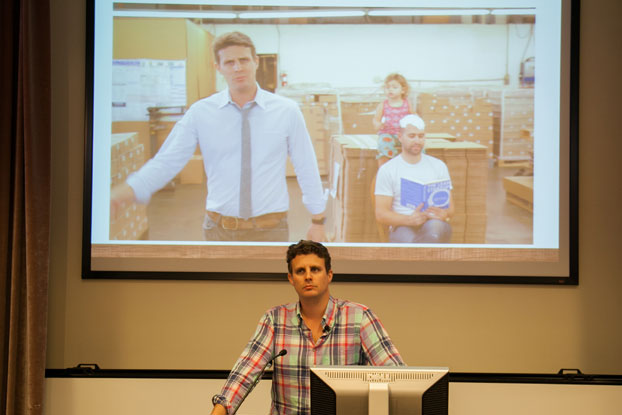 On the outside, Dollar Shave Club seems simple enough: Go online, sign up, get razor blades delivered to your home once a month — enough supply to change your razor each week and keep your beard in check until the next delivery.
But ask Emory alumnus and Dollar Shave Club co-founder and CEO Mike Dubin about the business, and you'll find there's more to the company than clean shaves.
The goal is to create a culture surrounding men's grooming.
"Most people think shaving kind of sucks," he says. "It's not very fun. Our thing is 'let's make that as fun as possible, as painless as possible.' In the same way that Starbucks took a ritual and built a culture around it, we want to build a culture around shaving."
Everything from playful packaging to the dry wit that defines Dollar Shave Club's brand voice is designed to elevate the experience and transform shaving from something required into an enjoyable ritual.
Dubin offered insights into starting a successful company and sustaining growth during his keynote presentation at the Inaguaral Emory Entrepreneurship Summit, April 10 and 11 at the Goizueta Business School. The Summit, created and run by the Goizueta BBA Program in order to augment the Emory Entrepreneurship Ecosystem was launched as part of the school's efforts to provide more support and resources to undergraduates interested in entrepreneurship.
More than 250 people heard the details of Dubin's venture, which, to some, may carry unorthodox approaches.
But it's working.
Since its founding in 2012, the company has earned more than $100 million, garnered its share of advertising and marketing recognition, and captured a formidable 3.4 percent of the razor market in the U.S.
Have a Clear Purpose
Dubin believes his own entrepreneurial success comes from having a clear purpose and a mission that is bigger than selling a product.
"You might think of us as the company that ships affordable razors on the Internet, but that is not what we do," Dubin said. "We actually help the world be better for guys by solving their problems."
Consider the process of buying a razor at a brick and mortar…
"You have to find the razor fortress, which is always locked," Dubin said. "You have to find the guy with the key, who is always doing something else; you have to grab some expensive razors and then wait in a very long line.
"It's primitive."
Like many successful startups, Dubin's idea was born of his own experience and observations on a universal problem: An impersonal and unnecessarily complex shopping experience for simple grooming products.
While the company has added a handful of other men's grooming products to its lineup, every choice revolves around that core mission.
Have a Clear Voice
Anyone who's a member of Dollar Shave Club knows there's more to the experience than opening a package of razors. The blades come in an attractive box with witty quotes and lighthearted reads.
Even though there's no human interaction, it feels like a personable experience. According to Dubin, clear brand voice is integral to the company's strategy to connect with customers emotionally and authentically.
"I think to be successful, brands need to be very sure of themselves and who they are… and speak with certainty in that tone of voice," he said.
Dollar Shave Club's voice is defined by humor, which has earned it a cult-like following. Its first ad, a viral marketing darling, poked fun at shaving – and the entire industry – with razor-sharp (pun intended) comedic timing.
Create an Atmosphere of Trust
Because its pithy voice permeates everything from the initial pitch to the ongoing experience, Dollar Shave Club delivers its brand promise with authenticity. It works together to create an atmosphere where customers feel comfortable in joining the conversation.
"We have a direct relationship with our members," Dubin said. "Most companies in our space do not have this relationship, and it's a huge competitive advantage."
Many of Dollar Shave Club's product innovations have come directly from the customer. A line of hair products, for instance, was born from customer demand. When the company launches a new product, it's not because they think it would work.
It's because they know it will sell.
"Once we get a customer's trust, we have permission to try and solve other problems for them," Dubin said, offering one of many inspiring nuggets about entrepreneurship to an audience hungry to make its mark on the future of business.
Additional Summit Highlights
Dubin was among a roster of highly distinguished alumni who spoke at the event.
Barry Silbert, founder of Digital Currency Group and Bitcoin Investment Trust, along with SecondMarket, is recognized as a leader in creating an ecosystem around Bitcoin. He spoke passionately about this evolving piece of the financial marketplace during a candid fireside chat.
Curated content modules, providing aspiring student entrepreneurs with on-the-ground insights and tips,  were led by Stuart Bracken, co-founder and CEO of Bioscape Digital; Jason Cross, founder and CEO of Investable; David Gaspar, managing director at DDG; Brian Rudolph, founder of Banza and Steve Greenfield, founder and CEO of CarLingo
 The Summit culminated with a pitch competition, judged by the alumni speakers, who offered "Shark Tank"-style feedback to students and designated the winners of $8500 in cash prizes.  The winning team, consisting of BBAs Denver Raybun and David Zander, impressed judges with the design and development of an app that allows users to locate a small group of friends for a limited time.  Second place went to Emory College student and Shark Tank-funded BZBox entrepreneur Kaeya Majmundar for a tank top that that zips out to become a tote bag.  These two top teams also received very generous gifts of multimedia technology, donated  by Goizueta alumni-founded Campus Moviefest, the world's largest independent student film festival.