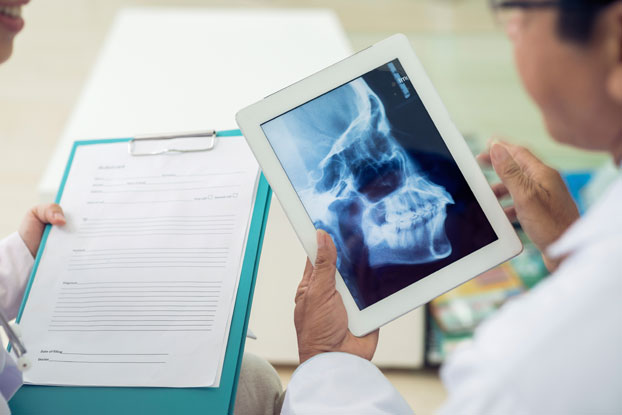 Despite the technological advances transforming the practice, the healthcare industry is criticized for being slow to embrace change. The same technology that has helped most industries improve margins and increase efficiency is conspicuously missing from most of the industry.
But a confluence of events — from an aging population to mobile technology and, of course, the Affordable Care Act — are propelling the industry toward a new wave of innovation.
In her keynote presentation at the 10th Annual Healthcare Forum, Dedra Cantrell, CIO of Emory Healthcare, said a transformation in business models is at the center of the equation. The Forum is organized annually by Goizueta MBA students.
"We're moving toward a value-maximizing healthcare model rather than the fee-for-service model," she said. "That's a huge paradigm shift for the industry, and not everyone is going to be able to make the transition successfully."
The forum addresses top-of-mind industry issues. It brings together Emory graduate students, including those from Goizueta and the Rollins School of Public Health, alumni and Atlanta-based healthcare professionals. This year's forum focused on innovation in healthcare delivery through information technology
Key Factors Driving Change
Cantrell said the regulatory environment is driving the pace of change but it's not the only factor. An aging population is another key concern. Today, there are about four workers for every one Medicare beneficiary. By 2020, it's expected to be half that.
"Moving to more Medicare in our payer mix is a double-whammy in many cases because Medicare is also cutting costs and reimbursements to hospitals," she said.
But Medicare is not the only plan reducing reimbursements.
As consumers find themselves paying more — either due to changing reimbursement rates or electing higher deductible plans — providers are seeing more bad debt as well.
Providers are seeing more need to cut costs and are doing so with business models including technology-induced effeciency.
Addressing Consumer Trends
Consumer trends are also drivers of change. Retail clinics and virtual visits show a desire for quick access – and that a consumer-centric model is a viable way forward.
"With all the drivers happening right now, this is really pushing that consumer approach in everything we do," Cantrell said. She also noted the baby boomer generation is newly tech-savvy. Every successive generation will be even more comfortable with technology.
"This is driving more mobile health and the ability to have that convenience at your fingertips," she said. For healthcare providers to succeed, they must embrace the trend and find ways to deploy it.
Aligning to Support New Tech
The healthcare industry is unique so, according to Cantrell, special care must be given to creating sound methodology to track change and adopt of new ideas. She said Emory Healthcare's Care Transformation Model began by painting a vision of what quality care means and remembering the patient and the patient's family are at the heart of everything.
"It's about culture first and foremost and then mapping the strategic vision onto tactics," she said. "We, first and foremost, always sync with the organization's strategic plan and the tactics and initiatives that are related to it."