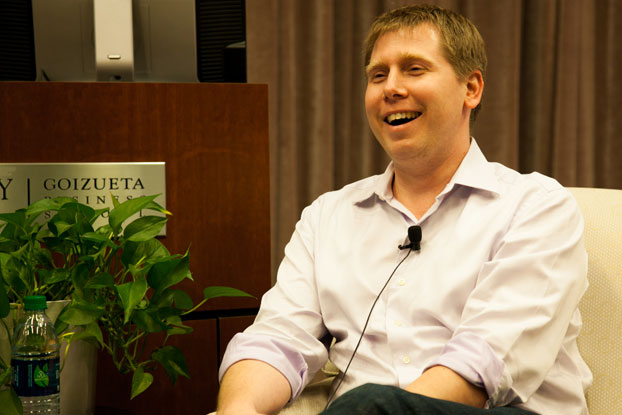 BBA alumnus Barry Silbert 98BBA spoke via an intimate fireside chat during Goizueta's Inaugural Emory Entrepreneurship Summit April 10. During a conversation moderated by graduating president of the Goizueta Investment Management group Aaron Weiner, Silbert focused on his post-graduation success and the events that led to his inclusion in Fortune's prestigious "40 Under 40" list in 2013.
Silbert is the Founder of Digital Currency Group, a company focused on building the foundation for the ongoing digital currency revolution. In addition, Silbert created the Bitcoin Investment Trust, a private, open-ended trust invested exclusively in Bitcoin – the most prominent and heavily used digital currency to date. The trust derives its value solely from the price of Bitcoin and enables investors to gain exposure to price movement without the challenges of buying, storing and safekeeping of Bitcoins. In order to accelerate the growing digital currency ecosystem, Silbert has also invested in more than 40 Bitcoin-related companies with his Bitcoin Opportunity Corp.
Offering strong investment advice, Silbert told the audience that he is "all-in" on the digital currency revolution, and believes Bitcoin is the most viable global currency solution. As a direct peer-to-peer system, Bitcoin allows consumers to transfer and translate payment anywhere in the world, without needing financial intermediaries. Despite recent volatility in Bitcoin the currency's market price, Silbert cited steadily increasing use of Bitcoin as extremely promising. He believes emerging markets, where access to banking is still limited, will be the first to more fully adopt the currency.
Upon conclusion of his chat, he encouraged the audience to return home and invest in the digital currency.
While Silbert's current position is very clear, his path from Goizueta graduate to founder of multiple companies was anything but straight. After graduation, Silbert worked as an investment banker.
"Banking, for me, was a great experience," Silbert said. "It was a great extension of my learning [at Goizueta]. You're totally overpaid but it's a great platform for doing something else."
Yet, for Silbert, the job did not bring happiness.
"I really wanted to go try to build something," he said. "I was like 'screw it.' I'll roll the dice and try to start a company."
So, after five and a half years at of banking, he founded his first company, SecondMarket, in 2004. The company enables private companies and investment funds to efficiently raise capital and provide liquidity to stakeholders.
But he didn't stop there.
Silbert has what he calls the "entrepreneurship bug." So, after nearly 11 years working as CEO of SecondMarket, Silbert announced in late 2014 he would be stepping down to focus on digital currency.
He told the audience taking chances requires patience, particular the ones of great benefit.
"My advice is 'Do the consulting jobs, do the banking jobs,'" he said. "But if you have that burning in your stomach, follow your gut. Get rid of those high-paying jobs before the suck you in permanently, and follow your passion.
"Don't pursue my path, pursue your path."