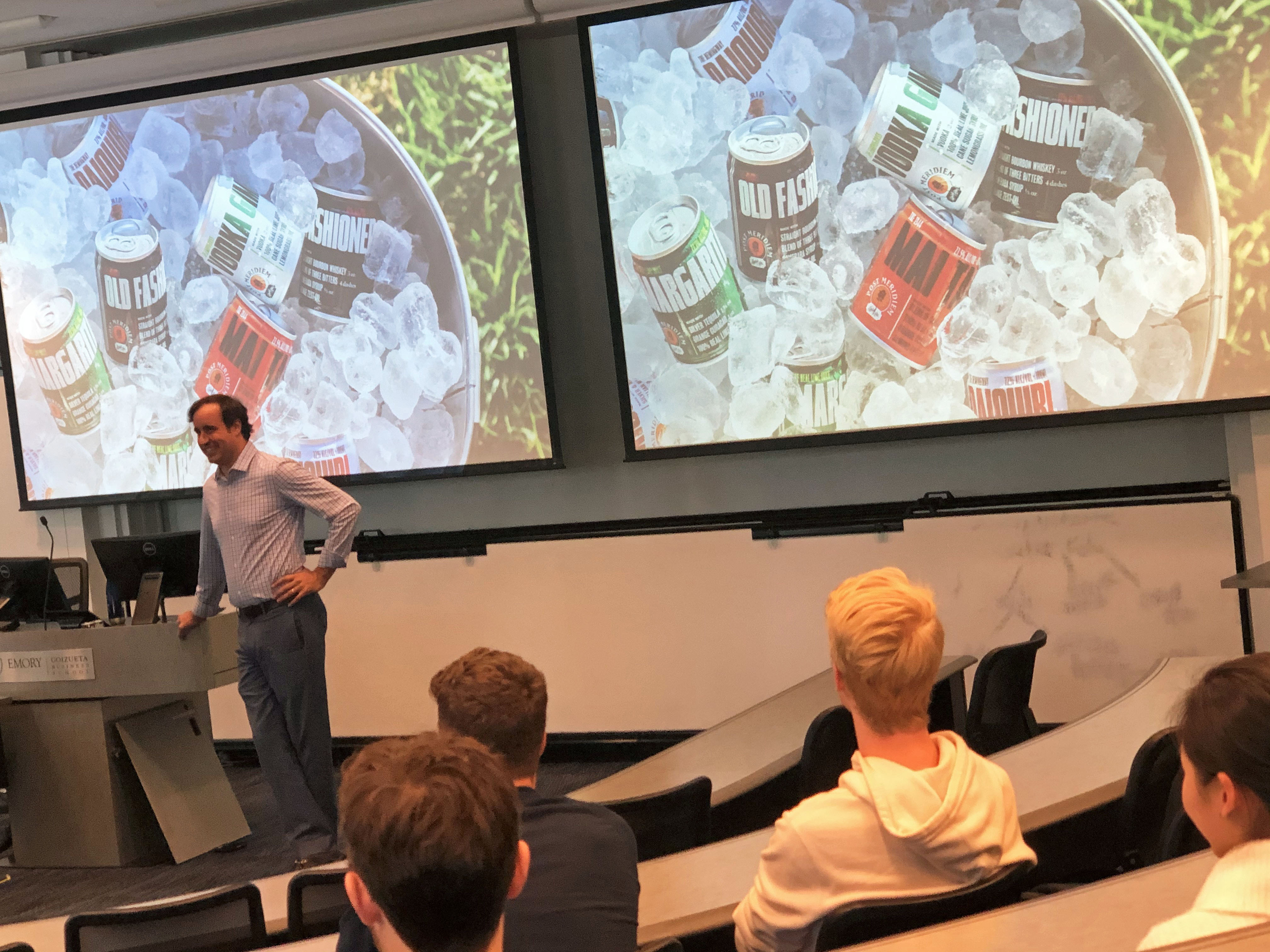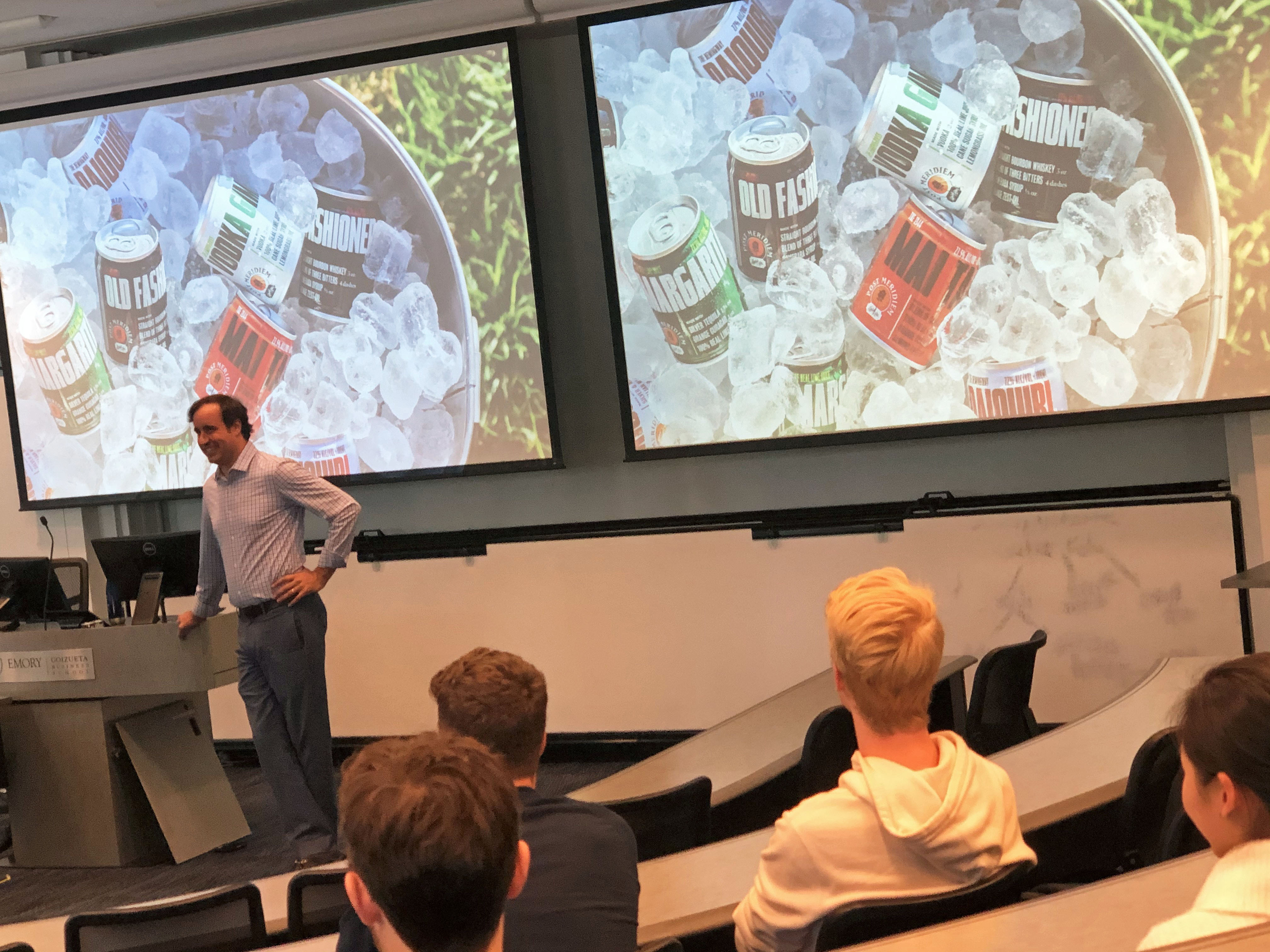 "I've been following the rules for 44 years of my life," Andrew Rodbell 04MBA told BBA students in a special session of Andrea Hershatter's entrepreneurship class on October 17. "I'm ready to break the rules."
As a successful brand manager and strategist, Rodbell worked for a who's who of top tier companies like Cartoon Network, Coca-Cola and Georgia-Pacific before a 70's cover band concert, by Yacht Rock Revue, inspired him to go his own way…producing cocktails in a can.
"The perfect complement to that kind of sound and music is a Mai Tai," Rodbell said. Unfortunately, the venue offered only beer and overpriced wine. Rodbell recalled thinking, "I really wish I could have a Mai Tai right here, right now."
That experience helped inspire a life-changing business idea which led Rodbell and his longtime friend Charles Sain to co-found Post Meridiem Spirit Company. Earlier this year the company launched its first line of five authentic, ready-to-drink cocktails—including a Mai Tai.
"This is what I do for a living now: make little cans," Rodbell said.
Rodbell's first step was to confirm a marketplace opportunity for canned cocktails. While products like Bud Light's Lime-A-Rita or White Claw hard seltzer are popular, they don't contain real spirits. This is by design: government regulations limit where products containing real spirits can be sold. By using malt liquor, companies ensure their products can remain on the shelf at grocery and convenience stores.
Meanwhile, ready-to-drink products that do contain real spirits are often packaged in the standard 12-oz can of soft drinks and beer.
Here is where Rodbell and Sain found a gap. "We thought, 'They're doing it wrong. What's it going to take to do it right?"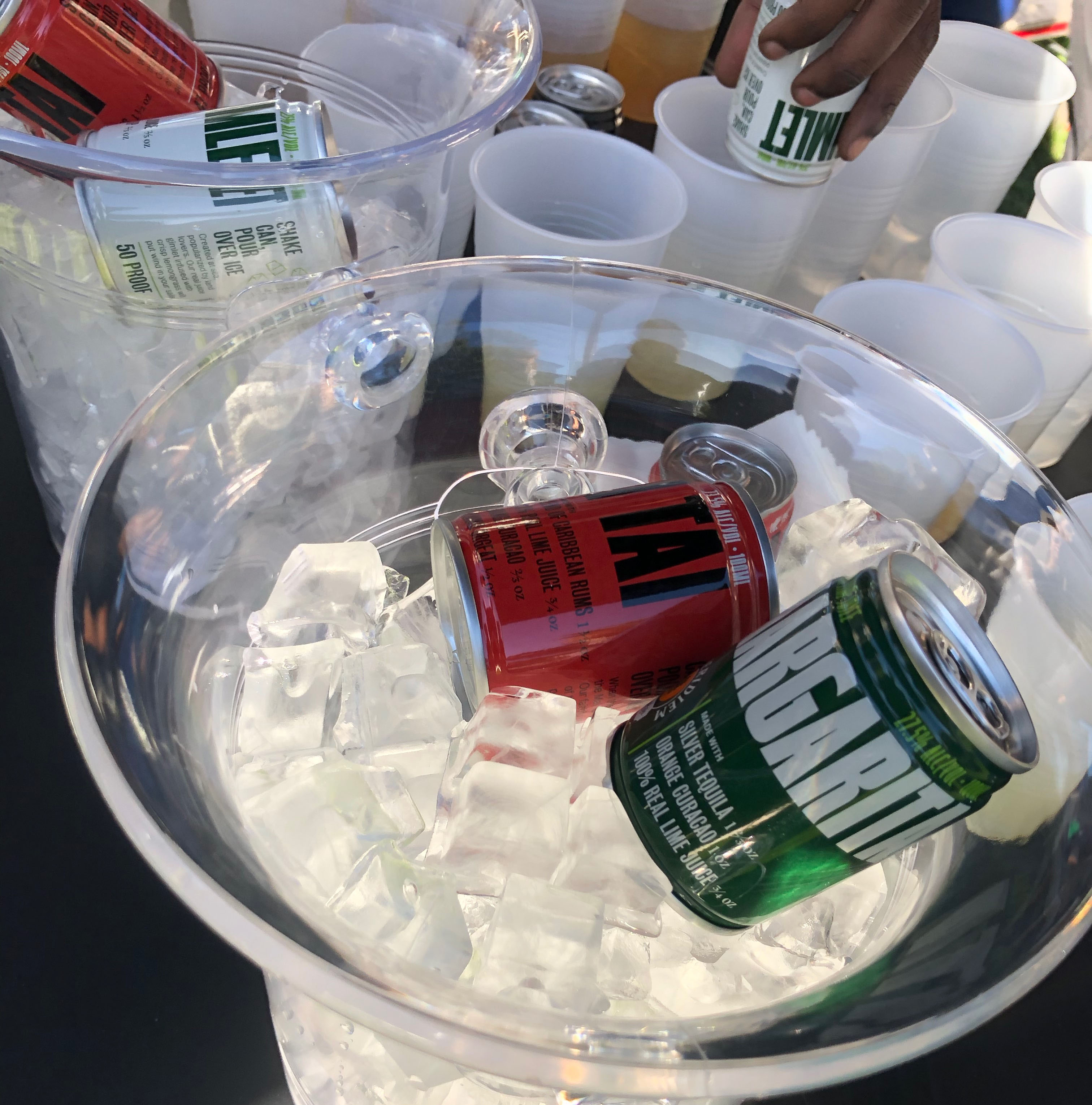 Packaging the ready-to-drink cocktails in small, pocket-sized cans eliminates the need to use filler products and enables the drinks to remain true to proper cocktail proportions. Using real imported liquor and fresh ingredients like real fruit juices means Post Meridiem cocktails taste like they were freshly prepared by a bartender.
Rodbell hoped this approach would attract young, quality-conscious consumers. "Millennials really crave authenticity and transparency," he said. "People are concerned about calories. They don't want artificial chemicals. They want something natural."
Although Rodbell was already a seasoned professional who believed in his product, to launch the business effectively required a lot of discovery and  more time than he expected.
"Build, measure, learn," Rodbell said. The phrase was met with knowing nods from the BBA students: It's an adage that comes up often in their classes when studying the Lean Startup methodology. "It happens in the real world," Rodbell said. "And it's a good model."
When looking for trends, Rodbell told the students, "Even if you're focused on one category, look at other spaces." Rodbell took a cue from RXBar protein bars and Spindrift sparkling water, brands that use high-quality ingredients to distinguish their products from competitors. "When you're very clear about what your ingredients are, people connect with it."
Rodbell also sought advice from other Atlanta-area beverage entrepreneurs. "I didn't think I knew anyone in the liquor world," he said, but was surprised to realize he did. "Your network's bigger than you think it is," he told the students, adding, "Don't burn any bridges with any friends here—you're going to need them later in life!"
For Rodbell, it was time to disrupt a category that lacked authenticity. "I just love the satisfaction I get every time I have a sampling opportunity, and the taster goes, 'That's a real cocktail.'" The students, who had the opportunity to try PM Spirits at a special post-talk cocktail Kegs in the Courtyard, strongly agreed. But the best compliment Rodbell receives is when tasters ask him, "Why didn't someone do this sooner?"