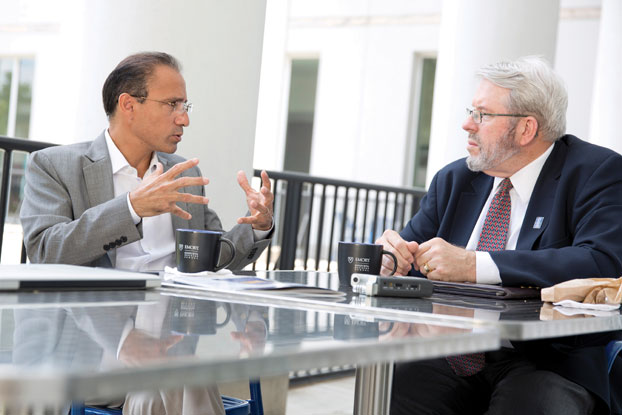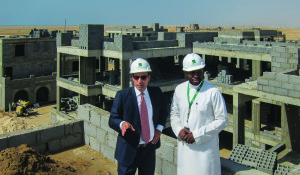 Sometimes it takes expanding horizons to test one's mettle. After working as an architect in the US, Michael Hernandez 08WEMBA found just such an opportunity heading large-scale development projects in Morocco, Qatar, and the United Arab Emirates. He just accepted a position as senior director for Emaar Properties, overseeing a major portion of the development of an entirely new, 46,000-acre area called King Abdullah Economic City in Saudi Arabia. He recently sat down with Roy Black, professor in the practice of finance and director of Goizueta's real estate program, to chat about how a business school degree helped prepare him for a major international leadership role.
Black: So, what are you doing now? What project are you currently working on in the UAE?
Hernandez: Right now, I am in Ras al-Khaimah, which is the northernmost emirate in the UAE. It's a smaller emirate, and as far as real estate goes, they have many legacy issues in the wake of the downturn. I went there to take over a 680-acre Resort Island development that had gone dormant during the financial crisis. I was hired on as project director, and then two months into it, I was promoted to CEO. The UAE is on the brink of another boom cycle similar to the one before 2008, when there was a proliferation of large-scale real estate development going on. Dubai recently won the 2020 World Expo, so there's a lot of activity again by the government to build a large amount of infrastructure, hotels, and venues by 2020. The largest mall in the world—Dubai Mall—that I was involved with, at 75 million visitors in 2013 is the most visited tourism and shopping attraction in the world. This was one of many interesting once in a lifetime opportunities that came out of the previous boom cycle.
Black: I just find it incredible. The Dubai Mall is more than 12 million square feet. I think the Mall of America in Minnesota is just two and a half million. But there have to be a ton of expectations in order to manage the whole process on such a large development project, correct?
Hernandez: It requires a lot of flexibility. I was lucky to be in this part of the world at a time when historical scale development was being done. When I started working on the Burj Khalifa complex in 2008, it was pretty tremendous. It's the tallest building in the world, with the largest mall in the world and the largest fountain, and it's all surrounded by towers within the 500-acre complex. I was in charge of completing the public realm in the complex, which meant researching the great retail streets all over the world in order to find best practices and make this place even better. When construction started it was going 24 hours a day, so it was managed chaos most of the time, and the workday never really ends. Honestly, at the time, the scale, density, and luxury of it all seemed outrageous, but now it is the most visited place on the planet.
Black: Sounds like managing such projects really brought your architectural background and the skills from your MBA together nicely. Would you tell us more about this?
Hernandez: The MBA program has been essential to my work. Everything that I learned, I've used: the marketing, finance, leadership, and organizational management skills. Because of the dynamic that exists where I am now—this emerging economy—everyone in the world is there. More than 80% of the population is foreigners, and it will always be a larger percentage since there is such a small population of locals. So you have to understand leadership and diversity and be sensitive to those soft skills. What's more, this population has varying degrees of education, and their work experience may or may not be appropriate for the level of responsibility in these complex projects. Often you find yourself further up the chain of command in the company to manage these imbalances. I was fortunate enough to have the architecture background that is highly valued in real estate development in this part of the world, and then having the MBA from a respected US university such as Emory was a big plus. The stars all aligned, and it created a lot of value for me. As a result, I am able to sit down with international teams of architects, engineers, contractors, and finance professionals; understand what the technical and business issues are; and provide solutions.
Black: When I talk to people like you about what they are doing in the industry and what skills they need, I have to constantly redesign my courses to move in the direction of the market and even try to get ahead of it. My goal in the program is to turn out people who on day one can walk into an office and be productive.
Hernandez: I not only use what I learned in your class all the time, I literally carry the class notes with me from country to country. This morning I had to write an RFP for a market research and feasibility study, and I used everything that I learned in your class. My consultants often say it's refreshing to sit down with someone who understands what they do and then can also write an RFP that reflects the services they produce that are really relevant to the project.
Black: What are some of the things that you would pass on in terms of wisdom—things that you've learned from working abroad, particularly in the UAE and Morocco?
Hernandez: Far too many people go in and start complaining that "this is not the way we do it in our country." Well, it's not our country. Be gracious; it's an emerging economy. Understand it and swallow the day-to-day frictions in life. My role is to work with the governments of these countries, since the governments are essentially "nation building" and do 80% or more of all real estate development. They're hiring us because of our education, expertise, and experience. We're almost like mercenaries coming in to transfer our skills and knowledge to the people there to help build their country. If you understand that as an expat, then you can manage your way through the profession there and have a fulfilling and mutually beneficial experience.
We've talked a lot about me, but what's happening with you and the program?
Black: The economy has bounced back and so has the interest in real estate. Our BBA and MBA real estate clubs are growing and very active. We have 23 members on the student advisory board for the Goizueta Real Estate Private Equity Fund. This is the third year for the investment fund, and we have three private equity deals and four REITS stocks. What's great is the students are learning the analytical techniques to managing real dollars, and these skills will make an impressive line on their resume and help them perform better in interviews. Then we continue to have a very active real estate alumni group, and they will hold the second real estate summit meeting in the spring. Between the case competitions and the number of internship and job possibilities, the program is stronger than ever.