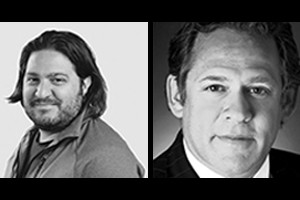 Earlier this month, AACSB International (AACSB), the global accrediting body and membership association for business schools, revealed [highlight]Goizueta Business School graduates Peter Corbett and Rick Rieder[/highlight] have been recognized as two of the first 100 AACSB Influential Leaders.
"It is my honor to recognize Peter and Rick for their contributions as Influential Leaders, and to thank Goizueta for its dedication to providing a business education environment based on engagement, innovation, and impact," said Thomas R. Robinson, president and chief executive officer of AACSB International. "If told, the success stories of all business school graduates would fill unmeasurable volumes. AACSB is honored to celebrate these men — and the collective 100 Influential Leaders — as a representation of how business school alumni have positively influenced society, as well as the management education industry's, past, present, and promising future."

Corbett is the founder and CEO of iStrategyLabs — a digital agency that develops solutions to clients' challenges and brings them to life in the online and offline world. He's widely known for his marketing acumen coupled with a deep technical background and a focus on community building. His portfolio includes clients such as Disney, GE, Microsoft, NASDAQ, Intel, GEICO, American Eagle Outfitters, Crate & Barrel/CB2, Chase, Rosetta Stone, the U.S. Army, Deloitte, McKinsey, leading international food chains, major television networks, prominent global automobile brands, and prestigious hospitality companies. He was honored with Goizueta's alumni entrepreneurship award in February 2015.

Rick Rieder is BlackRock's managing director, chief investment officer of fundamental fixed income, co-head of Americas fixed income, a member of the executive committee of firm-wide alpha strategy business, a member of BlackRock's Global Operating Committee, and chair of the BlackRock Investment Council. He is a member of the board of trustees of Emory University, the advisory board of Goizueta Business School, and the university's investment committee. He is the vice chairman of the finance committee and founder and chair of Goizueta's BBA investment fund and community financial literacy program.
Leaders were chosen based on extensive criteria including ability to:
Display an innovative mindset
Show entrepreneurial spirit
Make significant business impact
Engender dramatic community or social change
Each of AACSB's accredited institutions received an invitation to participate in the Influential Leaders program. In its inaugural year, 127 schools from 25 countries and territories participated. Across the 198 submissions received, a total of 162 male nominations and 36 female nominations were submitted. More than 20 industry sectors, from consumer products to healthcare to nonprofits, across 21 countries, are present in this year's group.
See a list of all winners here.
About AACSB International
AACSB is an association of more than 1,450 educational institutions, businesses, and organizations devoted to the worldwide promotion and improvement of higher education in business administration and management. Founded in 1916 by a consortium of the most prominent business schools of the time, AACSB's accreditation and membership represent a timeless tradition focused on excellence in management education.