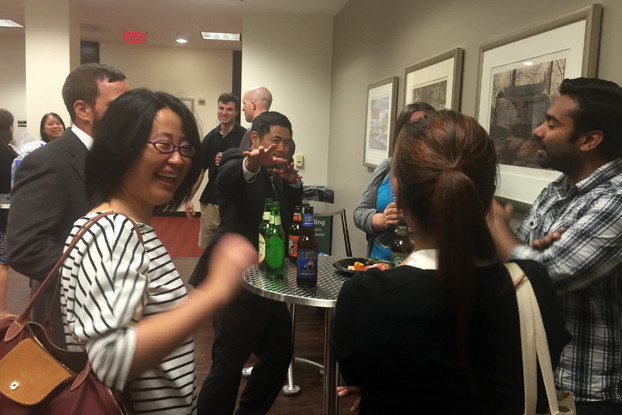 Presenting research to an audience alone is stressful. But, for Ph.D. candidates with in-progress papers and preliminary research, the anxiety can jump to overdrive.
Recognizing this, on Aug. 14, Goizueta doctoral students Lisa LaViers (third year) and Roger White (final year) put together the first-ever Graduate Research in Accounting Conference at Emory (GRACE). The conference was established to encourage collaboration and fellowship between doctoral students in the Atlanta area.
The day-long event, which was open to accounting Ph.D. candidates at Emory, Georgia Tech, Georgia State, Georgia, Alabama and Duke, was divided into 45-minute breakout sessions; 25 minutes were dedicated to student presentations of research followed by 20 minutes of discussion.
The majority of the 35 students in attendance students were first, second and third-years.
There often aren't many students in any given academic area (LaViers is the only accounting candidate in her year at Goizueta). Having other students to bounce ideas off is particularly useful for the aspiring scholars. She and White decided to create a semi-formal arena for this discussion and asked Goizueta to fund the event.
"We felt like having a larger network and including other smaller programs around the Southeast would be good for everyone's research," LaViers said. "It would come up with new ideas and help us get that breath of fresh air."
To participate, students sent research proposals and papers to LaViers and White, who then picked a handful for further discussion. At the conference, the selected students presented their work and took feedback from colleagues.
"This was no-professors allowed," White said. "That was something we had a lot of fun with, in that we're going to have an open environment to feel free to say whatever you want, relax and unwind."
"This lets younger people in the program, in particular, get to say things without just immediately [feeling like] they're wrong," LaViers added.
By the end of the event, LaViers and White had received a number of compliments and discussions are underway to move to other area schools in the future.