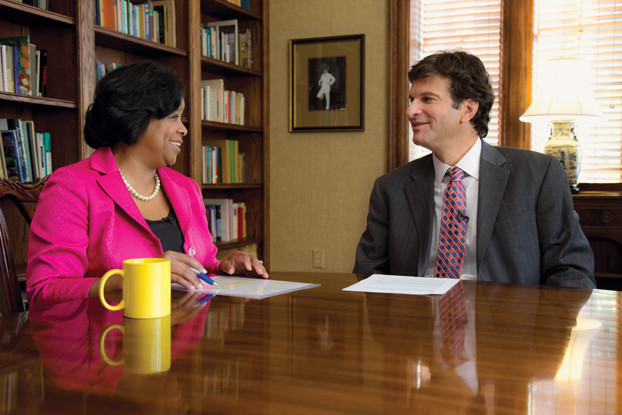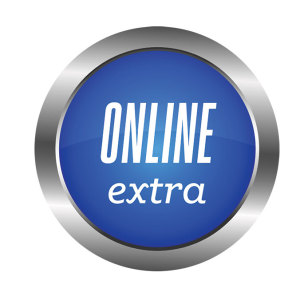 When Emory Business approached Jeff Rosensweig, professor of finance and director of the Global Perspectives Program, about sharing coffee and a chat with an alum, his first thought was of Shan Cooper 89C 95EvMBA, vice president and general manager of Lockheed Martin Aeronautics, and an Emory Trustee.
It's been a big year for both. Rosensweig is celebrating more than 25 years at Emory, and Cooper was named 2015 Most Respected Business Leader by Georgia Trends magazine, as well as Emory University's Alumni of the Year. Their long association proved fertile ground for inside jokes as well as serious conversation on global issues, Roberto C. Goizueta, and the essence of lasting friendship.
Cooper: I want to start by thanking you because, as I think about the global perspective I have today, you instilled that in me—the ability to think broadly and outside my current world and think about the future. Thank you for teaching me to be a thought leader.
Rosensweig: You're more than welcome.
Cooper: You really challenged me in the classroom and over the years, so today I am going to challenge you with a few questions. As one of the faculty focusing on global issues, what defining changes have shaped the current environment, and what do you foresee in the future?
Rosensweig: When we talked about global business a couple of decades ago, we really meant a traditional triad of power: Northern America (the US and Canada), Western Europe, and developed East Asia—Japan and South Korea. We have seen an evolution over the past 10 to 15 years toward more focus on big emerging markets. We hear and teach less about Europe and Japan, though they are still very important. There was a justifiable surge of interest in the BRICS (Brazil, Russia, India, China, South Africa), which also remain very important, and by now, people know that China has emerged.
Cooper: Absolutely.
Rosensweig: As for the future, it is exciting for me to open people's perspective to where the world might be in 10 or 20 years. At Goizueta, we do this better than many other business schools by focusing on frontier economies. For instance, Nigeria will soon have the world's fifth-biggest population, so it has tremendous human resources. There are education deficiencies there but also many Nigerians with PhDs who've become very successful. Indonesia, with the fourth-biggest population, has tremendous resources, as does Vietnam, which has one of the fastest-growing economies. These countries have young demographic profiles, growing labor forces, and none of the troubles we see in Japan and Europe, where there aren't enough workers to support retirees. There are also a number of countries in Latin America that are becoming frontier economies, including Colombia, Chile, Peru, and, of course, Mexico.
Cooper: You have been at Emory for more than 25 years and held a number of positions during that time. What's been your favorite experience?
Rosensweig: Watching the transformational aspect of being at a great business school and seeing people gain confidence as well as skills. I try firing up people's imagination by letting them know there is a big world out there, and if they can understand how that world works together, they can play a big role in it.
Cooper:  One of the things you are just masterful at is building effective, long-lasting relationships. How do you keep connections going, and why do you think it's important?
Rosensweig: I'm glad you phrased the question the way you did and focused on relationships. Networking is, "How can you help me?" Building relationships is about reciprocation, unlike networking. My attitude is often, "What can I do for you?" The very core of why I have relationships is that I love engaging with people. That's why I am an educator. It's why I give speeches to executives, then after conversing with them, bring what I learned to the classroom. That's why my classes often are considered quite relevant. To that end, students inform me as well, and I share this information.
Cooper: That's such great perspective. You once told me Roberto Goizueta spoke in your classroom. For those of us who didn't meet him, what can you share about his leadership style? And were there key lessons you learned from him yourself?
Rosensweig: Mr. Goizueta was the initial inspiration for the Global Perspectives Program, which I have the honor of directing today, as well as teaching the global perspectives course. I learned many lessons from him. For instance, he had a view of ethics that was straightforward: "Stay away from the gray areas; just play it straight down the middle." And he did not believe in nepotism. Mr. Goizueta would say it has to be a meritocracy. Everything must be aboveboard.
When he would speak in my class, he had the greatest line: "If you are bilingual but not bicultural, you can cause a lot of complications." He understood that someone can make too many assumptions if they just speak the language but don't understand the cultural nuances. He was a good listener and was always thinking about the future and thinking strategically.
Cooper: We can't end this session without me asking about your family and that beautiful granddaughter of yours. Ellie seems ready to take over the world.
Rosensweig: Oh, I think so. You know, I think back to when my kids, Maria and John, were younger, and in some ways they had it hard. I obtained my PhD from MIT and even spent a few years in England studying moral philosophy and politics. My wife, Rita, began MIT as a 17-year-old undergrad, and since MIT is something of a pressure cooker, people would often tell my kids: "It's bad enough having one MIT parent; imagine having two." So the pressure was on them academically to perform well. I am glad to say that I am good friends with my son and daughter today. They couldn't be more different, and each is doing very well. Both Maria and her husband, Lance Escher, are '07 Emory alums.
Parents reading Emory Business magazine should realize kids are unique, and to me as a teacher and parent, I know everyone has gifts. It's just a matter of discovering those gifts and guiding kids in developing them.