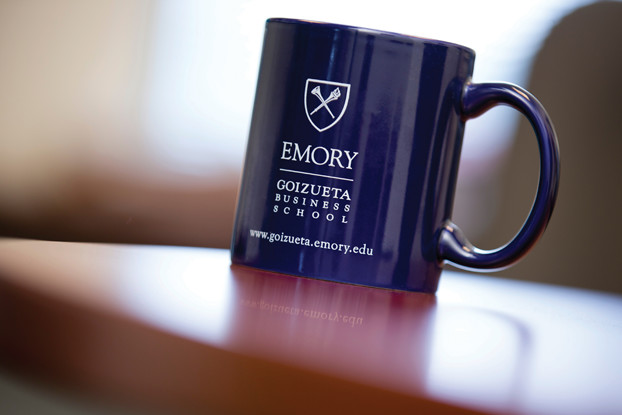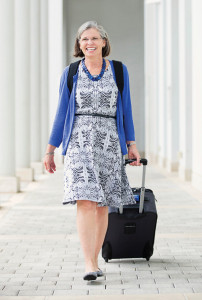 When Kate Piasecki, associate director of MBA admissions, learned that she would receive the 2015 International Outreach Award, it was a pleasant surprise. The award, sponsored by the Office of Global Strategy and Initiatives, recognized her "work in strengthening Goizueta's international reputation, building relationships overseas, and helping Emory improve its global presence."
"The recognition from my colleagues and the university is wonderful, and I am appreciative of it," she says. "I am extremely fortunate to have a position that allows me to follow my interest in international cultures and building relationships."
For Piasecki, her passion for international travel has come full circle.
"When I was in high school, I learned of someone's international adventure, and I thought, 'that sounds fascinating; I want to do that!'" Piasecki recalls. "So I found a way to travel abroad, going to Austria and participating in two student exchange programs to England. Today, I get to travel as part of my job. It is so rewarding."
As the international recruiting champion for full-time MBA programs, she heads abroad several times a year to introduce Goizueta to potential candidates, interview applicants, meet with organizations and companies, and reconnect with alumni.
"We do the bulk of our travel from July to September, when we participate in MBA fairs," she explains. "We always invite local alumni to join us and share their Goizueta experience and its impact. This enriches the experience for the prospective students, who can learn about Goizueta's sense of community and culture."
When prospective candidates enroll and come to Goizueta, Piasecki still monitors their progress.
"Harriet Ruskin 90MBA manages their experience in the MBA program, but I stay involved with many because we've developed a relationship," she says. "I also stay in touch once they become alumni. I just had an email from an alum in China who's helping me set up an information session in his city. We like to stay in touch."
In her admissions role, Piasecki has visited South America, Mexico, Japan, Korea, Vietnam, India, Israel, Turkey, and several other countries. 
"We're going this year for the first time to Panama," she says. "There are great prospective students living there, and we'd like to meet with them and introduce them to Goizueta."
During her travels, Piasecki also meets with company officials to introduce the MBA programs at Goizueta or to stay connected and keep the relationships strong.
"We have some company-sponsored international candidates, and we stay in touch with their firms," she says. "We have great relations with companies in China, Colombia, Japan and Korea. This January, I conducted an MBA program presentation in China, at the invitation of a nuclear power company."
With such strong connections, Piasecki often is tapped to match students with international alumni or help facilitate introductions and share information within Goizueta and the larger university. In addition to working with the Emory Alumni Association and the International Student Scholar Services, she was able to connect a representative from Centro Colombo Americano, a nonprofit educational and cultural organization, with Emory Jazz Program Director Gary Motley.
"Earlier this year, I was in Colombia when I was asked if Emory's Jazz ensemble could perform in that country," Piasecki says. "I helped make the connection and am happy to say Gary took the Emory Jazz Quartet to Colombia in June. This was a great opportunity for the jazz group and for Emory."
Her MBA student recruitment work in Colombia also led to Unidad de Conocimiento and Goizueta's Executive Education joining forces for a summer workshop at Goizueta. (See page 6 for more.)
Value in the journey
Like most pursuits, traveling can have its ups and downs.
Although recruiting fairs provide an opportunity to interact and benchmark with admissions professionals from other business schools, the tenor differs when she returns to a city to interview applicants.
"You are alone on the road," Piasecki says. "You don't have the backdrop of a fair, so you coordinate the logistics, set the schedule, and interview candidates all day long,"
Piasecki has developed many ways to cope with her erratic schedule and jet lag. Whether at home or in another country, setting a routine is a must. The first step is to get in a run, which she also uses as an opportunity to connect with colleagues and counterparts from other universities.
"Once, I asked a colleague from Carnegie Mellon if she wanted to run the next day in Beijing. She said, 'Yeah!'" Piasecki recalls. "Then I said 'OK, we'll run through the Forbidden City, and we can go around Tiananmen Square.' Her mouth dropped open, and she finally said, 'Are you serious?' But when we completed the run, the woman said, 'This is the best thing—this is so memorable.'"
Pursuit of new cultures
Piasecki's international adventures began before joining Goizueta. After college she lived in Australia, Argentina, and Peru. During this time Piasecki, who is fluent in Spanish and English, did translation work and taught English.
"When I was in Peru, we lived in a copper mine in the foothills of the Andes for three years," she says. "We were at such a high altitude that running was difficult, so I would hike every day. We were two hours to the nearest town, but it was amazing in terms of the culture. My children, David and Marisa, who were then in fifth and seventh grades, went to an American school at the mining camp. This helped their English language skills since we spoke Spanish at home, and their English was rusty."
After returning to the States, Piasecki obtained a master's degree in counseling and worked with members of the Cuban community suffering from posttraumatic stress. She later moved to Connecticut and Michigan, where she began working in MBA admissions. In 2008, she moved to Atlanta to join the admissions team at Emory.
The military is her children's answer to travel and excitement: "My daughter completed ROTC and went to Iraq in 2004. She is a currently a major in the Army and lives in Washington, DC. My son enlisted in the Marines and was stationed in Beijing and Venezuela."
As for the future, Piasecki is open to continuing her international voyages.
"I could see myself living abroad in retirement," Piasecki says, "but I will always stay connected to the US—maybe six months here, six months away."