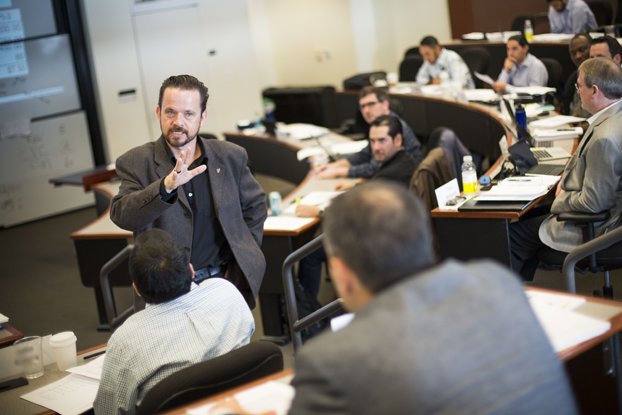 Emory University's Goizueta Business School recently approved a change in its Executive MBA curriculum that allows for more customization and acceleration options. The weekend format will also change names, becoming the "Weekend MBA for Executives."
Professor Doug Bowman, Sr. Associate Dean for Working Professional MBA Programs, said student feedback and a changing dynamic in the workplace inspired the updates.
"We used an extensive set of research from alumni, current students and employers," Bowman said. "We saw a number of different trends in the market place. Number one, there is clearly a desire for credentials and electives. We also saw that over 50 percent of EMBA populations [identified] as career switchers which follows, to some extent, from credentials and electives. There was a desire for greater schedule and curriculum flexibility."
Goizueta now offers an MBA option that can be completed in as little as 15-and-a-half months with a concentration in one of four areas of expertise that follow from the school's strength in finance, healthcare management, leadership, strategy and general management. Students can also create their own concentration from a number of electives, some offered on Thursday evening and Sunday morning.
The structure will become standard with the MBA class entering in September. However, the Class of 2017 can begin taking new electives immediately.
Core classes in operations, management, marketing, finance and accounting are offered in the first two terms. According to Bowman, most students can start taking electives in the third and fourth terms. The curriculum also includes three "immersion" experiences with travel to international and domestic locations. Thus, students receive core training, in-depth experiences and a chance to focus on topics in the classroom.
Application comes in the office Monday morning or in a new career.
Bowman and the school's administration believe the time is right for an offering catering to high-potential workers that may look for success in a new industry. The economy, though sluggish since the Great Recession, has regained a level of employee confidence.
Career-minded websites like Monster.com recognize the trend, posting articles like "Career Change and the Seasoned Worker," dispelling myths that age should be a deterrent for career change or that seasoned professionals should expect to "start over at the bottom" if they change industries.
In 2014, the Bureau of Labor Statistics released a report revealing wage and salary workers had been with their current employer an average of 4.6 years. While this doesn't directly suggest an influx of career change, it does show the time Americans spend in a job is shrinking. The government also appears to recognize the significance of such behavior and what it means for the future. In late January the White House released a fact sheet expanding on President Barack Obama's calls for a 21st century retirement system. For one, the administration hopes to make employee retirement accounts that roll from job to job easier to start and maintain.
More men and women are also confident in their ability to find new roles.
Recently the Atlanta Business Chronicle reported findings from the Randstad U.S. Employee Confidence Index (ECI), stating 34 percent of workers believe "more jobs are available" in the country and "nearly six in 10 (55 percent) indicate they are confident in their ability to find a new job."
"Flexibility obviously allows you to tap into a larger set of potential students that aren't so restricted schedule-wise," Bowman said when asked about the future of his programs and business education. "We're talking about schedule and course flexibility. There's also delivery flexibility — online versus offline. We also have the modular Executive MBA format —  a hybrid program where about 30 percent of the content is delivered online.
"The idea is to provide a flexible curriculum while, at the same time, not compromising our quality standards. I think, is going to be a differentiator for programs like Emory."
The Weekend MBA for Executives at Goizueta Business School
For more information vist http://emory.biz/emba
Sample Overview 
Term 1
Term 2
Term 3
Term 4
Term 5
Business Foundations Courses
Immersions
Areas of Focus Electives
Business Foundations Courses
Managerial Finance
Management Strategy
Organizational Behavior & Leadership
Financial Accounting & Reporting
Decision Information Analysis
Microeconomic Analysis for Managers
Marketing Management
Process & Systems Management
Action-Learning Immersions
Global Business Practices (international)
Public Policy (Washington, D.C.)
Leadership and Influence (TBD)
More than 21 Electives in Five Focus Areas
Strategy
Leadership
Finance
Healthcare Management
General Management
Doug Bowman, head of the working professional programs at Emory University, discusses new options for weekend MBAs.
EmoryBusiness.com's Isabel Hughes contributed to this report.