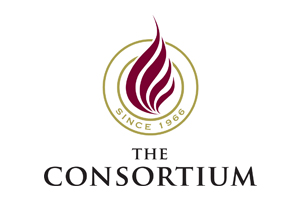 How a Mild-Mannered Professor's Vision Brought Business Opportunity to Thousands
The definitive golden anniversary story of a groundbreaking organization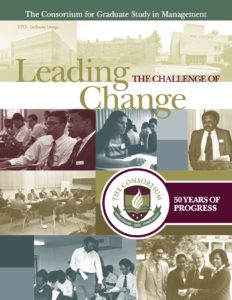 ATLANTA — How was an unassuming Midwestern business professor inspired to launch a social movement that would revolutionize business education for underrepresented minorities? How did 21 African American men seeking an MBA become an organization boasting 8,500 alumni from 18 top-tier universities?
Leading the Challenge of Change tells the story of how a stunning revelation about the state of corporate America in 1963 turned into The Consortium for Graduate Study in Management, a beloved 50-year-old organization serving students and alumni around the country.
Sterling H. Schoen, a labor professor at Washington University in St. Louis, realized through his research that   Fortune 500 companies employed no African Americans in management. That revelation spawned the idea that led to The Consortium: An alliance of top-tier business schools and corporate partners dedicated to increasing the ranks of underrepresented minorities in business education and corporate leadership.
"We're here today because of his vision," said CEO Peter J. Aranda III, a Consortium alumnus (Washington University '87). "We need to remember we stand on the shoulders of those who came before us. The opportunities that exist today are bigger and greater than they were in the early days of the organization and that is truly because of those who came before us."
Author Barbara Britton Jones, former vice president for finance and administration for The Consortium, had access through archival documents, photographs and interviews to the stories of numerous pioneers involved in launching and sustaining the organization. That includes interviews with surviving members of the first class of 21 African American men who enrolled in The Consortium's three founding member schools in 1967—Washington University, Indiana University-Bloomington and the University of Wisconsin-Madison.
The book tells stories including:
The scheduling conflict that led to the meeting of Schoen and Wallace L. Jones and a decades-long partnership in building The Consortium.
The turbulent racial climate into which The Consortium was born.
The various state laws addressing affirmative action and minority recruiting that threatened to undo the mission of The Consortium.
How early leaders of the organization overcame funding challenges and inertia to grow The Consortium.
Leading the Challenge of Change is on sale on The Consortium's website and will be available in time for The Consortium's premier event, the 50th annual Orientation Program & Career Forum in St. Louis, June 3-8, 2016.
***
Founded in 1966, the vision of The Consortium for Graduate Study in Management is to increase the representation of African Americans, Hispanic Americans and Native Americans in management careers in the United States. We realize this vision by recruiting outstanding students who have shown a commitment to diversity and connecting them with top-tier MBA programs and corporations. Learn more on our website at cgsm.org; follow us on Facebook @cgsm.org; Twitter @cgsm_mba; and YouTube @TheCGSM. See our media kit about The Consortium and our 50th anniversary online at cgsm.org/about-us/.