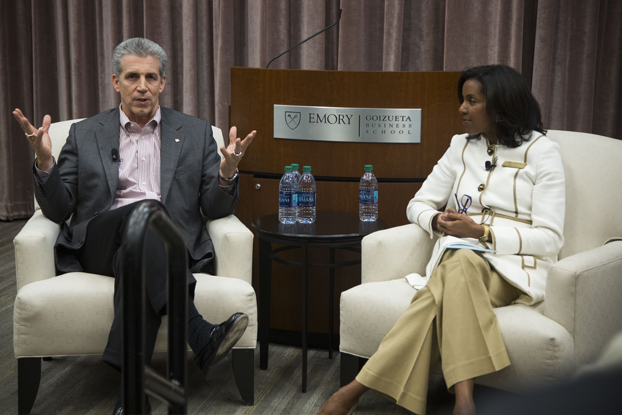 Values at Home Depot are built to last.
Working from a foundation set by company founders Arthur Blank and Bernie Marcus, leadership at the Atlanta corporate giant has little to debate. Customer first. Employees second. Leaders last. Some call this the "inverted pyramid" style of leadership.
Craig Menear, Chairman, CEO and President of the home improvement chain, recently spoke to Goizueta Business School students, corporate partners and alumni. His message was clear: The world may change, but the personality of his company will not.
"No matter what the situation is, no matter what the environment is, if we protect the core culture of our business, we'll be just fine," he said. "One of the true competitive advantages we have in our business is our culture. We are a values-based business."
Menear and other Home Depot executives were on campus to review student work from the Modular Executive MBA program. Home Depot was one of more than a dozen companies to hear from student teams across each of Goizueta's MBA programs at the first #GBSClientDay.
In most cases, students were asked to solve questions facing a company or industry. Sticking with the theme, Menear didn't shy away from issues faced by his company.
Home Depot went through an extended period with little growth in stock price in the mid-2000s. To fix the issue, the company recommitted to its culture and doubled down on efforts to add value to customers, associates, partners and shareholders.
Taking care of the customer helps a lot.
"If you're going to invest in the home improvement space, Home Depot has to be the place you can get the best value out of your money," Menear said. "We have competitors everywhere. We also compete for the customer's disposable income. We compete for their time. This is where, as we shift from customer service focus to customer experience focus, how do we do a better job competing for the things that add value for them?"
Menear encouraged students and forward-thinkers in the audience to pay close attention to mobile technology. As a retailer faced with professional and novice customers, Home Depot sees the smartphone as a place for answers, purchases and inventory management. To Menear, the digital explosion drives the move to experience over service. Consumers no longer interact with Home Depot solely inside its warehouse-like stores.
"We know that's a space that's going to continue to evolve," he said. "We have to engage with the customer the way the customer wants to engage with us."
Recent research by the company found young consumers, while primarily active online, like coming into stores for expert validation. As expected, the new generation of workers and consumers also pay close attention to corporate values.
This, of course, is already a cornerstone.
"They want to know who you are as a company," Menear said. "The fascinating part of the work we did with this group was they all told us… To a person… we absolutely had no idea what you are and what you actually do and what you're culture is all about."