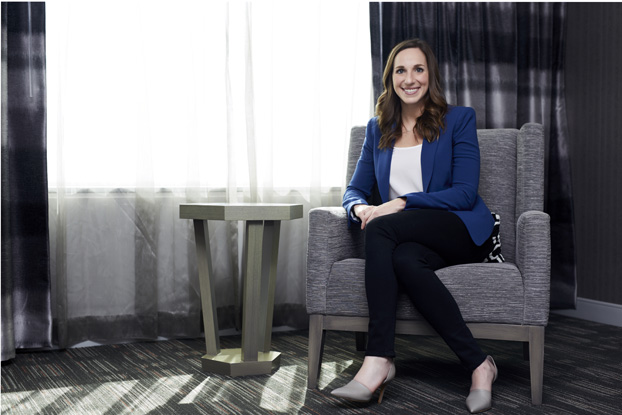 Before she ever set foot on campus, Meredith Hork 06BBA knew she wanted to come to Emory. In fact, Hork's first visit to campus was when her parents dropped her off for orientation weekend. 
As a high school senior in Hopkins, Mn, a suburb of Minneapolis, Hork applied to several schools, including her top choice, Emory. She was accepted at almost every school, yet it was somewhat bittersweet when she learned that she was placed on Emory's waitlist. Hork was a starter on Hopkins High's girls lacrosse team and was ready to accept an offer from a university with a spot on their varsity team. Then on an evening during halftime of one her matches, Hork's mother gave her some very special news. She was off Emory's waitlist and had been offered admission to the class of 2006.
"It was raining and I was having one of my best games," Hork recalls. "Yet I thought about lacrosse and that my passion for it wasn't great enough to dictate my future. I realized that lacrosse shouldn't be the single largest driving force behind choosing a college. So, I followed my gut and said, 'I'm going to Emory.'"
Hork was not a complete stranger to Emory. Several family friends had attended, and she was aware of the university's strong reputation. She also knew it had a club team in women's lacrosse, which she would play on during all four years. Hork's instinct served her well before she got to Emory and it pointed her in the right direction again when she considered a major. She took a lot of sociology classes her first two years in Emory College, but again decided that subject probably wasn't home of her future career. She had a passion for studying consumer behavior and figured the best place to explore it would be Goizueta. Her gut was right.
Hork majored in marketing and, after graduation, took a position at The Nielsen Company, where she gained five years of invaluable experience in the consumer packaged goods market research industry. In 2011, she accepted a position at PepsiCo, specifically on Tropicana's analytics and consumer insights team, and eventually transitioned into brand management.
Last November, Hork was promoted to senior marketing manager and put in charge put in charge of a brand portfolio for Tropicana's beverages, encompassing dozens of individual products and accounting for more than $500 million in retail sales annually. She credits her Emory experience for providing the foundational knowledge essential for her success.
"I'm in a marketing job, but I partner with sales, supply chain, finance, legal, research and development—everything we learned about in class—every single day," Hork says.
Hork leads a team that is involved in every aspect of their products' branding. From packaging to advertising and media, it's an all-encompassing job, and a big responsibility.
"What's always been exciting for me is seeing a project through from start to finish," Hork says. "Now we get to do that all time. Whether it's developing and launching a new product or producing a new advertising campaign for an existing brand, every day is different, and it's just a thrill."