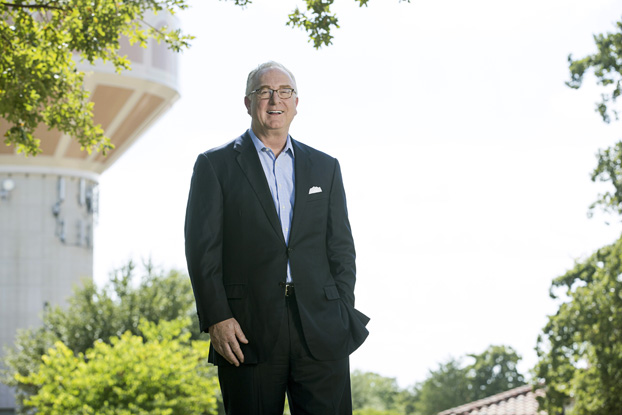 With more than three decades of experience on both the provider and supplier side of the healthcare sector, James Wetrich 09MEMBA has witnessed a lot of change. As founder and CEO of The Wetrich Group LLC, a healthcare management consulting firm based in Southlake, Texas, Wetrich is optimistic about the future and understands the importance of staying current.
"Working in the healthcare field is challenging and rewarding. In many roles, you can often see what your products or services are doing for the patients," he says.
Wetrich's ability to manage complex issues and navigate the heathcare landscape has much to do with his personal experience and spotting opportunities. He experienced the supplier side of care when he witnessed the life-saving benefits that occur when a necessary product or treatment is available. For example, when his father, a general surgeon, contracted Legionnaires' disease in 1984 and ended up in intensive care on a ventilator, his life was spared by the infection-fighting antibiotic erythromycin lactobionate.
Those treatments have to be coupled with talent on the provider side, with which Wetrich is equally familiar. Earlier in his career, he had a stint in hospital administration—first as vice president of the Metropolitan Hospital Council of New Orleans and then as vice president with Pitts Management Associates (PMA). His wife, an ICU nurse, also provides valuable personal insights on the important role providers fill.
Wetrich has drawn on this comprehensive knowledge throughout his career. In the early 1980s, he helped to
develop the University Health System Consortium (UHC, now Vizient), then moved on to Abbott Laboratories as a manager of corporate strategic planning. In 2001, he leveraged his wide range of experience to form the eponymous Wetrich Group, which offers management consulting services to pharmaceutical, medical device, and healthcare providers.
In 2006, Wetrich stepped away from the practice to join the leadership team of Swedish-based Mölnlycke Health Care, serving first as president and general manager of US and Latin American wound care operations and later as president and general manager of the Americas. He returned to his firm in 2014 and expanded the business to The Wetrich Group SCO LLC through the acquisition of Haney/Lowderman, a healthcare executive career transition firm. The Wetrich Group SCO remains independent of The Wetrich Group, its specific focus being search, coaching, and outplacement (the SCO acronym) as well as talent assessment.
Over the course of his career, Wetrich has developed a number of proficiencies he identifies as crucial to success. "Executives must display strong data analytics skills; an ability to manage both actual and virtual teams locally, regionally and globally; and a comfort level for handling uncertainty," he says.
These core competencies have allowed him to realize his proudest accomplishments: playing an instrumental role in founding the Consortium; overseeing several key product launches while at a major pharmaceutical firm; and leading a Swedish firm's commercial operations in the U.S. and Latin America from fifth to first place in market share.
Despite his demanding schedule, Wetrich, a travel enthusiast, delights in escaping for several weeks each year with his wife and a large pile of books. "I never tire of seeing and learning new things," he confesses.
This ongoing quest for knowledge, coupled with a willingness to travel, made Goizueta's Modular Executive MBA a perfect fit for Wetrich. "I loved the program's week-long sessions because they fit into my work schedule beautifully," he says. "From the course content to the faculty, every aspect of the program was absolutely outstanding. It's extremely well done—offering a turnkey experience with very low administrative related stress."