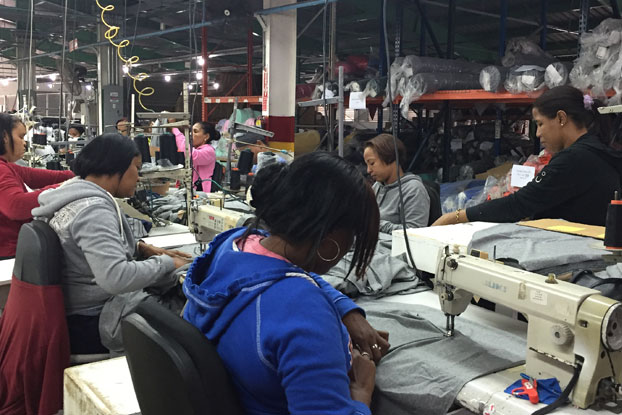 Six students representing Emory University's Goizueta Business School and Master's in Development Practice program began the Spring 2017 semester putting coursework into action at a garment factory in the Dominican Republic. In collaboration with Social Enterprise @ Goizueta, Assistant Professor Wesley Longhofer received a grant from the school's Innovation Fund to develop an experiential learning opportunity with apparel manufacturer Alta Gracia. Alta Gracia is committed to paying workers a living wage, maintaining excellent workplace health and safety standards, and working with a worker's union to develop a collective agreement (CBA) with a worker's union in an industry known for its intensive labor, low wages and poor working conditions.
After  learning about Alta Gracia in Longhofer's Business and Society course last fall, six students – Sydney Herndon (MDP), Jongdae Kim (MBA), Kayleigh Moss (BBA), Anna Navratil (MBA), Karishma Ratnani (BBA), and Naveena Rahman (MBA) — embarked on a trip to interact with the company first-hand. Over four days the students toured the garment factory, spoke with factory workers, and met with families and community members located in Villa Altagracia. Previously, several employees reportedly endured working conditions where women faced verbal or physical abuse, single parents struggled to support their children and workers could not afford stable housing. How ever, since working for Alta Gracia, the workers now enjoy respect from management, flexibility in caring for family and medical needs, and the financial ability to develop and expand durable homes. Some workers have also started their own entrepreneurial ventures with the wages earned at Alta Gracia, including an inspiring laundry mat owner that was a highlight of the trip.
Alta Gracia is located in a free trade zone just outside of Santo Domingo filled with vacant sugar cane and other garment factories. Alta Gracia has proven a worker-focused strategy successful and feasible. Students said they were impressed at  the depth of engagement for workers to create a stronger organization and the level of impact Alta Gracia had on the greater community.  Workers hope that Alta Gracia will continue to serve as a model for other companies who have yet to embrace worker's rights. They are actively working to further the Alta Gracia brand and establish safe labor conditions and fair wages as the standard for apparel industries across the globe.
Some of Alta Garcia's merchandise is sold in the Emory University bookstore. Collegiate apparel makes up the majority of Alta Garcia's production with customers including New York University, Notre Dame and Stanford. For the rest of the semester, participants in the trip will be partnering with another social enterprise course to discuss Emory's potential relationship with Alta Gracia moving forward.
You can purchase Alta Gracia apparel at Barnes & Noble at Emory (1390 Oxford Road Atlanta, GA 30322). To learn more about Alta Gracia, please visit http://altagraciaapparel.com/.
EDITOR'S NOTE: Students and faculty from the trip to Alta Garcia submitted this content.
About the Expert