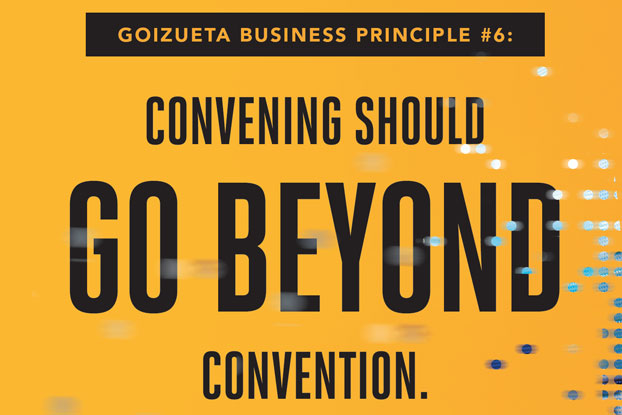 Business plays a vital role in solving society's problems. This has been true for generations — from early instances of trade to today's complex and connected international economies.
The light bulb revolutionized the world. Business put it in homes. A local nonprofit works to improve financial literacy in the community. Business provides the fundamentals for the curriculum. The hospital of the future will serve more patients than ever before. Business will deliver the operational efficiencies to improve access to care.
Business aids progress. But it must do more.
Today's business environment needs fresh thinking, inspired talent, and a renewed commitment to create lasting value.
By answering the call for the next out-of-the-box, thought-provoking, table-turning solution, we remind the world of the interconnectivity of business and society… Of industry and intellect… Of new ventures and social good. In the process, we unlock our collective ability to innovate in the most important ways on the most pressing topics. This simple but essential idea can inspire the next generation of the workforce to see business as a source of solutions, not scandals.
STEM initiatives gained influence when individuals, institutions, and industries began working together to highlight the need for more diverse and technologically-savvy leaders.
Now imagine what we could achieve by coming together with a shared purpose.
For nearly 100 years, Goizueta Business School has espoused the power of principled leadership. Our history includes an ethos of ethics and lifelong learning.
This is how we impact business. But we can do more.
I commit the school to continuing this mission while also leveraging the knowledge base and bold spirit of Emory University. We will focus this energy through strategic themes that intersect with our scholarship, expertise, and the needs of business today.
We will use our influence to convene the best minds full of integrity, ingenuity, and grit. Together, we can illuminate the complex interdependency of business and society in our companies, cities, industries, and beyond.
We will be guided by a set of principles created in honor of our namesake, Roberto C. Goizueta, the former Chairman and CEO of The Coca-Cola Company. These principles are for everyone willing to reboot business for increased performance.
So, let's get started. Join me for a crucial first step in collaboration. We will examine ways to secure and encourage the workforce of the future. We can shape the impact business will have on society and go beyond, together.
I look forward to our partnership.
Please consider joining me for a special event in the following cities: