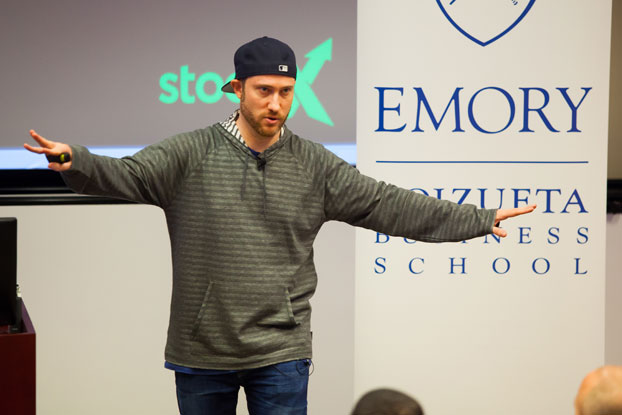 Goizueta's third annual Emory Entrepreneurship Summit began March 23 with a Sneakerhead kickoff reception and an opening keynote delivered by
Josh Luber 99BBA 06MBA/JD
whose Ted@IBM talk on investing in sneakers has garnered 1.75 million views.  Luber shared the fascinating story of how he is growing his love for sneakers into a new marketplace.  He started by watching the way young adults buy and sell sneakers on websites such as eBay and Amazon. Noting great inefficiencies, Luber eventually modeled his approach to the billion-dollar secondhand sneaker market on the machinations of the stock market,
In the beginning, he kept his eye on sneaker market data even as he worked at IBM. His passion for sneaker analytics soon manifested into Campless, a company that monitored data from the secondhand sneaker market and consolidated reports for sneaker companies.  "Supply and demand is different now compared to the 1990s," Luber told a crowd of students, alumni and others from the Emory University community. "There's way more supply, but the prices still vary widely on all of these different sites."
Luber started thinking about creating a bid/ask marketplace that would allow buyers and sellers to interact in a way that mimics the ease and transparency of the stock market.  When he joined forces  Dan Gilbert, owner of the Cleveland Cavaliers, who was thinking along similar lines, StockX, a "stock market of things, " was born
Launched 15 months ago, StockX has thus far focused on sneakers, although the intent is to expand into other limited edition products.  The exchange provides data on historical prices and volumes, and matches bids with offers, allowing buyers and sellers to trade anonymously. StockX takes physical possession of the goods before shipping back out to buyers, using an expert team to authenticate every pair of sneakers. StockX has featured special releases of its own and has drawn celebrity attention, including that of musician Eminem who has also partnered with the company.  As the company has evolved, so have its backers.  StockX recently closed a $6million funding round.
Luber's entrepreneurial insights focused on doing what you love, and he discussed the value of marketing that speaks directly to the target audience. A promotional video with Wale, Foamer Simpson and Hasan Minhaj drew laughs from the crowd.
When asked for his best advice to potential entrepreneurs during a Q&A session, Luber advised students not to keep ideas to themselves.
"Talk to people. Even if someone has the same idea as you, talking about your ideas and making those connections can only help you," Luber said. 
More on the 2017 Summit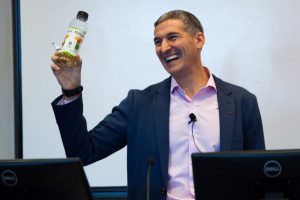 The Entrepreneurship Summit encourages, celebrates and enhances entrepreneurial endeavors amongst Emory students in all programs, with a focus on supporting undergraduate ventures. It includes speakers, panels and a pitch competition.
The Summit is open to all members of the Emory University community thanks to sponsors including the BBA Program Office, which creates and runs the event, The Katz Family, and The Bernard Family.
Beyond Luber's keynote, the business school welcomed many speakers. Friday morning began with a spotlight on social entrepreneurship from Seth Goldman, the Co-founder & TeaEO Emeritus of Honest Tea. Goldman spoke of the challenges in running a social enterprise and the importance of customer feedback.
"If we don't change the direction we are headed, we will end up where we are going," he said, warning against non-sustainable practices. "…With any challenge, break it down into smaller pieces."
Goldman, who last spoke at Goizueta Business School in February 2015 as the keynote of the Undergraduate Business School Leadership Conference, now holds dual roles, serving as executive Chairman for Beyond Meat, a plant-based protein company that perfectly replaces animal protein with chicken strips, burgers and beef from plants.  Like honest tea, the company is focused on simultaneously creating health and contributing to a better, more sustainable world.
"[Honest Tea] never set out to just sell healthy drinks to healthy people," Goldman said. "If we're only selling in natural food stores, we're not really achieving our mission."
Also on Friday, attendees had an opportunity to hear from eight Emory University alumni on panels focusing on product and service innovation and technology-driven disruptive models. The highly-accomplished group included:
Angie Bastian 91MSN, co-founder and namesake of Angie's BOOMCHICKAPOP
Eden Chen 09BBA, founder and managing partner at Fishermen Labs
Jeffrey Chernick 04BBA, co-founder of RideAmigos and Vyng
David Gaspar 02BBA, Managing Director for DDG
William Hockey 12BBA, co-founder and CTO of Plaid
Brian Rudolph 12BBA, CEO and Co-Founder of Banza
Liz Kammel Tilatti 07C, Founder and CEO of ZipFit
Nathan Meeks 07BBA, Co-founder and CEO of Gigzolo
A new strategic plan launched in 2017 highlights Goizueta's interest and devotion to entrepreneurship.
In particular, the school seeks to develop and support entrepreneurial aspirations for students at every stage of their careers and at each phase of venture creation.
This includes those not only supporting those who plan to start a business but also enhancing entrepreneurial and intrapreneurial thinking amongst all Goizueta students, through educational content, intellectual engagement, and infrastructure.