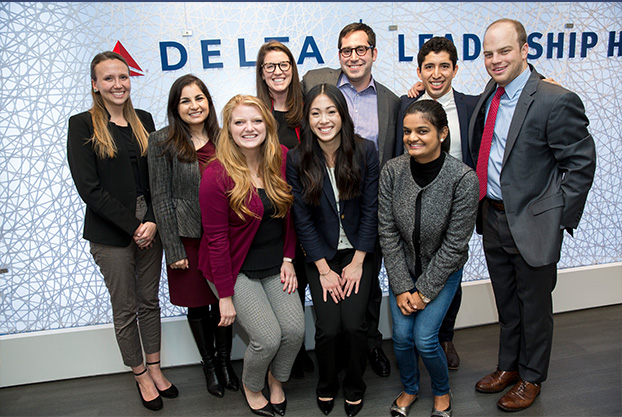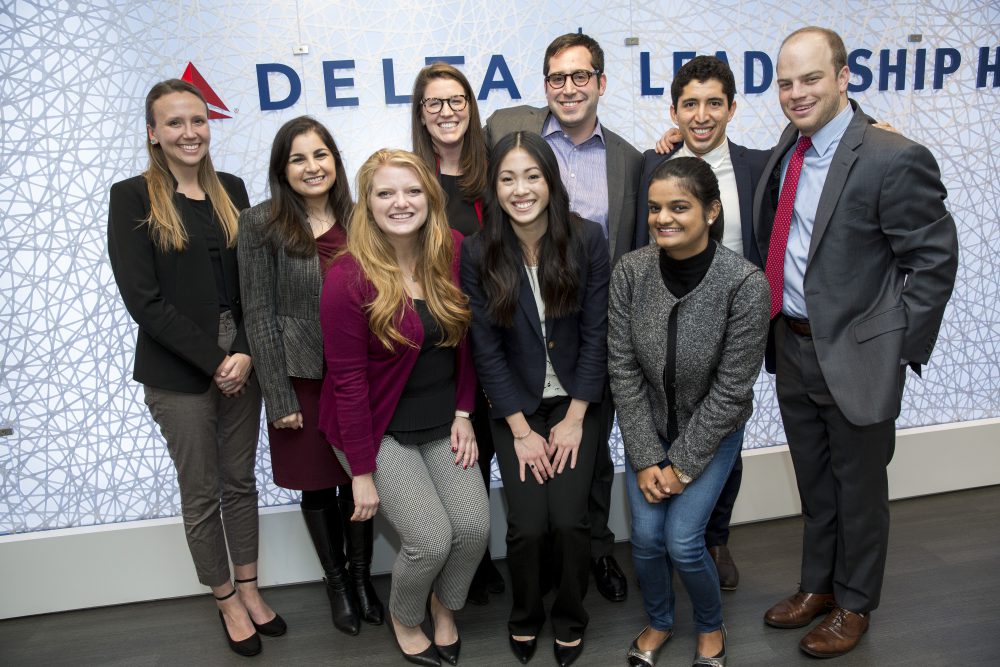 How would you suggest Delta Air Lines solidify itself as the "carrier of choice for the next generation of travelers?"
That question was posed by the airline to Goizueta Business School FTMBA students as part of the Delta Air Lines Mid-Semester Module International Travel Competition. Delta selected 17 finalists to deliver a three-minute pitch to a team of Delta executives. The ideas that most resonated with the executives would earn students free airfare on Delta for one of Goizueta's upcoming international study opportunities.
Initially slated to hand out award travel for eight of the best ideas, the pitches (which were judged on creativity, delivery and speech structure) so impressed the Delta executives that they selected nine winners instead of eight.
From creating travel communities that target millennials, improving mobile commerce, incentivizing travelers to check their bags by awarding "Bag SkyMiles," or utilizing Instagram to document "Bleisure travel" on Delta, the students covered a wide range of ideas.
Jay Mathes suggested Delta "use machine learning and robotic process automation to create a virtual concierge platform," to increase engagement and profitability. Michele Wang proposed that the airline integrate the Delta app with its ride-sharing partner Lyft so passengers could access updated information about Lyft drop off and pick up locations at the airports Delta serves.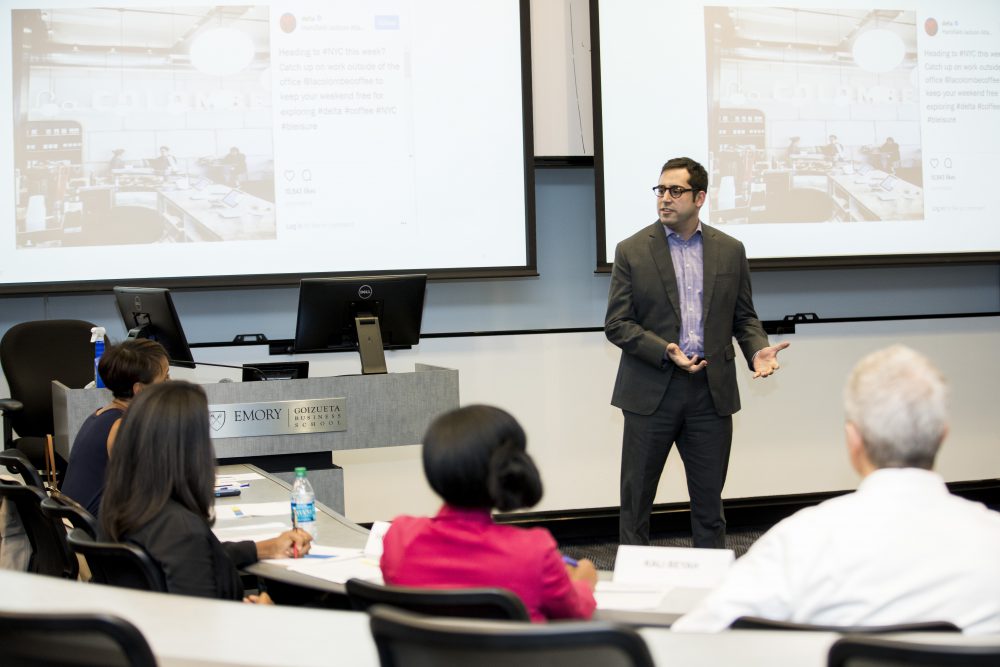 "There were some big ideas," noted Tad Hutcheson, vice president of community and public affairs at Delta Air Lines.
Engaging with Goizueta Business School students is important to Delta for several reasons. According to Tim Mapes, senior vice president of marketing at Delta Air Lines, Goizueta Business School students represent the future generation of travelers — a group with which Delta has limited engagement.
"It's rare that we, as a business, get into academia to have much interaction with next gen travelers to hear what they're thinking and try to be responsive to them," Mapes said. "The biggest value for us is that these are tomorrows' high value customers of Delta and they're quite clearly not just offering academic hypothetical experiences or views they have. Many of them are consultants and frequent travelers themselves. It's got immediate applicability when you hear them talk about everything from mobile apps to social media."
Delta and Goizueta launched the creative, interactive competition as a way to consider company-student engagement and encourage meaningful and mutually beneficial partnerships. Winners will document their international study experience during the spring semester and have an opportunity to meet with Delta Air Lines CEO Ed Bastian upon their return.
2017 Delta Air Lines International Mid-Semester Module Competition winners:
Francesca Malenky
Jacob Novich
Priyanka Jain
Daria Preston
John Paul Ortiz
Morgan Bullock
Parker Plunkett
Jay Mathes
Michele Wang
View the Gallery
[ngg_images source="galleries" container_ids="11″ display_type="photocrati-nextgen_basic_slideshow" gallery_width="800″ gallery_height="400″ cycle_effect="fade" cycle_interval="3″ show_thumbnail_link="0″ thumbnail_link_text="[Show thumbnails]" order_by="sortorder" order_direction="ASC" returns="included" maximum_entity_count="500″]