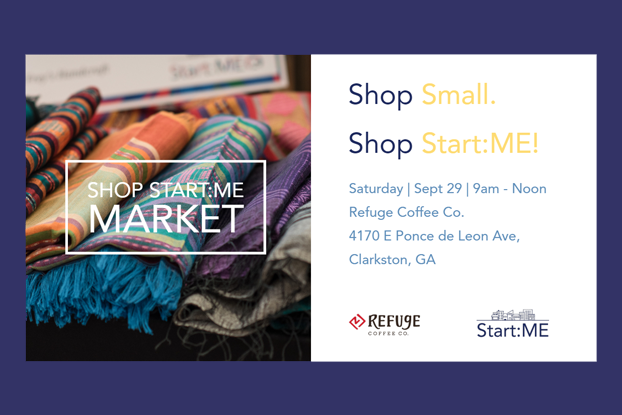 Media Advisory
Contact: Kim Speece, kim@leffassociates.com, 404-849-6579
Saturday, Sept. 29: Support Local Entrepreneurs at "Shop Start:ME Market"at Refuge Coffee Co.
What: The inaugural Shop Start:ME Market will be held September 29, giving the public the chance to shop Start:ME businesses and learn more about free business training program. The market features alumni from all three Start:ME communities, East Lake, Clarkston, and Southside Atlanta, and showcases their art, fashion, skin and hair care products, food, and more.
More information about these ventures, the market, and how to shop from all 158 alums can be found at startmeatl.org/shop.
When: Saturday, September 29, 2018, 9 a.m. – Noon
Where: Refuge Coffee, 4170 Ponce de Leon Ave., Clarkston, GA 30021 Map
Participating companies will include:
Start:ME is a free 14-session business training program that provides business knowledge, skilled mentorship, and early-stage capital to promising small business owners. The market will give visitors the opportunity to learn more about Start:ME and how to apply.
Applications for the upcoming session will open that day.
Start:ME has supported more than 150 local businesses and awarded nearly 40 capital investments. Start:ME also engages more than 75 volunteer mentors with significant professional and/or entrepreneurial experience to provide critical support for entrepreneurs participating in the program.
Visit startmeatl.org for more information.
###