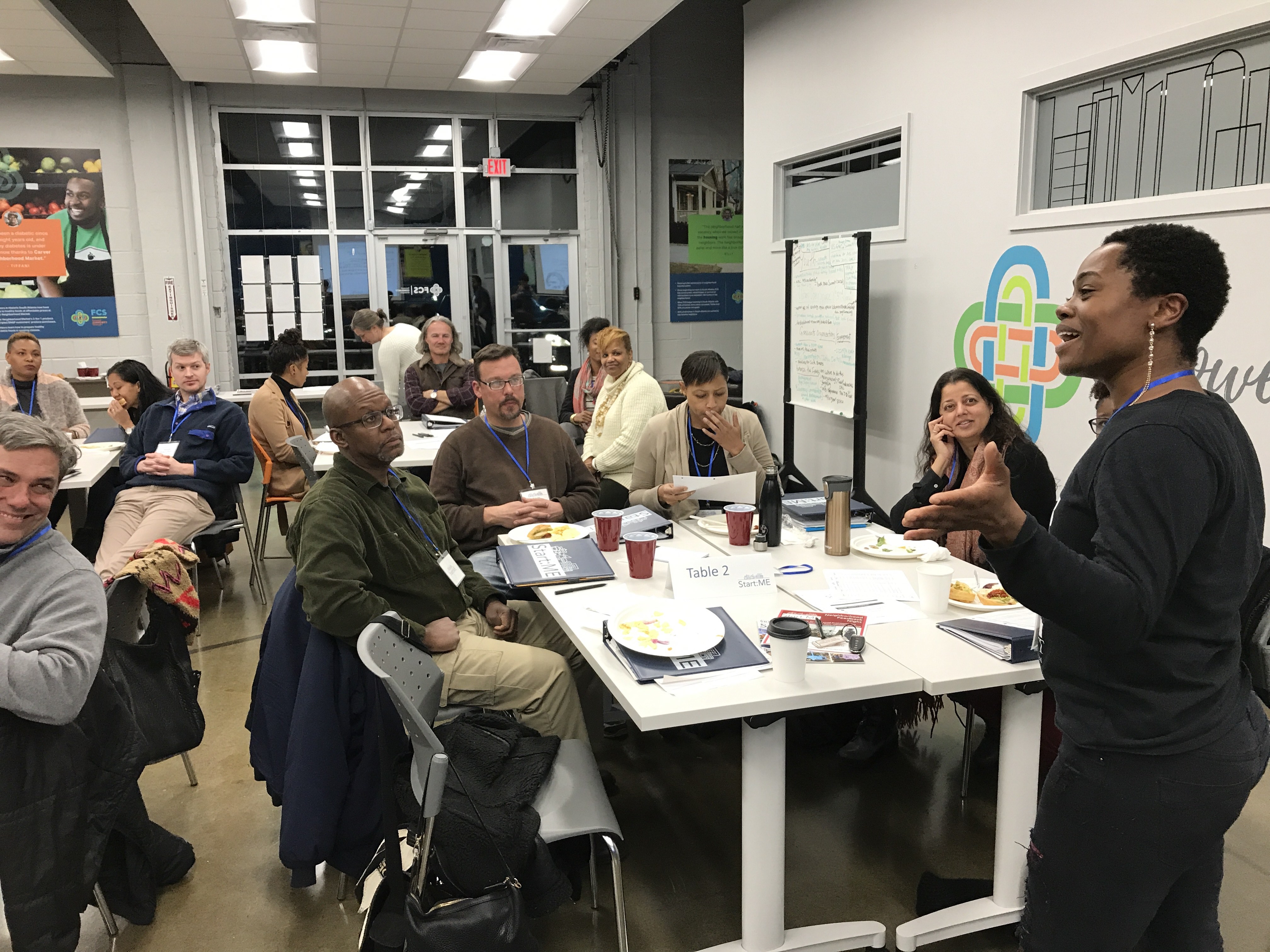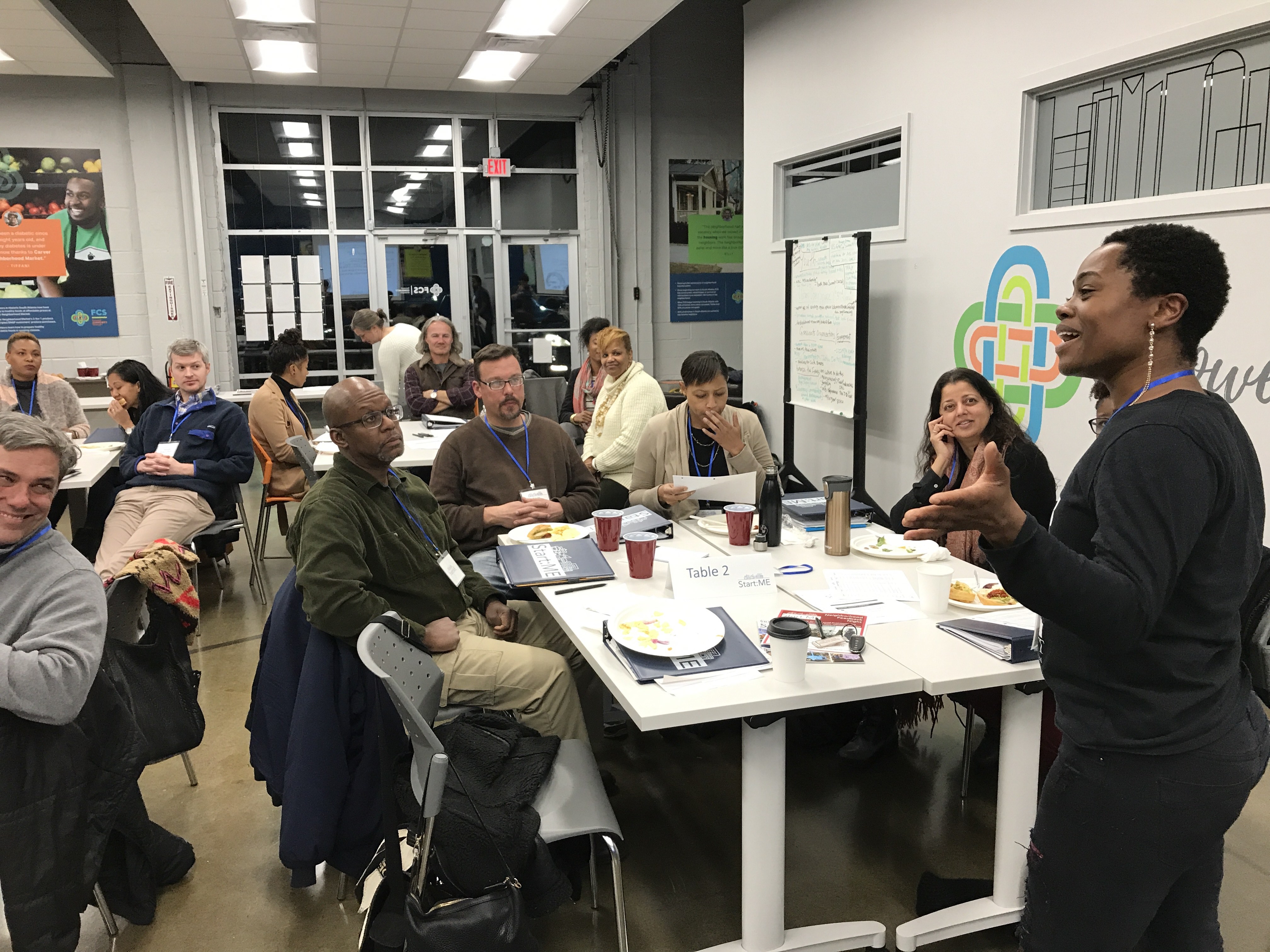 Fifty promising small businesses from Clarkston, East Lake, and Southside Atlanta have been selected for the 2019 Start:ME Accelerator, a free, intensive 14-session business training program for promising ventures in underserved metro-Atlanta communities.
The Start:ME program operates within communities, drawing talented entrepreneurs that live in, work in, and/or provide valuable products and services to the community. During the 14 sessions, and well beyond, Start:ME connects those entrepreneurs to the business know-how, networks, and capital needed to build and develop sustainable businesses.
The program works across all business stages and industries – from craft brewing to baked goods, construction to clothing, farming to freight trucking. It focuses on entrepreneurs with promise and dedication. 
Ventures in the 2019 cohorts generate over $1M in annual revenues, account for 65 jobs, and occupy seven brick and mortar locations. Of the 50 businesses:
78% of the ventures are owned by people of color
70% are owned/operated by women
18% are owned by foreign-born entrepreneurs
All communities offer peer-selected seed grant pools of $10,000 to invest in the most promising businesses to help ventures start or scale. Since its inception in 2013, Start:ME has supported more than 158 local businesses that account for 230 jobs and 29 brick and mortar locations. The program has peer-selected 39 ventures to receive startup capital.
The program is developed and delivered by Emory University's Goizueta Business School in partnership with East Lake Foundation (East Lake), Friends of Refugees (Clarkston), Focused Community Strategies (Southside), and Purpose Built Schools Atlanta (Southside).
Selected from a pool of more than 230 applications, the winter 2019 cohorts feature the following ventures: 
Clarkston
Amani Catering (Shaista Amani and Barbara Murphy) – Afghan cuisine featuring fresh ingredients and Afghan spices
Bread and Butter Farms, LLC (Musa and Micole Hasan) – Organically grown produce, breads, butters, and oils delivered to areas lacking access to high quality produce
Snatchman Towing Service, LLC (Darius and Kristy Hall) – Emergency roadside assistance and towing services for the Stone Mountain and Clarkston communities
Artistic Soul Catering (Antoine and Farah Artis) – American cuisine with Cajun and Caribbean influences
Atlanta Wellness Chapel (Sonia Boglo) – Massage and rehabilitation services
Bueno's Barbecue (Wellyngthon Bueno de Souza and Jackie Sterling) – Brazilian BBQ catering services
Eazie Peazie Naturals (Koby Gillam) – Handmade natural skincare products; including soaps, lotions, bars, body butters, scrubs, and tub teas
L3 Trucking, LLC (Rafid Alzubadi) – General freight carrier serving businesses in metro Atlanta
The Local Gem (Lizzy Jackson) – Stylish fair trade goods and local clothing store in Stone Mountain
Lulu (Oluwatominsin Falegan) – Casual brunch cafe in Clarkston
My eSTEAM Kits (Jahari Soward, Darrick Weaver, and Kristen Dorten) – Monthly entrepreneurship and STEAM themed subscription box for girls ages 8-12
The Progress Place, Inc. (Tonica Logan and Brandie Bishop) – Collaboration of mental health professionals, businesses, and volunteers supporting young people confronting diverse problems
Refix Renovations, LLC (Candace Lucas and Shedrick Moore) – Property maintenance and renovation services for residential and commercial properties
Royal Thanaka, LLC (Mary Ellen Sheehan, Htwe Htwe, Jeff Alexander, and Dave Spokas) – All-natural skincare products infused with Thanaka, a traditional Burmese ingredient with cooling and astringent properties
Sihle Styles (Delisiwe Floyd) – South African handcrafted products that empower women affected by the HIV/AIDS pandemic
SoulFull Catering & Events (Tanisehia and Brian Terrell) – Full service Cajun and Creole catering company
Yet to be named (Hira Chherti) – Bhutanese and Nepalese artisan products, clothing and accessories
East Lake
Tidy Tooty, LLC (Sheldon Prescott and Naima Smart) – Cloth diaper delivery service for families of newborns, infants, and toddlers
Veoleo (Janike Ruginis Gross) – Independent publisher selling Spanish books for children 0-3 years old in Spanish speaking and learning families
Surge Television (Tris Sicignano and Klarque Garrison) – Streaming TV network that highlights local arts and entertainment
Paige Design (Allison Vandiver) – Interior design studio with diverse experience in hospitality, commercial, and residential design
Beautiful Healthy You (Jennifer DuPree) – Meals, meal delivery, and nutritional education services for those with special dietary needs
Bennett's Accounting Services (Josh Bennett) – Accounting services for local small businesses; including bookkeeping, budgeting, forecasting and consulting
Bonnie J Heath Photography (Bonnie Heath) – Experienced photographer serving Atlanta area small businesses
Brittany's Resumes and Printing Services (Brittany Sapp) – Resume and cover letter assistance for East Lake residents
Doorway (Joi Faison Saleem) – Office support and organizational consulting services for small businesses and entrepreneurs
Heart Mercedes (Mercedes Rivera) – Handmade artisan goods and creative management services promoting the "Random Acts of Kindness" movement
Helix Cleaning Service, LLC (Lawrence Johnson and Steven Coffie) – Residential and commercial cleaning and janitorial services
Howard's Luxury Shop (Jhanisha Clark) – Community focused barber shop
Peach State Pressure Wash (David Sessions) – Pressure washing company serving residential and commercial customers around Atlanta
Poppa Corn's Gourmet Popcorn (Keith Forrester) – Kirkwood store featuring gourmet popcorn popped on-site and old-fashion candy
The Privy Company (Kolette Cooksey) – One-of-a-kind and budget-friendly clothing apparel, accessories, and upholstered home furnishings
Sitters Express (Sumayyah Abdus-Saboor) – Safe, fun, and nurturing transportation service for metro-Atlanta children
Women are Women Around the World (Nena Omijeolukore) – Support services for new mothers to help mom feel happy, healed, and whole
Southside
Khonso Brewing (Kevin Downing and Corby Hannah) – Craft brewery with distribution across Georgia and plans to open a permanent location on the Southside
The Moxie Maids (Stephanie Richardson-Parker and William Parker) – Online, reliable, on-demand cleaning service for residential, commercial, and short-term rental properties
TinyYogis, LLC (TaJuana F Blakley) – Child yoga classes that center on FUN
Bellwood Construction (Jason Scroggins) – Contactor specialising in carpentry and remodeling
Black & Bilingual, LLC (Erica Baker) – Apparel for men, women, and children that showcases the multilingual diversity of the Black Diaspora
Butter Me Up by JRena (Jacqueline Otey) – Skin care product line featuring homemade natural whipped body butters in over 25 scents, lip balms and more
The Finishing Touch (Steven Smucker) – Deck, fence, and storage shed construction
Gohealthyhair (Jamekia Harper) – Hair care services with an exceptional focus on customer service
Higher Ground Education, Inc. (William Teasley and Kenneth Mason) – Computer science and coding learning opportunities for young people in underserved communities in Atlanta
Medical Care Trans (Dwight Eberhart, Tyrone Scott Howard, Troy Brumfield, and Derek Smith) – Reliable non-emergency transportation services for South Atlanta residents with mobility challenges
Moisture Love (Jeannell and Lance Darden) – Plant-based products for women with curly hair that desire a higher degree of moisture
Progressive Center for Wellness, LLC (Raelynn Bass) – Mental health and wellness services, including psychotherapy, mindfulness training, and mediation
Rules of Entertainment (Elizah Turner) – Support services for local musicians, from data analysis to album marketing
SWATS Cigar (Janelle Lamar, Peter Gross, and Leroy Lamar) – Cigar retailer and gathering space offering premium cigars hand-rolled in Southwest Atlanta
Sweet Treats (Rosaria Beatles, Valarie Smith, Rashon Wynn, and Owen Smith) – Bakery using old-family recipes for homemade jumbo cupcakes, butterscotch squares, cakes, and sweet potato pies
Yaya's Natural Hair Boutique (Yakini Horn) – Hair salon focused on natural hair care and styling
Start:ME also engages 75+ volunteer mentors with significant professional business and/or entrepreneurial experience to provide coaching support for entrepreneurs participating in the program.
Visit startmeatl.org for more information.