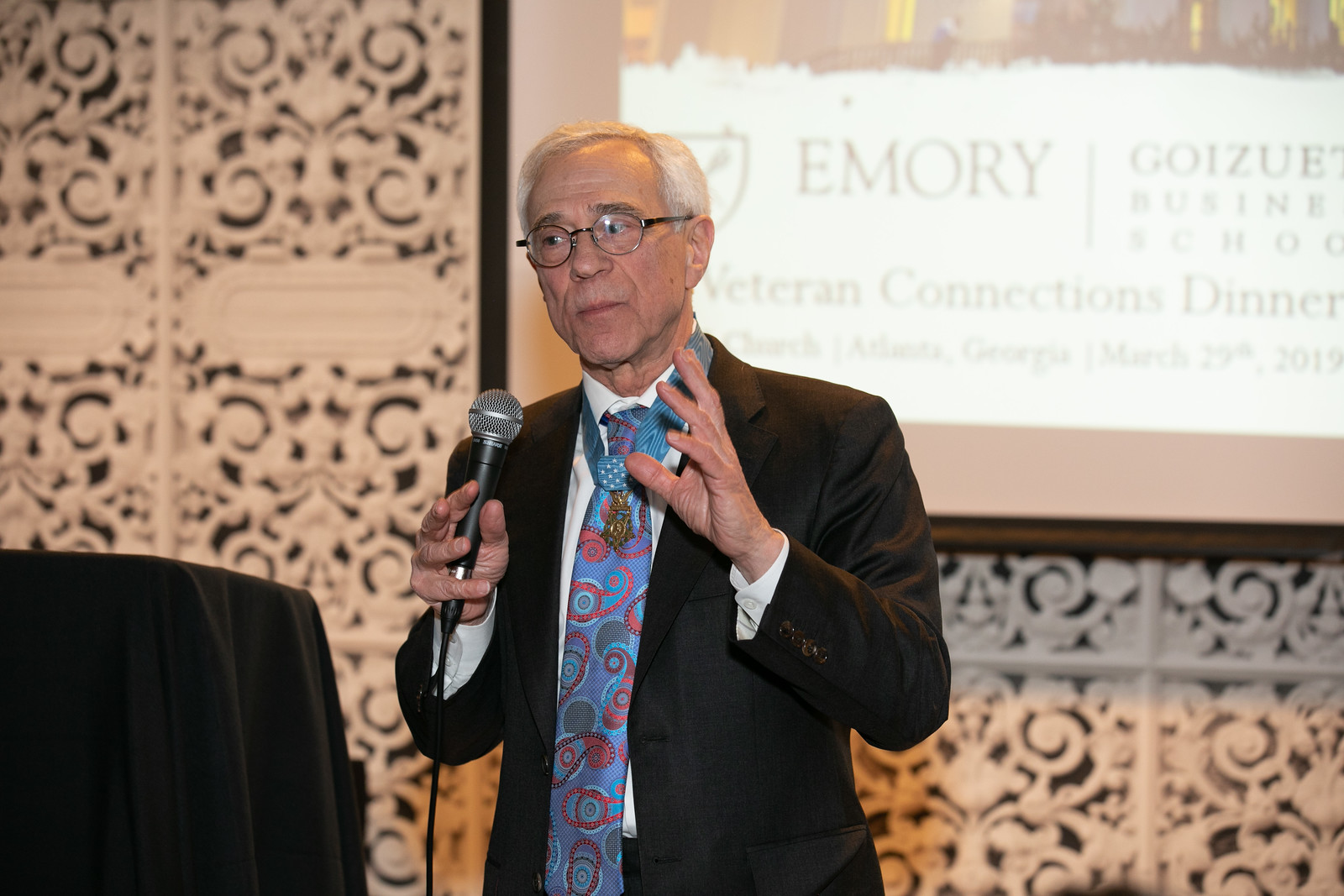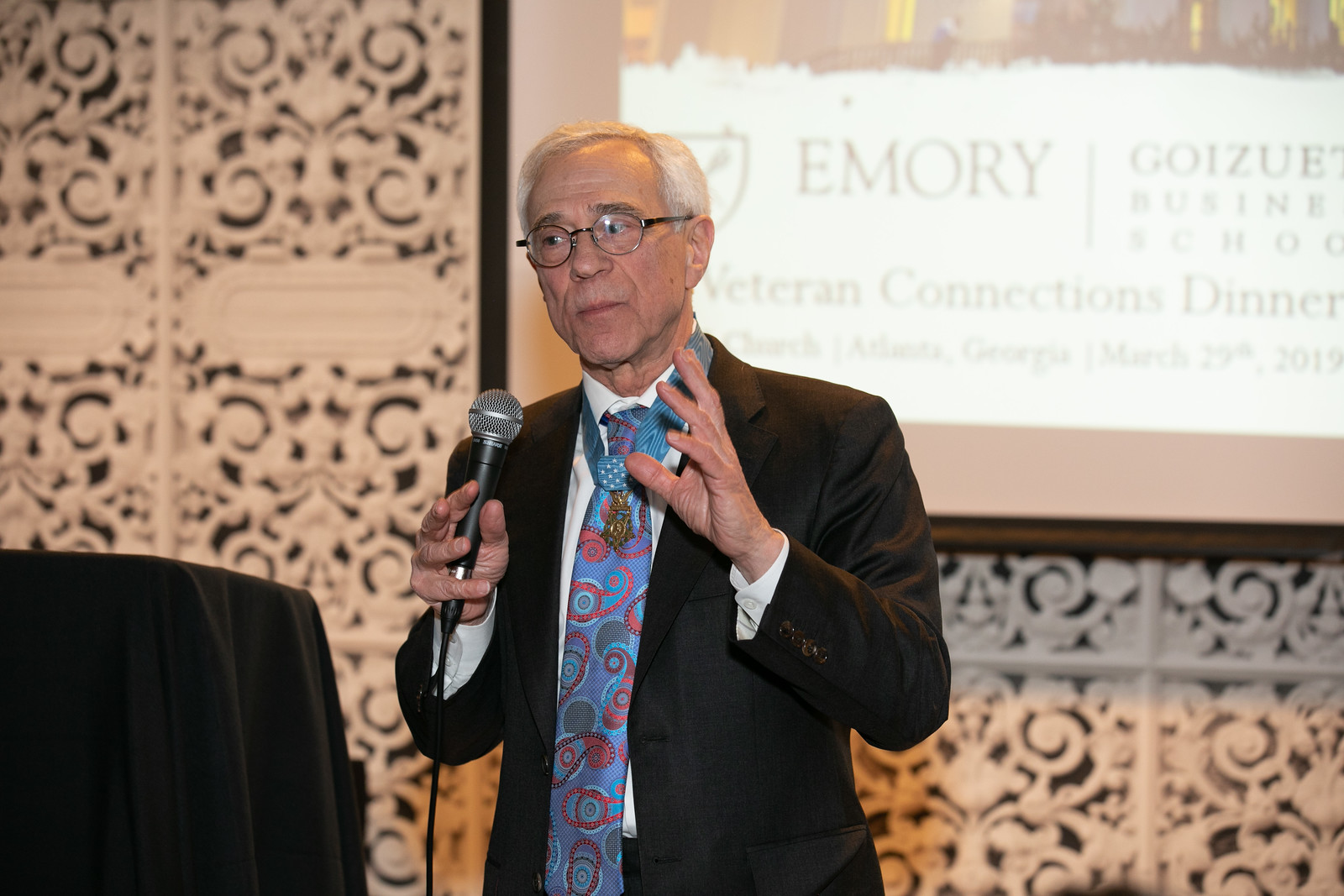 At the fifth annual Veteran Connections Reception and Dinner, veterans, alumni and others in the Goizueta community gathered to meet and network. The purpose of the event, first held in 2014, is to create an opportunity for Goizueta's veterans to meet and connect with fellow veterans as well as business leaders in the Atlanta community.
This year's attendees also heard from retired U.S. Army Col. Jack H. Jacobs in a keynote speech.
Jacobs is one of the most highly decorated soldiers of the Vietnam War, having earned three Bronze Stars, two Silver Stars and the Medal of Honor for his actions.
Jacobs' military career started when he joined the ROTC program while attending Rutgers University, but his sense of duty developed even earlier. "I grew up in New York City in a neighborhood in which every household made a contribution to the defense of the country," Jacobs said. "I had friends with fathers who had arms and legs and eyes missing, I had friends who had no fathers at all. It was almost impossible to find a household that had not made a contribution to the defense of the country during the Second World War."
For Jacobs, who entered service as a first lieutenant, the military afforded him the opportunity to go from very little responsibility to being in charge of the lives of more than a hundred men in a short period of time.
"I'm here to tell you that there is nothing like military service that gives young people authority and responsibility at a very early age," he said.
Because of that experience, Jacobs said, it doesn't matter exactly what you did in the military. "As long as you've been in uniform, you can really do anything."
And yet, we don't always realize how capable veterans are when they return to civilian life. According to Jacobs, there are three groups of people that need convincing about the capability of people who have been in uniform: employers, the Department of Defense and veterans themselves.
Employers who don't realize the capability of veterans are missing out, Jacobs said. "I mean, these are the people who, in difficult circumstances, have done impossible things, with no resources. You want to get something done? Pick somebody who's been in uniform."
The Department of Defense, through basic training and other programs, systematically prepares civilians to become soldiers over weeks, or even years in some cases. But the transition back to civilian life typically occurs over a few days.
"Now there's something wrong with this asymmetry," said Jacobs. "And the Defense Department has a responsibility, not just to the solider or sailor or airman or marine, but to the republic, to make sure we don't spend only three days trying to take someone and turn him into a civilian after he spent all this time […] becoming a really mature citizen who needs to be put to work."
Veterans who come out of uniform thinking they learned nothing applicable to civilian life are wrong, Jacobs said. "It's only in uniform that people wind up getting the motivation to take care of each other like they do in the military. And it's that kind of concern for fellow citizens that needs to be translated into services and institutions."
Jacobs imparted advice on those who are transitioning from military service to a career in business: If you sit in a room by yourself, you won't get anywhere. "You've got to get out there and meet people. You've got to talk to folks. The only way you're going to advance is to meet lots and lots of people."
According to Jacobs, it's the responsibility of people like himself, who young veterans have to go out and meet, to make it easy for them to network. "That's why community organizations and corporate entities that reach out to veterans are doing God's work. It's really important for these young people to run across successful people. Otherwise, if they never meet a successful person, they're going to languish, and their talent, their experience and their potential contribution will have been wasted."
Jacobs emphasized that it's a two-way street. Veterans have to put themselves out there and network. But in turn, he said, "We owe it to the country to get out and reach these young veterans."
Gallery