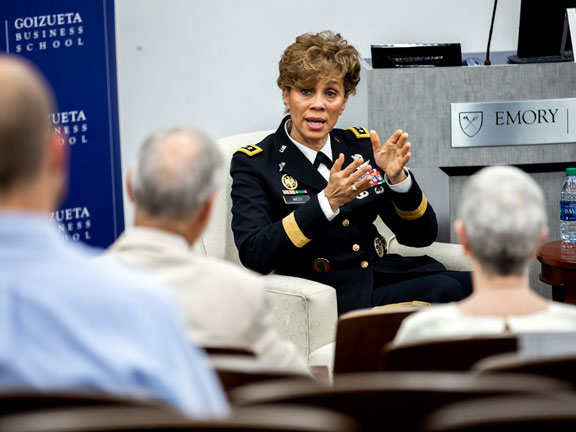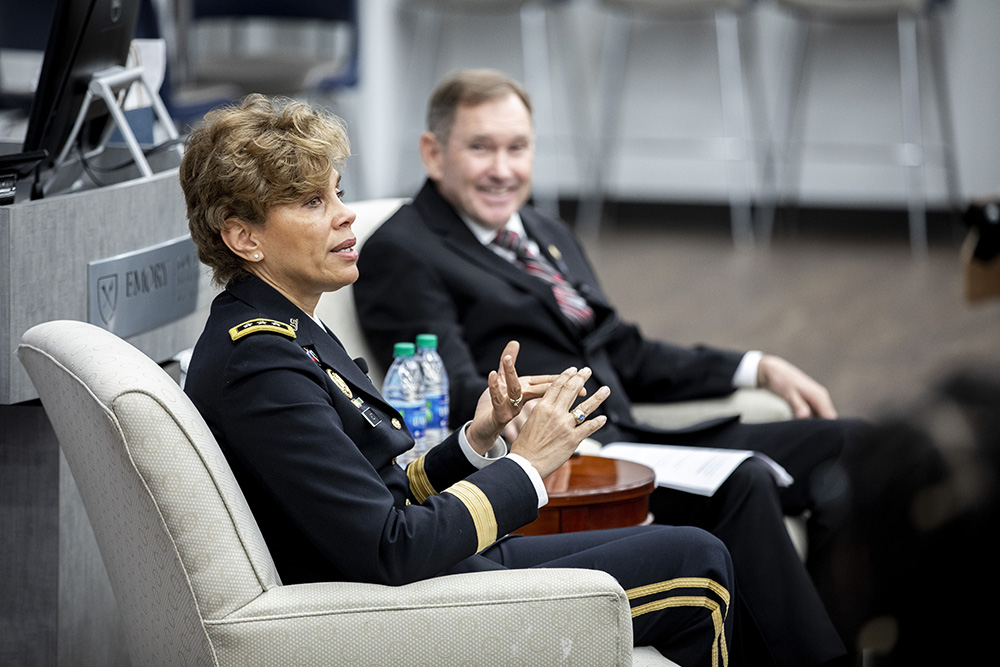 Lieutenant General (LTG) Nadja West is the first black, female Major General in Army Medicine, the first black Army Surgeon General and the highest-ranking woman to graduate from West Point, but she doesn't consider herself a trailblazer. West, the 44th Surgeon General of the U.S. Army and Commanding General, U.S. Army Medical Command, will tell you she was a member of the third graduating class at West Point that included women.
"There was a first and second class of women at West Point," she said. "They didn't have any role models ahead of them. They were role models for me."
West recently detailed her experiences to a group of students, faculty and guests as part of Goizueta Business School's "Leadership Speaker Series." She was interviewed by Lieutenant General (Retired) Ken Keen, Associate Dean for Leadership.
West grew up in a military family. The youngest of 12 adopted children, her father joined the Army in 1939 and served for more than 30 years—much of that while the Army was still segregated. According to West, her father saw "the promise" in the organization in terms of integration.
"He loved his time and encouraged us to serve," she said.
In all, nine of West's siblings served in the military. She credits her family for her success.
"I was transformed from an orphan with an uncertain future into a person with the potential to do whatever I could do," she said.
A family medicine doctor and dermatologist by trade, as West rose into leadership roles in the Army, she picked up valuable lessons—not only about how to lead as a female in a male-dominated environment—but how to lead in any environment.
She gave the audience a summation of her philosophy.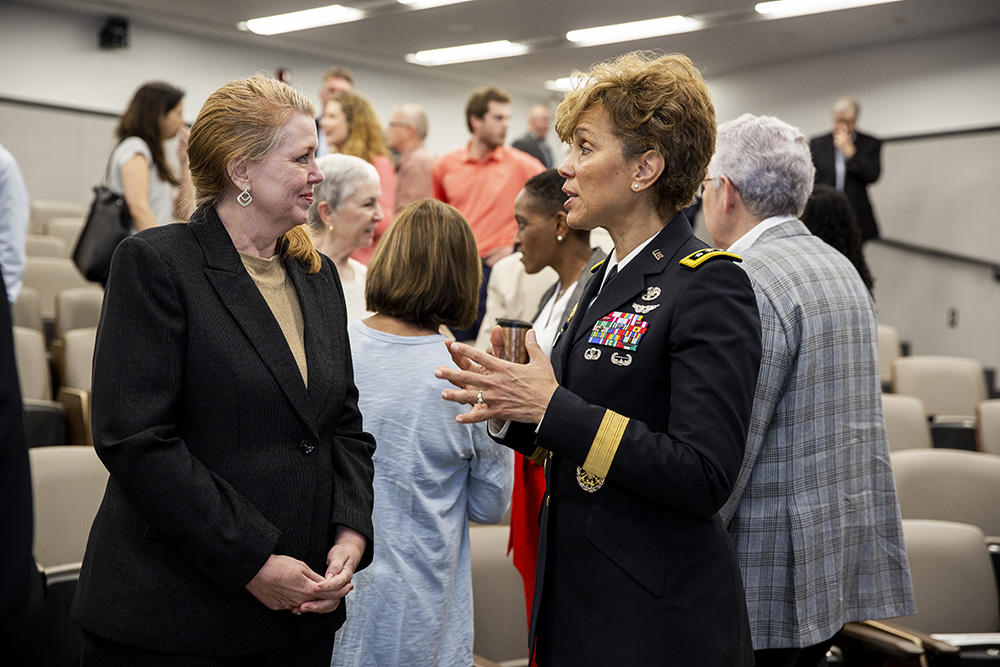 First and foremost, be authentic. Be competent.
"Know what you're doing," she said.
And get to know the people you're leading.
"People want leaders that care about them," West said. "Know what's important to their families, what their goals are in life."
West also considers mentorship integral to leadership.
Early in her career, West learned a lesson about stereotypes that sticks with her to this day.
"We all want to see people who look like ourselves. It's important. But it's also important not to bypass other mentors," she said.
A self-described "redneck from Alabama" who West initially wrote off as someone she wouldn't get along with turned out to be one of her best mentors.
"He took the time to make me a better officer," she added.
Clearly communicating the mission of the team and trying to bring out the best in team members is important as well. As is explaining to individual team members how they contribute to the shared purpose.
"…Because sometimes they may not see themselves and they'll feel excluded if they feel that they don't have a role to play in the bigger picture," she said.
It's also important, West added, to know when to follow.
As West climbed into the upper echelons of the Army, she discovered that people didn't like to tell her the bad news. While she finds it helpful to open a dialogue—ask people "what are some of the things that I can do as a leader to help make this experience better for you so that we can accomplish our mission," she recognizes she gets a filtered version of reality.
"You have to trust your subordinates," she said. "You have to have cross matrix ways of getting information."
West also reminded those in the audience not to get so focused on one thing that you lose sight of the big picture. In medicine and in the Army, doing so can turn out to be life or death.
"You're not just a doctor in the Army, you're an Army doctor," she said. "It kind of sounds the same, but it's one hundred percent different."