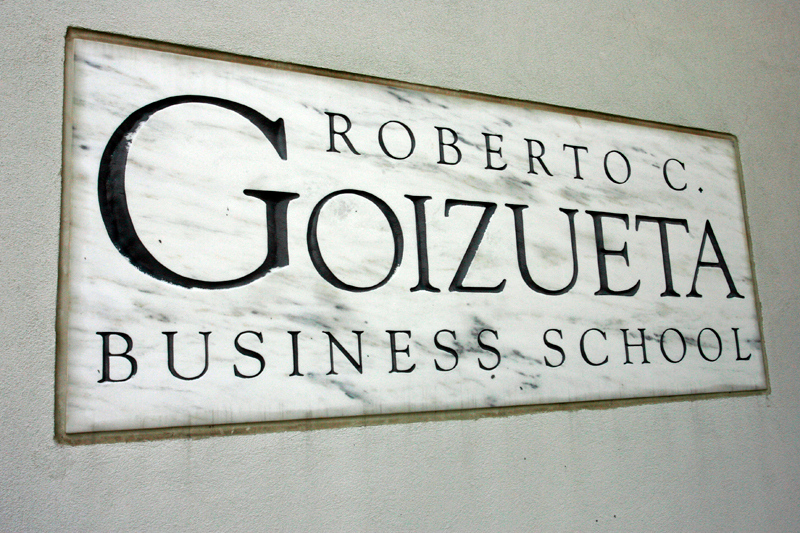 Goizueta Business School One-Year MBA students began classes before commencement exercises in an effort to provide maximum instruction. Now in the midst of a two-week onboarding experience, students will continue to work through the core curriculum and be ready to join Two-Year classmates returning from internships in late August.
Notable in the Class of 2020 is an increase in GMAT score and female students. Forty-six percent of the One-Year class is female, an increase from the previous year and one of the best rates in school history.
---
One-Year Class of 2020 Student Profile
Class Size: 50 (51)
Average GPA: 3.33 (3.5)
80% GMAT Range: 580-720 (570-710)
Average Work: 5.5 years (6 years)
Female: 46% (29%)
Minority: 18% (18%)
International: 8% (24%)
Details from the Class of 2019 in parenthesis.
---
Administrators credit the program's small size as a primary draw for students. The Class of 2020 includes students from seven countries and several joint-degree seekers including MDs, physical theapy and law.
About Emory University's Goizueta Business School
Business education has been an integral part of Emory University's identity since 1919. That kind of longevity and significance does not come without a culture built around success and service. Emory University's Goizueta Business School offers a unique, community-oriented environment paired with the academic prestige of a major research institution. Goizueta trains business leaders of today and tomorrow with an Undergraduate degree program, a Two-Year Full-Time MBA, a One-Year MBA, a Master of Science in Business Analytics, an Evening MBA, an Executive MBA (Weekend and Modular formats), a Doctoral degree and a portfolio of non-degree Emory Executive Education courses. Together, the Goizueta community strives to solve the world's most pressing business problems. The school is named for the late Roberto C. Goizueta, former Chairman and CEO of The Coca-Cola Company.