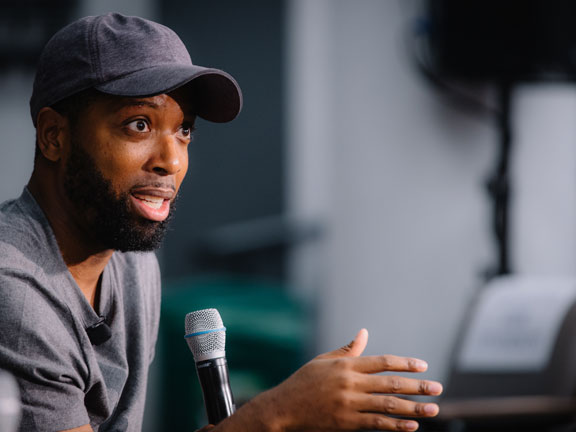 Goizueta Business School is renowned for its approach to experiential learning in graduate MBA programs. After all, experience is the best teacher.
It's no surprise then that, in addition to learning through their own experiences, students are often privy to learning from the experiences of others—namely the leaders who shape business today. Leaders like Tristan Walker, Founder and CEO of Walker & Company Brands.
Exponential IMPACT
On May 9, MBA students were preparing for the 2019 Goizueta IMPACT Showcase Day, a culmination of the school's signature experiential learning program. The day-long event of presentations and judging is often highlighted by the afternoon keynote, and this year's speaker did not disappoint.
As they closed out the day, students, faculty, and staff gathered to hear Walker's hosted by Dean Erika James. The talk, conducted fireside chat style, brought to campus a young but accomplished business leader whom many call a luminary and a legend—and with good reason. Among other impressive rankings, Walker was recently named No. 19 on Fortune's list of World's Greatest Leaders and is renowned for the Bevel shaving system, his company's first product and most well-known brand.
James opened the talk by asking about Walker's personal and professional career journey. From the start of his response, his authenticity and warmth shone brightly through.
"I have a couple of rules when I do these sorts of things," he said. "The first, please ask me anything—anything's fair game and I mean that genuinely. The second thing is, call me out on any BS.
"I'm very different from how I was five years ago. Five years ago, I didn't have a son, certainly wasn't on Ebony Magazine's 100 Most Powerful People list, and hadn't sold the company. I've been through a lot with the company… So if you ask any questions and you feel I'm not providing the context required, please call me out on that, and I'll make sure that I get you the answer that you need, cool?"
Cool indeed.
And so was the fact that this authenticity is what Walker—not to mention Walker & Company or his nonprofit Code2040—is all about. 
"So, how'd I get here? It really started out of necessity frankly," Walker said. "I wanted to get rich. And honestly, I should try to be a little bit more modest. I wanted to get wealthy as possible as quickly as possible. I'm from Jamaica, Queens, New York, born and raised in the projects on welfare… And the necessity of not wanting to live that life really got me where I am today."
From the streets where he grew up, he began a series of moves that would propel him to an entirely new place, literally and figuratively.
Rockefeller, Ford… and Walker
"I had the great fortune when I was in high school to go to Hotchkiss, an elite boarding school in New England, on a full scholarship," he said. "And then I got to see how the other half lived. When you're going to school with Rockefellers and Fords, it makes you have a unique perspective on the world. When I went to boarding school, I didn't know what a verb was—I had no idea. And by the time I left, I was competing at the highest levels."
Walker understood he could indeed compete with the very people whose names, unlike his own, were immediately recognizable.
"I realized my name should carry that same type of importance," he said. "That gets us to why my name's on the company. Knowing I could compete with folks that have those names, propelled me to get to that goal of getting wealthy."
Getting there from here
Achieving a goal of that magnitude, however, would require a plan.
As Walker figured it, there were three routes to his financial success: become an athlete or actor, work on Wall Street, or become an entrepreneur. Neither an actor nor athlete and with the experience of previously working on The Street as an oil trader—"the worst experience of my life"—Walker knew the third route, entrepreneurship, was his best path.
After taking only three years to graduate Stony Brook University as valedictorian, his path toward entrepreneurship took him to Stanford Graduate School of Business, "'the Goizueta of the West Coast,' as you call it," he said. At 24, he got accepted, got on the road, and moved 3,000 miles away to earn his degree.
Accelerating through the Valley
Prior to that West Coast trek, Walker didn't even know Silicon Valley existed. This place where 24-year-olds were not only making millions of dollars but fundamentally changing the world, was a place he didn't have access to or any understanding of before arriving there. However, once he encountered that brave new world, he was determined to figure out how to make it his reality.
While he was a business school student, Walker interned at Twitter back when there were only 15 employees. Shortly thereafter, he made a move that would cement his confidence in his ability to succeed on the highest level. As a result of cold-emailing the founders of Foursquare, "I joined what was then a small company, serving as the director of business development for about three years. We built that from zero employees to 150, from zero merchants on the platform to millions, working with a team of about 100 folks. And much like the Rockefeller/Ford thing, I thought, 'I can do this.'"
Go with what you know
While working at a prestigious Silicon Valley venture capital firm, Walker began to think about the ideas he wanted to pursue, how he might replicate for himself the success he'd created for others.
Walker & Company was one such idea.
But not the first.
"I wasted a lot of time in the beginning," he said. "I tried to think of the most ambitious thing I could do and pitched [the firm] on building a bank, tackling diabetes, even disrupting freight and trucking. [One of the firm's partners] was honest with me and told me I wasn't the best person in the world to solve those problems.
"The difficult part of that lesson was in not being right. Throughout my life I heard a lot of 'yes,' from getting accepted to boarding school to interning on Wall Street, then going to Stanford and working at Twitter and Foursquare. All of a sudden, I was hearing, 'No. This isn't a good idea.' In retrospect, I was trying to make other people happy versus pursuing things where I was an expert."
Walker & Company was based on the idea that "folks of color, particularly black folks, deserve better." It's an idea that originates from his experience, a shared experience.
"As we walk down the aisles where we shop, we, as African Americans, are spoken to—as opposed to with. And that's an experience that is terrible," he said. "And I'm raising a four-year-old son right now who deserves to have a first-class experience. He deserves to feel like he can produce at the highest level… Walker & Company was really born out of some of those values and needs."
From a problem, a product. From frustration, a foundation.
The company's purpose is to make health and beauty simple for people of color and, as part of that, build the most consumer-centric health and beauty products company worldwide.
"We want to completely reinvent the way our community learns about, purchases, and enjoys health and beauty products…by designing and testing products and services specifically tailored to our community's needs," Walker said.
He understood there was an opportunity there. There was a significant segment of the population that was not being served through the beauty and shave products.
That's how Bevel came to be.
Unlike building a bank, tackling diabetes, or disrupting freight and trucking, shaving—the frustration of it—was something Walker was intimately familiar with.
"Bevel started out of an experience. I got frustrated shaving…issues with razor bumps, ingrown hairs, that sort of thing," he said.
Double-edge, single solution
Seeking help at a specialty shaving store, he discovered something all but forgotten, something seemingly inconsequential, nondescript, almost benign: the double-edge safety razor.
"I was just like, wow, I found something that actually works. And nobody's told me about this—this is a recurring theme in my story—I had to figure this out myself," he said.
It was just the edge he needed, for his face—and his company.
Walker did figure it out and built a company by sharing what he learned with others who were in need of a solution.
"There's this really amazing insight… Here's this margin-depressed product, you have a country that is increasingly more folks of color dealing with these issues that aren't being served in this category and require a solution to this very important problem which 80 percent of us have," he said.
From you and me to P&G
He's continued to grow Walker & Company with the same principle that helped start it: "We're never going to make shampoo to make shampoo," he said. "We are never going to make face wash [just] to make face wash. Every brand that we make will be focused on solving a problem."
Coupled with that focus, developing the company's business model helped them grow.
"We started our business 100 percent directly to consumers, subscription-only… But we knew that retail was where it was at," he said. "We got our first distribution in February 2016 at Target. And that changed our business—we went immediately to 70 percent retail. I realized very quickly that as much as I had all the hubris in the world to believe that people know and care about what we do, there are a lot of people just have no idea who we are. Target actually raised awareness for people who are in that aisle and realize that they have this problem with themselves."
Through all its growth, Walker has led the company by remaining focused on solving problems. He's done it so well that "Proctor & Gamble came in and said, 'We believe you're creating something of value' and bought the company."
Now, five years and 36 products after its inception, "Walker & Company's becoming a consumer product goods company. That's always the mission that I had," said Tristan with a smile. "I just didn't tell anyone."
It's clear that Walker will continue to grow his company in alignment with its purpose and core values. As long as that holds true, he won't simply be solving his customers' problems—he'll be addressing a cultural (and economic) imperative long overdue.
---
More from the Walker
What helps you overcome the fear of taking the lead?
"No matter what you're facing, 'your worst-case outcome is better than 99 percent of the world's best-case outcome. So, if you start with that, you should have the courage to pursue things that could be uncomfortable, right? Once I came to that realization, it completely changed my mindset. And it's, for this reason, I found the thing that is in line with my personal values: courage, inspiration, respect, judgment, wellness, and loyalty. Make decisions in line with your personal values, there's no way you should doubt that."
What role do you think Atlanta plays in recruiting and obtaining diverse talent?
"It's 100 percent of the reason we moved the company here. It was one of the most daunting conversations I had with the team. What was interesting about it was no one could argue it. We were in Palo Alto, Calif., and it's not diverse and it's gotten worse. Combine that with the fact that our customers are here in a very big way. And I'm a dad now—I got another kid on the way—I want my kids raised in an environment where he sees folks who look like me who are succeeding. That excites me more. It's the best decision and I think I should have done it six years ago."
What rituals do you have as a CEO?
"So one thing people might not know about me is I read four hours a day. Because I care very deeply, if I'm going to talk to my team on what these six values are, I'm acquiring precision and not a definition of those things. My definition of inspiration and loyalty, for example, has progressed. I want to make sure that the things I'm consuming—literature, etc.—allows me to develop and execute consistently. So the last thing I'm going to do is make my job more difficult, so I'm guided by these values and I can make decisions quickly and objectively and consistently, and equip my team with the tools they need to operate the same way."
Could you talk a bit about your emotions when selling your company, especially at a time when African American entrepreneurship seems to be at an all-time high? A lot of eyes were on your company as far as inspiration to a lot of people, so, how did you feel about that?

"December 12, 2018 was one of the most interesting days of my life, because I sold the company, announced that we sold it, and I knew it was going to raise a stink in the community, like, "oh, another black-owned company gone to the man.
"And I get it. I would've loved to build a private company that's worth $100 billion, but you have to fund your growth. And then, what's important, too, I didn't start this business to build a black-owned business—I started this business to serve the consumers that we're serving. I wanted to build something that was still around 100 years from now. I wanted to build something where I can make sure that we had the autonomy to do what we said we were going to do. A lot of people talk about the financial terms of the deal; they don't talk about nonfinancial stuff. And that's where the heart of the matter is, I'm still CEO of Walker & Company, I'm the first black CEO in P&G's history.
"P&G reaches 5 billion people around the world, and they care very deeply about my perspective on it. Frankly, we set out on this mission to serve this consumer, of which P&G touches millions. I could've done this myself and it would've taken me 100 million years to do it. I'd love to have a black-owned business that is a story for the generation, and I think I've done that. I've proven I can do what I say I'm going to do. But in 50 years, is Proctor & Gamble going to look like Proctor & Gamble of today, or more like Walker & Company? That's it."